Gretchen Whitmer Proposes Tax Break to Give Extra $350 a Year for Some Workers
Michigan Governor Gretchen Whitmer, who is running for reelection in November, is asking lawmakers to triple the tax credit for low- and moderate-income workers, giving workers an average of $350 per year, according to the Associated Press.
In 2019, when Whitmer first took office, she proposed doubling the earned income tax credit, as well as attempting to reinstate the tax exemption for pension income to boost taxes on certain businesses. However, none of the tax proposals advanced.
With the original credit being $150, under Whitmer's proposal, it would roughly rise to $500. She plans on revealing her proposal on January 26 in her State of the State address.
It would restore the state earned income tax credit to 20 percent of the federal credit, according to the AP, who reviewed the proposal in advance to her address Wednesday. The credit was scaled back to 6 percent of the federal credit in 2012 as part of a law that severed business taxes. The refundable credit helps more than 730,000 families per year.
Whitmer also plans to call for ending the state's so-called retirement tax, the AP reported. If the tax changes are passed, it would happen as Michigan's two main revenues projected $5.8 billion more than estimated in the past three years.
"Michiganders who work hard every day to provide for their families deserve a break and a bigger tax refund," says a Democratic governor's office summary document.
Senate Republicans introduced a bill in December to lower the corporate and personal income tax rates from 6 percent and 4.25 percent to 3.9 percent, according to the AP. The bill also would create a $500-per-child tax credit.
The tripling of the tax credit would help low-income families pay their bills, buy groceries and other necessities.
"Nearly 1 million kids – almost half of the kids in Michigan – would benefit from raising the EITC," according to the document from the AP. "It means new backpacks, warmer coats and more hot meals."
A single filer with no children can make up to $21,430 per year and the cutoff for married or joint filers with three or more children is $57,414. Those whose credit exceeds the taxes owed will get tax refunds.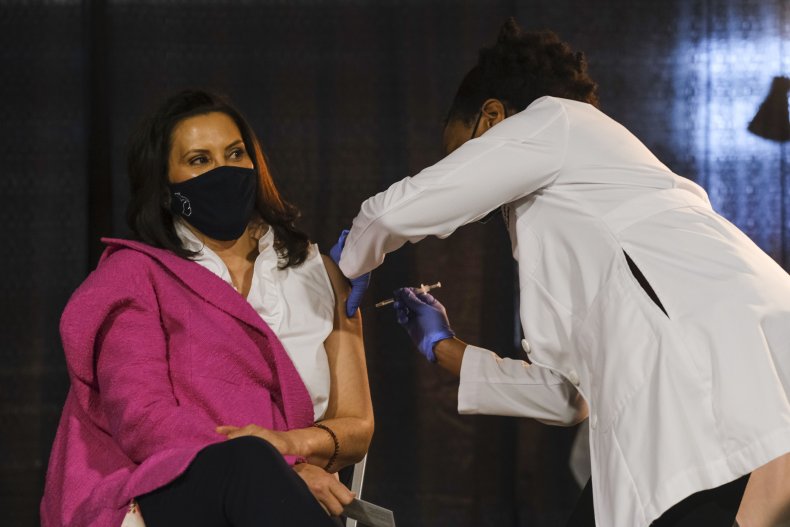 In response to Whitmer running for reelection, the Michigan GOP has released an ad criticizing her and her proposals. According to Fox News, it is the earliest an ad has ever run, being 10 months before the election takes place.
"The reason we're doing it is we're seeing in poll after poll that she's vulnerable, with the latest polling showing her losing to a generic Republican," Gustavo Portela, Michigan GOP communications director said to Fox News.
The Republican Governors Association has also targeted Whitmer, using $500,000 so far to attack her in ads, Fox News reported.