Gretchen Whitmer Removes $220M Meant for Michigan Unemployment Fund From COVID Relief Bill
Michigan Governor Gretchen Whitmer signed a $106 million state COVID-19 relief bill on Tuesday, after slashing $220 million from the legislation meant for unemployment funds.
Whitmer argued that the proposed funds would have been put into the Michigan Unemployment Insurance Fund and used as a "tax break" for big businesses. Cutting the money from bill will not affect individuals receiving jobless benefits throughout the state, Whitmer's communications director, Tiffany Brown, said in a statement to Newsweek.
"The bipartisan legislation Governor Whitmer signed today extends benefits for Michiganders who have lost work because of COVID-19. The governor's line item veto to save $220M in General Fund taxpayer dollars in the employer-owned Unemployment Insurance Trust Fund has no effect on current unemployed workers or their benefit weeks," Brown said.
"General fund dollars must be used to fund essential services like vaccines and PPE, not to give tax breaks to big businesses. The Unemployment Insurance Agency has also provided more than $900 million in tax breaks to businesses impacted by COVID-19," she added.
The unemployment funding was proposed by Republican legislators, and its removal will likely be met with criticism from lawmakers on both sides of the aisle who supported the measure. Whitmer was able to strike it down with line-item authority, allowing her to cut specific portions of funding while signing the larger bill into law.
The $106 million bill provides $55 million to help small businesses, and $45 million in direct payments for workers who were laid off or furloughed, ABC local news reported.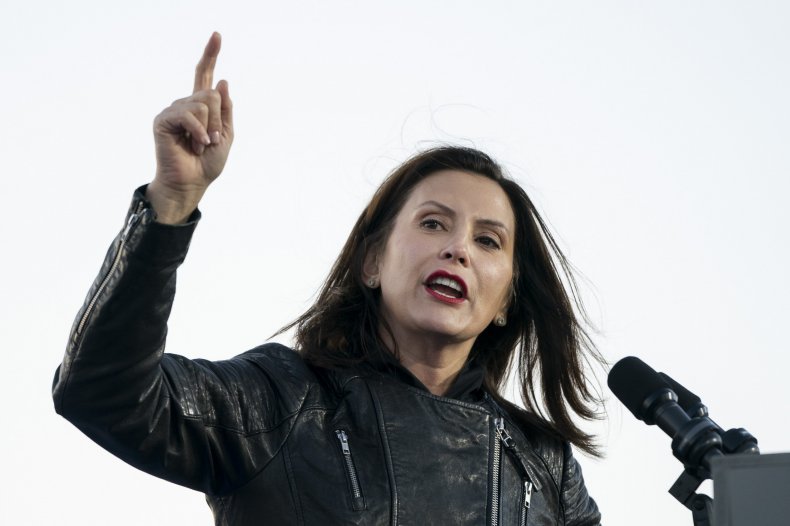 Whitmer also signed a separate bill to extend unemployment benefits to 26 weeks, and encouraged state legislators to make jobless benefits more permanent.
"No Michigander should have to worry about how to put food on the table or pay their bills, especially during a global pandemic," Whitmer said, according to the Detroit Free Press.
"We're hopeful the State Legislature will quickly take action next year to permanently extend unemployment benefits from 20 to 26 weeks for newly unemployed workers who file Jan 1 forward, putting Michigan in line with 40 other states," Brown told Newsweek.
The new coronavirus relief bill comes after Whitmer and the Michigan Department of Health and Human Services updated its pandemic guidelines to allow the state to open for some indoor activity on December 21.
In mid-November, the department issued an emergency order to "pause" the state, limiting indoor activities such as dining, recreation, learning and entertainment.
"These past few weeks, Michiganders across the state stepped up and did their part to slow the spread of COVID-19, and because of our collective hard work, we are now able to begin the steps to carefully lift some of the protocols we have in place," Whitmer said on December 18.
"I am encouraged by the progress we have made since early November, and will continue to monitor the data closely during and after the holidays."
As of Tuesday, Michigan had reported a 48 percent decrease in new COVID cases in the past two weeks, according to data compiled by The New York Times. In total, there have been at least 519,291 cases and 12,744 deaths in Michigan since the beginning of the pandemic.
This article has been updated with the comments from Brown.