Gretchen Whitmer Says Cuomo Faces Different Standard Than Trump Amid Harassment Allegations
Michigan Governor Gretchen Whitmer is defending fellow Democrat and New York Governor Andrew Cuomo amid sexual harassment allegations, saying he's being held to a different standard than Republican politicians who have also been embroiled in similar claims.
"Is there a different standard for different sides of the aisle? We just had a president who lasted all four years with numerous allegations against him, so far as rape," Whitmer said at a Politico Live event on Thursday. "No one on his own side of the aisle was making observations about whether or not he should stay in office. So is there a different standard? I guess one could conclude that."
"But weighing in on that, I don't know [if that] gets either one of us very far," she added.
Since late February, six women have come forward with accusations against Cuomo saying that he sexually harassed them or behaved inappropriately with them in the past. Of those six, five were former aides of the governor. The women have claimed that Cuomo asked inappropriate questions about their personal lives, as well as kissed and touched them without their consent.
Similarly, former President Donald Trump has also been accused of sexual misconduct.
At least 25 women have accused Trump of rape, sexual assault and sexual harassment, including non-consensual kissing and groping. The bulk of the accusations arose during his 2016 presidential campaign after Trump was heard saying that he "can do anything" to women in a leaked Access Hollywood recording. The former president has since denied all allegations.
"If [the allegations] are true, then there should be accountability," Whitmer said Thursday. "But until that investigation happens, I don't know that you can make a conclusion."
The Michigan governor also said during the event that she is a survivor of sexual assault.
Whitmer's remarks echoed Cuomo's earlier statements, in which he also called on the public to hold back from forming an opinion until an investigation by the New York attorney general is completed.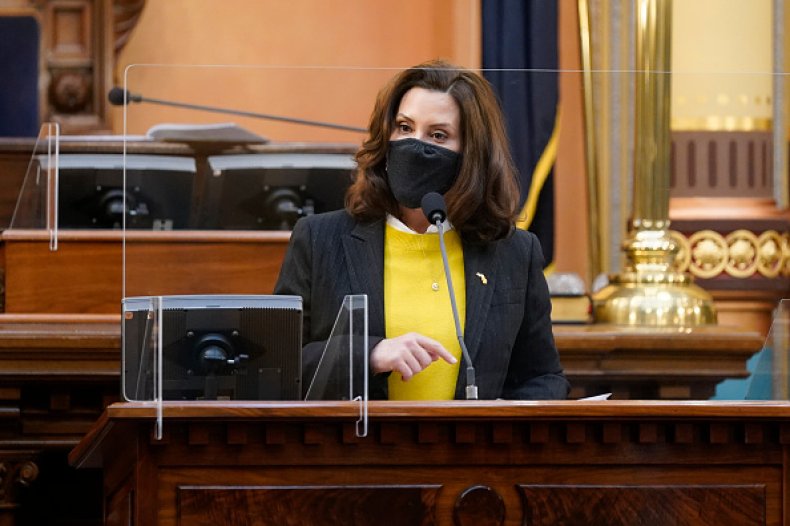 While he has apologized for offending or hurting his accusers in the past, Cuomo urged New Yorkers to await the probe's findings in his first public appearance addressing the allegations.
"I asked the people of this state to wait for the facts from the attorney general's report before forming an opinion," he said at last week's press briefing.
"I will fully cooperate with it, and then you will have the facts and make a decision when you know the facts," Cuomo added. "I also want you to know that I have learned from what has been an incredibly difficult situation for me, as well as other people. I've learned an important lesson. I'm sorry. I'm sorry for whatever pain I caused anyone."
Calls to resign from both Democrats and Republicans have continued to mount against the New York governor. A majority of the state's Assembly members, including 26 Democrats, have argued the recent allegations are enough to impeach him.
Cuomo is also facing a separate controversy after a state investigation found that his administration had underreported the number of deaths in New York's nursing homes during the coronavirus pandemic.
Whitmer, too, has faced backlash as a result of her administration's response to the ongoing health crisis.
In October, the FBI announced that she was the victim of a foiled kidnapping plot by a militia group after she enacted strict lockdown measures in Michigan. While her orders were supported by the majority of state residents, many have protested the restrictions in place.
Newsweek reached out to Cuomo's office for comment, but did not hear back before publication.