Gretchen Whitmer Says GOP Leaders Still Haven't Apologized to Her for Misogynistic Attacks
Michigan Democratic Governor Gretchen Whitmer said that state GOP leaders have not apologized to her for their misogynistic attacks against her.
The Quote
While appearing on CBS News' Face the Nation Sunday, Whitmer addressed recent remarks made by Michigan Republican Party chairman Ron Weiser. While speaking to a group of supporters in March, Weiser said: "Our job now is to soften up those three witches and make sure we have good candidates to run against them, that they are ready for the burning at the stake." He went on to specify that he was focused on winning the elections for the state's governor, secretary of state and attorney general.
Additionally during the interview, Face the Nation host Margaret Brenna asked Whitmer: "The Senate majority leader was also bragging that the Senate had, quote, spanked you on the budget and appointments. They've both apologized. But do you think there should be repercussions for misogynistic, threatening remarks like this?"
The governor said: "When you say that they've apologized, I don't know to whom they've apologized because I haven't heard from them."
"I can tell you this though, sadly, in this moment, there have been a lot of death threats. We know that there was a plot to kidnap and kill me. Death threats against me and my family. It's different in what I'm confronting than what some of my male counterparts are," Whitmer said. "So, I do think there is a layer of misogyny here that every woman in leadership has been confronting and dealing with to some extent."
Why It Matters
Whitmer's comments come a few weeks after the remarks made by Weiser, when he referred to Whitmer, Michigan Secretary of State Jocelyn Benson, and Attorney General Dana Nessel as "witches."
In addition to these comments, during his speech in March, Weiser appeared to jokingly say "assassination" when a crowd member asked about the "witches."
"Other than assassination, I have no other way other than voting," he responded.
As Whitmer noted in her interview on Sunday, she has continued to face criticism, with many angered by her response to the COVID-19 pandemic. Last October, the FBI announced that 13 arrests have been made of men suspected of plotting to kidnap Whitmer and attempting to overthrow the state government.
Fact-Check
While Whitmer said on Sunday that the state's GOP leaders have not apologized directly to her, Weiser did issue an apology shortly after his comments.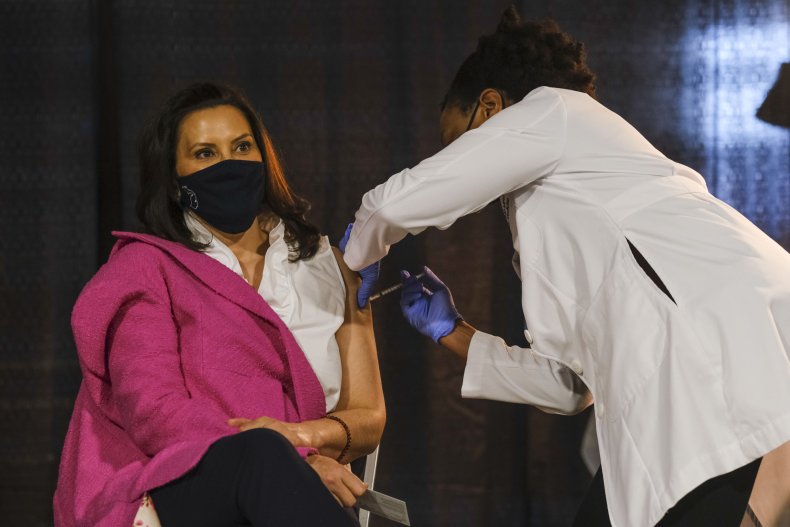 "In an increasingly vitriolic political environment, we should all do better to treat each other with respect, myself included. I fell short of that the other night," Weiser said in a statement, as reported by the Associated Press. "I apologize to those I offended for the flippant analogy about three women who are elected officials and for the off-hand comments about two other leaders. I have never advocated for violence and never will. While I will always fight for the people and policies I believe in, I pledge to be part of a respectful political dialogue going forward."
Whitmer's office directed Newsweek to the governor's remarks on Face the Nation when asked to comment. Newsweek also reached out to the Michigan Republican Party.