Michigan Governor Gretchen Whitmer says she's been in a pensive mood lately, having spent recent days writing a victim impact statement ahead of the sentencing of an anti-government extremist who took part in a plot to kidnap and kill her last year. Her statement, which will be revealed in federal court on sentencing day next month, has forced her, she says, to take stock of what she's been through over the past year and what that portends for the nation going forward. "We've come to a dangerous moment in our nation where it's not just about disagreement, it's about threats of violence," she tells Newsweek.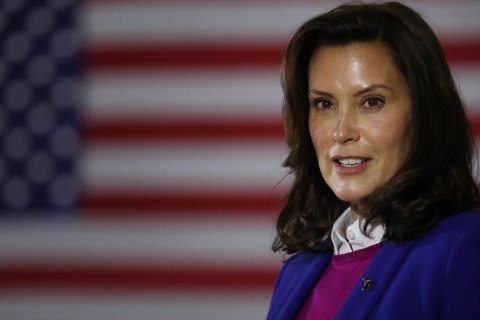 A one-time short-lister for vice president on the 2020 Democratic ticket, she's especially sensitive to the intense, angry and personal attacks visited every day upon the actual person who became the first female veep, Kamala Harris. "This is the horrible, destructive climate we find ourselves in," Whitmer tells Newsweek. "Certainly, the vice president is treated differently because of racial politics and gender politics—and it's just not fair."
Indeed, Whitmer, who turns 50 next month, views many of the political dramas she and others have faced in recent months as a product of that viciousness. A year ago, she was one of the fastest-rising political stars of the pandemic era, enjoying the highest approval ratings of her career; most Michiganders polled said they were appreciative of the decisive, if restrictive, actions she took to curb the spread of COVID. Not everyone, though—an angry and vocal minority resented what they viewed as intrusions on their personal liberty, including a group that matched on the state capitol with guns hanging effigies of her. As she rounds the corner toward her 2022 re-election, though, her popularity has cooled: She's still above water with a 50 percent approval rating compared to 44 percent disapproval, but that's a clear erosion from the 63 percent who approved of her leadership at the height of the crisis.
COVID politics became more complicated as the pandemic wore on. Her administration repeatedly lost in court as she tried to extend and retain her ability to impose some of the nation's more draconian restrictions, including prolonged business shutdowns and even, at one point, restrictions on whether Home Depot could sell gardening supplies. An impromptu trip to Florida in March to see her ailing father led to a monthlong scandal over whether she'd violated any of her own COVID orders by traveling out of state (she hadn't) and whether the taxpayers would foot the bill for the private jet she traveled on (they didn't; her campaign committee did). She had to apologize in May after a Facebook post showed her maskless and packed in at an indoor restaurant table with 12 friends in contravention of a state order requiring six feet of social distance and much smaller groups of patrons. "I am human," she said. "I made a mistake, and I apologize."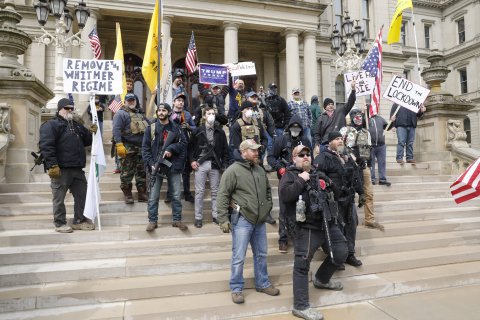 Now the Republican-run legislature is poised later this year to use an unusual signature-gathering process that cannot be vetoed by the governor to pass restrictive voting legislation that would reduce voting hours and ballot dropbox availability and strip the governor's office of the emergency powers she used to respond to the pandemic.
Whitmer spoke to Newsweek about the pace of Michigan's COVID recovery, her personal pandemic protocol, the sentencing of one of her would-be kidnappers, the unique challenges facing women in political office and more. (This conversation was edited for clarity and length.)
Q: Last time we spoke, you said your close ties to President Joe Biden would help the state. Then, in April, Michigan had a big COVID spike and you asked the administration for more doses of vaccine but were denied. Did you call the president about that and did the exchange go better than last year when you complained about a lack of PPE and Donald Trump responded by calling you "the woman from Michigan" who "has no idea what she's doing?"
A: I did. They understood that I was making the case to surge vaccines to a hotspot, which was Michigan at the time. They had a different strategy. I respect that, but they also respect the fact that I'm just trying to do my job and protect the people of my state.
Q: A few weeks ago, a report from the website WalletHub found that Michigan has had the slowest recovery from COVID of any state. They based that on hospitalizations, COVID positivity rates, unemployment and other factors. Some of that data was outdated—case numbers and hospitalizations had fallen dramatically by the time the report came out— but are you satisfied with the recovery?
A: There have been a lot of rankings over the last year. Michigan also got the Golden Shovel Award [from the construction trade magazine Area Development] with regard to manufacturing investment because we've announced thousands of jobs even in the middle of a pandemic. We have seen our GDP grow 7.6 percent in the first quarter of 2021, which is faster than any of our fellow Midwestern states. Taking a picture from one aspect is certainly not telling the whole story. I recognize there's always more work to do. But we've come a long way and we're going to put our foot on the gas with $300 million in grants to small businesses that raise wages to $15 per hour, $370 million for child care for low-income Michiganders and $100 million for grants to particularly hard-hit small businesses like restaurants.
Q: The state is at about 62 percent of adults vaccinated now and seems to have hit a stubborn ceiling, falling short of the president's goal of 70 percent by July 4.
A: Yeah, we always knew there would come a time when we would have more vaccines than demand. It means we transition to mobile efforts and smaller neighborhood efforts and partnerships with churches and other community organizations. It's important to recognize that the legislature hasn't been a whole lot of help on this front. Many have resisted getting vaccinated themselves, so this is part of the climate we're navigating. If we could all embrace the science and the incredible promise of these vaccines, we would be able to move faster.
Q: Do you still wear masks?
A: I follow the house rules. And that's what I've encouraged everyone else to do. So if I go into an establishment where people are wearing masks, I wear a mask. If I am at an establishment where they don't require people to wear masks, knowing that I've got the full benefit of full vaccination, I don't wear a mask. But I anticipate that I'll keep a mask in my bag for quite a while. And if there are small, crowded spaces, I may put it on on occasion. But at this point, I feel very safe and comfortable having been vaccinated. It's a relief.
Q: You were considered for vice president, and now we do have our first woman in that office. What do you make of how much criticism she gets?
A: You know, I've been a target of white supremacists' efforts to kidnap me, put me on some sort of a sham trial, and execute me. This is the horrible, destructive climate we find ourselves in. Certainly, she's treated differently because of racial politics and gender politics—and it's just not fair. She's doing an incredible job as our vice president, she is carrying the mantle of this administration, she's a full partner to the president. And I think she's someone of whom we should all be proud.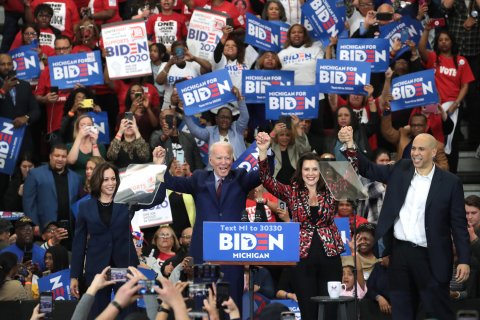 Q: Do you think the controversy surrounding your trip to Florida was also unfair or was it fair game? Would you have done anything differently?
A: You know what? I violated none of the rules. I followed the ethics laws. I went for two days to check in on a parent who's got serious health issues. I am a daughter as well as a mother and wife and governor. The problem is that we've got a Republican Party in Michigan that wants to politicize every little thing. I suppose that it's just something that we have to accept in this environment, but it certainly was not based on any genuine failure to follow the law or follow ethics rule. It was simply a daughter needing to check it up on her dad. And that's what it was.
Q: Are you concerned about the efforts to change the election laws and strip you of emergency powers?
A: I think everyone should be concerned when voting rights or powers to keep people safe are in jeopardy in Michigan and everywhere. I think about how much more we could accomplish if the party leaders at the Capitol would focus on getting the federal dollars deployed to help businesses and to help get our kids back in school. Instead, they're spending their time making it harder for people to vote and taking away emergency powers of the office of the governor. Neither one of those things helps solve the problem for a business that was left out of one of the federal programs that they needed to simply survive. None of their actions are helping students who need to get back in the classroom. They not only don't solve the problems that are real, but they create other problems that we will all pay a price for.
Q: Are you surprised at how the Republican Party has responded to the January 6 riots on the Capitol?
A: It's really sad, and it's disturbing what this could mean for our democracy. It used to be when a party lost the presidency and the Senate and the House—all three things happened in the last four years—the party would recalibrate. Every report shows there wasn't a scintilla of fraud in the 2020 election, so it shows how cynical and destructive they're willing to be to win a future election. In Michigan, the Senate Republicans did their own assessment of the election. Their own report says there was no fraud in the election. But they released that report on the same day that they moved these barrier-to-voting bills. This could have consequences not just for Michiganders, but for the nation. As Michigan goes, so goes the rest of the country.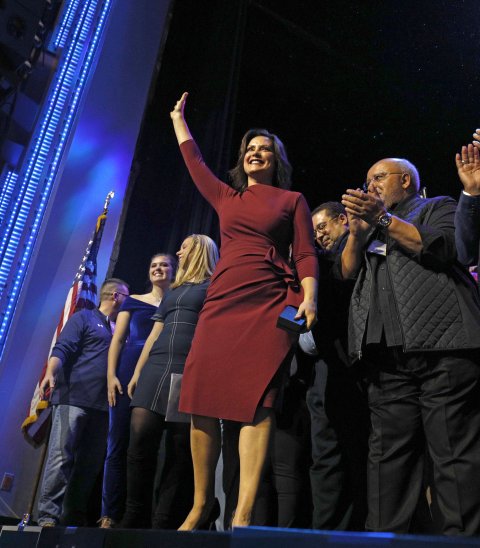 Q: What is your mindset now that you've had some distance from the whole kidnapping plot thing?
A: You know, [with] the sentencing of the first plotter coming up, I was asked to give a victim impact statement. I wasn't sure whether I was going to do that, frankly, but I did. This last year and a half has been hard on every single one of us, and some of us haven't quite processed at all, I can tell you that. Going through that process of writing that statement was a moment of where I kind of checked in. I know the burden I carry is a lot lighter than that which many people carry every day. But certainly, this last year and a half has taken a toll on all of us in this in our own way.
Q: Do you think that the things you've experienced over the past year or so—from the kidnapping plot to the way opponents talk about you to the efforts to depower your office—are unique to you as a prominent woman?
A: I think my experience is different than my male counterparts, yes. There's a layer of misogyny on top of all of the other stuff that every governor in the nation is confronting that is unique to women officeholders. But whether it is a public health official like Dr. Fauci or an election official like [Michigan Secretary of State] Jocelyn Benson or her counterpart in Georgia, or municipal officeholders who upheld election laws, we've come to a dangerous moment in our nation where it's not just about disagreement, it's about threats of violence. And that's not right. It's downright dangerous for the individual, but it's dangerous for our democracy, too.
Correction July 30 5:57 a.m. ET: This story was updated to correct Whitmer's age.