Watch the full interview on ASP.
Michigan Governor Gretchen Whitmer said during a recent interview with actors Chris Evans and Mark Kassen that technology and social media "absolutely" played a role in the rise of extremism in the U.S.
The Democratic governor appeared on A Starting Point for a discussion with Evans and Kassen about domestic terrorism in the wake of the riot at the U.S. Capitol on January 6 and a kidnapping plot that targeted her last year. While Whitmer credited former President Donald Trump's rhetoric with raising the temperature in U.S. political discourse, she said social media also has a way of magnifying vitriolic speech.
"We know that technology has absolutely, social media has absolutely played a role in the growth of extremism in America," Whitmer said. She pointed to engagement among users as one of the ways social media companies measure success. "Their motivation is to incentivize additional usage, and the trouble is that content that's controversial gets a lot of eyeballs."
Whitmer said that while she fights for the right to free speech, the rules get trickier for speech that puts other people in danger. She gave the example of not being allowed to yell "fire" in a crowded theater, due to the dangers that doing so can pose.
"We don't have freedom from the consequences of that speech every time," she said.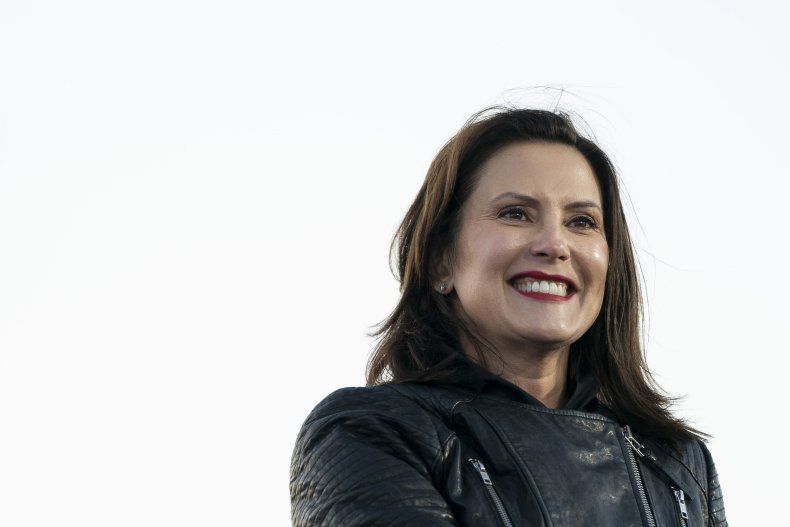 Whitmer appeared to make another reference to Trump in calling for Americans to hold their political leaders accountable for their rhetoric. "When someone with the biggest megaphone in the world tweets something that inspires others to act, we have to hold people accountable," she said. "Whether it is aimed at a governor or a public health official or someone who is a political enemy or a corporate competitor, it's unacceptable to incite people to take on dangerous actions that can hurt your fellow Americans."
Trump has received extensive criticism for going on social media and encouraging widely debunked conspiracy theories about voter fraud in relation to the 2020 presidential election. Following the election, Twitter and Facebook began flagging some of his posts as containing disputed information as a way to warn other users about the content. After the January 6 riot, both social media companies suspended Trump's accounts, preventing him from using the outlets to communicate with his supporters.
The power social media companies possess has been the subject of debate on Capitol Hill for years. The CEOs of Twitter and Facebook are among those who have testified before the Senate Committee on the Judiciary in recent months to discuss how posts are regulated, particularly in regards to the spread of misinformation.
Moving forward, Whitmer said Congress and the Department of Homeland Security should be "relentless" in addressing domestic terrorism.
"I think they have to be relentless in the pursuit to hold people accountable," she said, adding that "there have to be consequences" for those involved in the Capitol riot on January 6.
"I think we also need to hold our leaders accountable in terms of their rhetoric," Whitmer continued. "Every time a Twitter storm would start, it could inspire others, and we have to I think be mindful of that."
Newsweek reached out Whitmer for further comment and to Senator Dick Durbin, the chair of the Senate Committee on the Judiciary, for comment and will update this article with any response.