Michigan Governor Gretchen Whitmer holds a double-digit lead over Republican Tudor Dixon less than two months from the state's gubernatorial election, according to a new WDIV/Detroit News poll.
Whitmer leads Dixon by 13 points, about 48 percent to 35 percent, and has about a 23-point advantage among independent voters. Michigan voter motivation, which slightly favors Democrats, is 9.3 on a 10-point scale and higher now than during the July poll prior to the primary.
Dixon's chances of winning have decreased since July, when she was expected to win about 40.3 percent of voters, according to the poll.
The survey of 600 likely general election voters, 72 percent of which were contacted via cellphone, was conducted between August 29 and September 1. The margin of error is plus or minus 4 percent.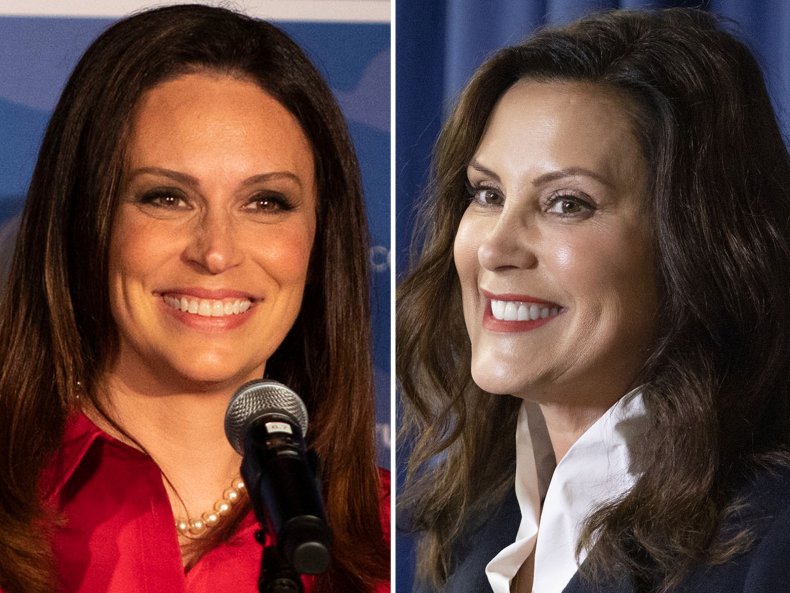 In what is the state's first-ever all-female election for governor, the poll shows the incumbent Democrat with a 2-to-1 advantage with college-educated and non-college- educated women. Both groups "strongly oppose" the U.S. Supreme Court's decision to overturn Roe v. Wade.
On Thursday, the Michigan Supreme Court ruled that Proposal 3—known as the Right to Reproductive Freedom Initiative—would be on the November 8 ballot after a petition that was deadlocked by the Board of State Canvassers was ordered to be certified.
Non-college-educated women have "sharply left the GOP" over the overturning of Roe, the poll showed. Whitmer now leads Dixon among non-college-educated women by 29.8 percent, and college-educated women by 22.9 percent.
Of the 57.6 percent of Michiganders who disagree with the decision to overturn Roe, more than 75 percent of them support Whitmer.
"In the past three cycles, voter education levels have meant a large split in voter preferences with non-college voters shifting sharply to Republicans and college voters shifting to Democrats," the poll results said. "But the overturn of Roe v. Wade has thus far upended this traditional education split."
The anti-abortion-rights Dixon has been criticized for her staunch views, including not being in favor of exceptions in cases of rape and incest. She has said that sometimes "healing" results from such tragedies. Dixon supports exceptions regarding the health of a mother.
The poll showed that a majority of respondents, or 34.4 percent, said abortion and women's rights is the most important issue. That was followed by inflation and the cost of living; jobs and the economy; threats to our democracy; crime and violence; and education.
There was a gender split. While 43.5 percent of female voters care most about abortion and women's rights, 30.8 percent of male voters are motivated the most by inflation and the cost of living.
Pessimism still exists about the future of the state and nation. About 48.5 percent of voters said the state is on the wrong track, with the number skyrocketing to 72 percent when asked about the country.
About 53.5 percent of respondents had unfavorable views of President Joe Biden, while 56.1 percent viewed President Donald Trump unfavorably.
Dixon, who was endorsed by Trump for the primary—irking some Republicans who referred to her as a "RINO"—won 80 of the state's 83 counties.
Newsweek reached out to the Whitmer and Dixon campaigns for comment.