Video Captures Mutiny on Greyhound Bus As Scared Passengers Overtake Sleepy Driver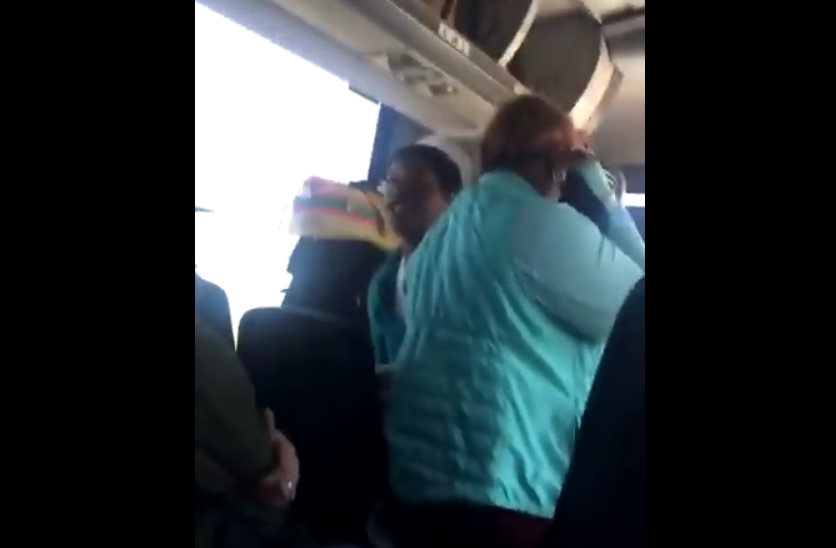 Passengers on a Greyhound Bus traveling from Phoenix to Dallas engaged in "mutiny" as they realized the driver was falling asleep and attempting to keep herself awake by pinching her face with tweezers.
Dramatic video shows several of the more than 60 passengers on the Greyhound bus screaming at the driver after they said they'd asked her "politely" to pull over several times, KTVT-TV reported. Passengers recalled how they weren't sure if they'd survive the driver swerving in traffic but the last straw came when they noticed she was pinching her own cheeks with tweezers to stay awake Thursday afternoon.
"We politely asked her four times to pull over," said passenger Jasmine McLellan, who was among several passengers who told KTVT-TV she was appalled when they noticed the driver dozing off into sleep at the wheel. "I got to the point where we saw her going like this and just dozing off."
"The bus was leaning little and that's when people started to really worry," explained passenger Philip Hurd. "She was using techniques to try and stay awake and I think that was the initial concern… We would go over the white line and everybody would be like wake up and she had tweezers she was poking herself with tweezers to keep herself awake it was awful. It got to the point where we had to raise our voice pull over we have children on this bus pull over."
The passengers, some of whom said they paid in excess of $200 for their bus tickets, detailed how the confrontation between them and the driver occurred after several worried individuals approached the driver. She allegedly stood up while the bus was still in motion and attempted to respond.
The passengers managed to remove her from the driving seat and the bus was pulled over. A Border Patrol escort brought them to a "safe location" and a separate Greyhound driver continued their trip.
A statement issued by Greyhound Lines to CBS indicated that a lack of sleep and a shortage of drivers was responsible for the potentially disastrous incident. The bus line added that it was experincing delays at the Dallas station as it "waited for drivers to become available once they completed their federally mandated rest."
"With resources as tight as they have been, any delay that occurs elsewhere can create a domino effect, which can have an impact on a driver's hours of service," the statement continued. "We work diligently to accommodate our customers with the limited resources we have available, and we've been actively hiring drivers in order to meet the increasing demand for our service so these types of delays are minimized. All delayed customers have departed the station are now en route to their destinations."
Greyhound Lines did not immediately return Newsweek's request for comments on the Thursday incident.