'Grey's Anatomy' Reveals New Details of Ellen Pompeo's Exit as Meredith
The writing has been on the wall for Ellen Pompeo's Meredith Grey for a while in Grey's Anatomy, but new details have now emerged about her final episode.
Pompeo has portrayed the ABC medical drama's lead character since the show first began in 2005, but it was confirmed in August 2022 that Season 19 would be her last as a series regular.
The actor has decided to take a step back from appearing in the drama full-time, and it was previously confirmed that she would only appear in eight episodes of the season, Deadline reported in August.
Here is everything that fans of the show need to know about Pompeo's last episode as a main character.
'Grey's Anatomy' Reveals New Details of Ellen Pompeo's Exit as Meredith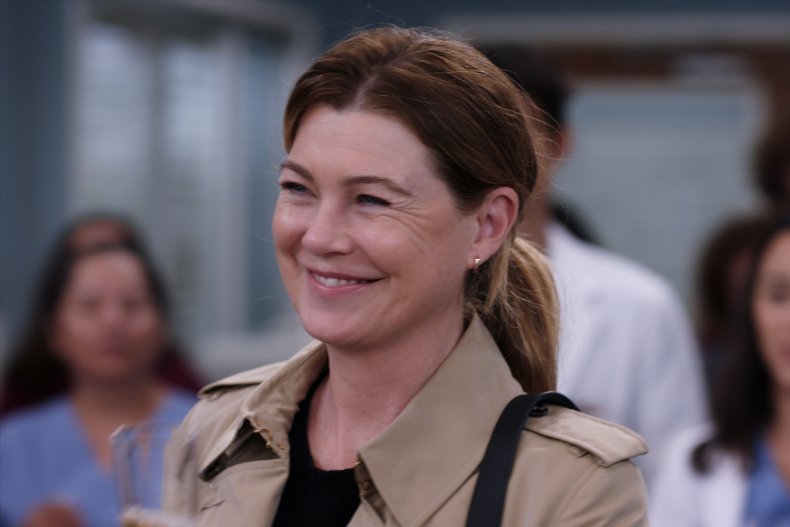 Grey's Anatomy returns from its mid-season break on Thursday, February 23, and the episode is titled "I'll Follow the Sun."
New images for the episode show Pompeo's Meredith being given a heartwarming send-off by her colleagues, who raise a toast in her honor as the character makes her final preparations before she moves to Boston with her family.
The episode's official logline also reveals details of the storyline: "On Meredith's last day at Grey Sloan, the doctors plan a goodbye surprise and Nick confronts her about the future of their relationship."
While Pompeo will no longer be a series regular, she will continue to be a narrator for the series, and she will remain an executive producer on Season 19. Pompeo is also expected to continue to appear on the show, but as a guest.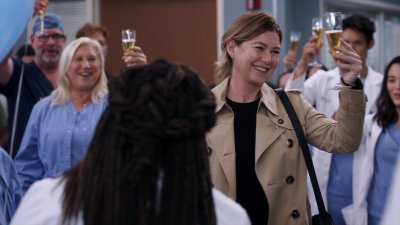 Why Is Ellen Pompeo Leaving 'Grey's Anatomy'?
Pompeo is taking a step back from the show so she can take on new opportunities, such as in Hulu drama, an as-yet-untitled adaptation of the 2009 film Orphan. The show is a limited series in which Pompeo has signed on to take on a lead role.
According to Variety, the show is based on a true story, and it will follow a Midwestern couple who adopt a child they believe to be 8 years old. They later learn she is not who she claims to be.
Pompeo has previously spoken about her future on Grey's Anatomy, and she had suggested her time on the medical drama would come to an end.
Speaking to Entertainment Tonight in May 2022 about how Grey's Anatomy could move forward without Meredith Grey, Pompeo said: "Shonda [Rhimes, the showrunner] and I, I think—we'll see, we'll see.
"Continually trying to reinvent the show is the challenge at this point, and, listen, the show speaks to a lot of people, and the young people love the show.
"It's inspired so many generations of healthcare workers, so, I think for the young people, it's a really good piece of content, and we're going to try to keep it going for the young people, not necessarily with me, but keep it going beyond me."
In an interview with Entertainment Tonight on Wednesday, the star reassured viewers that she would be back on the show, and said of the upcoming episode: "For the record, it's not really my final [...] It is my final episode for a while."
Grey's Anatomy Season 19 returns on Thursday, February 23 at 9 p.m. ET.