What Will Happen to Jo on 'Grey's Anatomy?' Camilla Luddington Says She Filmed 'Hardest Episode' For Season 15
Things are getting personal for Jo on Season 15 of Grey's Anatomy. Camilla Luddington, who plays the Grey Sloan Memorial Hospital surgeon on the ABC hit series, revealed to TV Line that her character would be featured in a standalone episode this season.
While the episode isn't expected to air until sometime in the spring, Luddington said it would give fans a deeper look into the newlywed's personal life. She also noted the episode is expected to be a particularly jarring one. "It was the hardest episode I ever shot," she told TVLine in an interview released Wednesday.
"It's unbelievable. It's so powerful," she continued.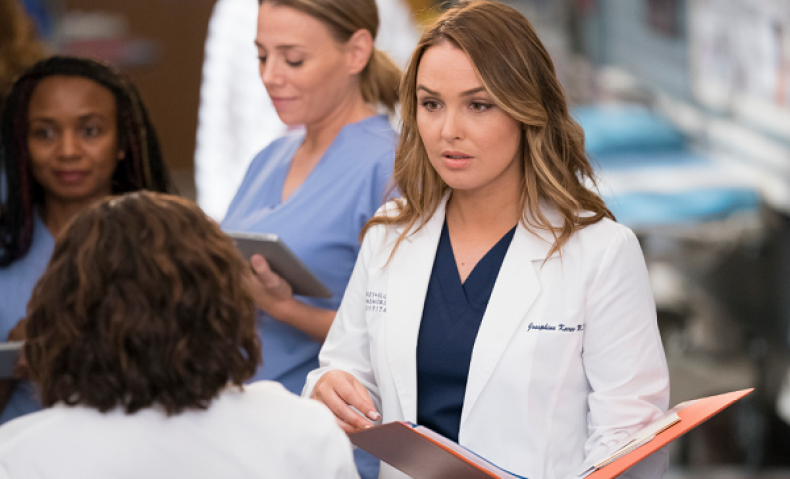 Since Jo—otherwise known as Dr. Josephine Karev—first arrived at the Seattle hospital, much of the character has been shrouded in mystery, especially in regards to her past. Fans are well aware of her upbringing in foster care and the fact that her birth mother abandoned her just weeks after she was born. Luddington said the standalone episode will shed more light on her origin, and introduce viewers to her never-before-seen biological parents.
However, it's unclear if Jo's parents will be featured in a backstory clip or if they will arrive at Jo's present-day doorstep. Luddington did say the episode will include a lot of Teddy (Kim Raver) in a "medical and personal" capacity.
Jo is the latest Grey's character to get a standalone episode after it was announced fans would get an extra special dose of Amelia (Caterina Scorsone) during Season 15 as well. In a separate interview with TVLine, Scorsone said the episode was "almost like a little movie on its own."
In the meantime though, the upcoming episode of Grey's, set to air on Thursday, will focus on the usual operations of Grey Sloan Memorial with multiple members of the cast facing relationship woes, according to the show's synopsis.
Grey's Anatomy airs on ABC every Thursday night at 8 p.m. EST.