'Grey's Anatomy' Season 16 Episode 3 Recap: Meredith Returns to Grey Sloan (Sort Of)
Grey's Anatomy Season 16, Episode 3 was a true reunion special: two long-lost lovers were brought together and Meredith Grey (played by Ellen Pompeo) was reunited with her former Grey Sloan co-workers, while the episode's cast saw former Charmed stars Alyssa Milano and Holly Marie Combs star alongside each other once more.
Elsewhere in the latest episode of the ABC show, characters like Owen (Kevin McKidd) and Qadri (Sophia Taylor Ali) faced huge life changes, while other characters made some embarrassing medical mistakes. Here's a full recap of what happened in the episode, titled "Reunited."
What happened in Grey's Anatomy Season 16, Episode 3?
Still not allowed into Grey Sloan, Meredith took out her anger at the medical profession by trying to sell tell-all articles to a magazine while completing her community service. However, "Reunited" gave her a chance to return to Gley Sloan⁠—though not in the way she might have wanted.
After one of Meredith's former patients refused to have an experimental medical procedure unless her former doctor operated on her, Jo (Camilla Luddington) had no choice but to ask Miranda (Chandra Wilson) to allow Meredith into the hospital. She refused, so the pair came up with a unique compromise: Meredith would guide the operation remotely via video call.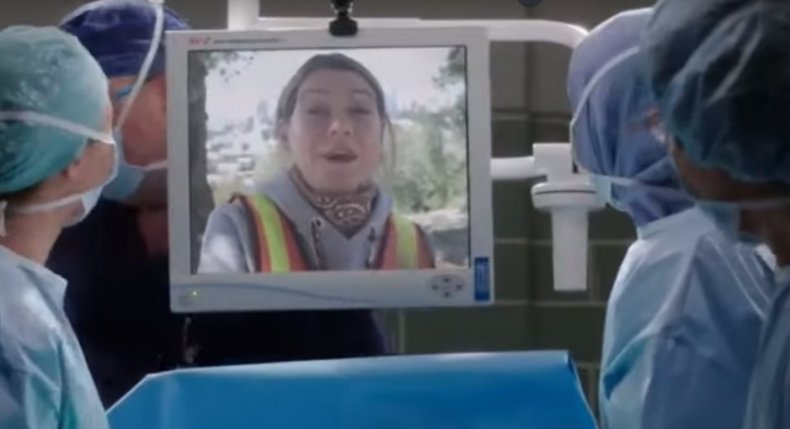 The operation was a success, which was a particular relief to Jo as it was her first week as an attending surgeon. Though it was good to see Meredith using her medical knowledge again, Miranda's frosty reception of her former co-worker and the way in which she hung up on her suggests Meredith is a long way from getting her job back.
Qadri even tried to get Meredith her job back by telling Miranda she got a job Grey Sloan to work with her, a plea Miranda took so badly she fired the young medic on the spot.
While Jo had a good day in the operating room, Levi Schmitt (Jake Borrelli) faced the wrath of DeLuca (Giacomo Giannotti) after he allowed a guide wire to slip and end up lost inside a patient. Though DeLuca was able to prevent catastrophe, he was angry enough at the young doctor to force him to carry around a guide wire for a week as punishment for being so clumsy.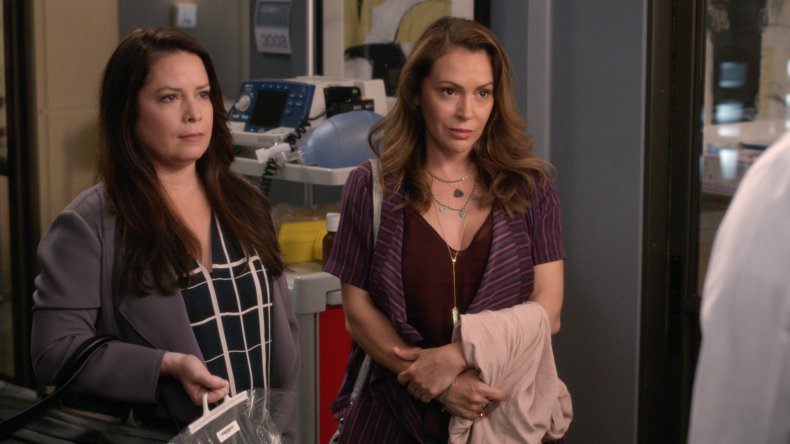 In another plot, Combs and Milano played squabbling sibling who cannot decide whether to pull the plug on their sister or not after she became braindead in a construction site accident. The doctors attending the patient were certainly not 'charmed' by the pair as their arguing put everyone on edge until they finally decided that letting her die was the right thing to do. No sooner had the plug been pulled, however, than their sister rang them. Turns out the woman was not their sister, but a woman who had stolen a bag with her ID in it.
The "Reunited" theme continued with the other two main patients in Grey's Anatomy Season 16, Episode 3. One was an old man called Bertram Hollister waiting for a routine operation, while the other was a disorientated Korean woman who kept talking about looking for a "bird." However, when the two met by chance in the hospital corridor, they recognised each other as they had been lovers decades ago, with 'bird' being her name for him.
While these two got together, Owen decided to part ways with the hospital for now. Frustrated with Koracik's (Greg Germann) restraining order against him making it difficult to work and seeing partner Teddy (Kim Raver) struggling with baby Allison, Owen offers to swap places with her, allowing him to leave Grey Sloan and Teddy to come back, an offer she instantly took up.
Grey's Anatomy Season 16 airs Thursdays at 8 p.m. ET / 7 p.m. CT on ABC.