When Will 'Grey's Anatomy' Season 16 Return? New Episode Air Dates and Schedule After Midseason Finale
After a jaw-dropping midseason finale, fans are already anticipating new episodes of Grey's Anatomy. However, they'll have to wait for quite some time before Season 16 returns.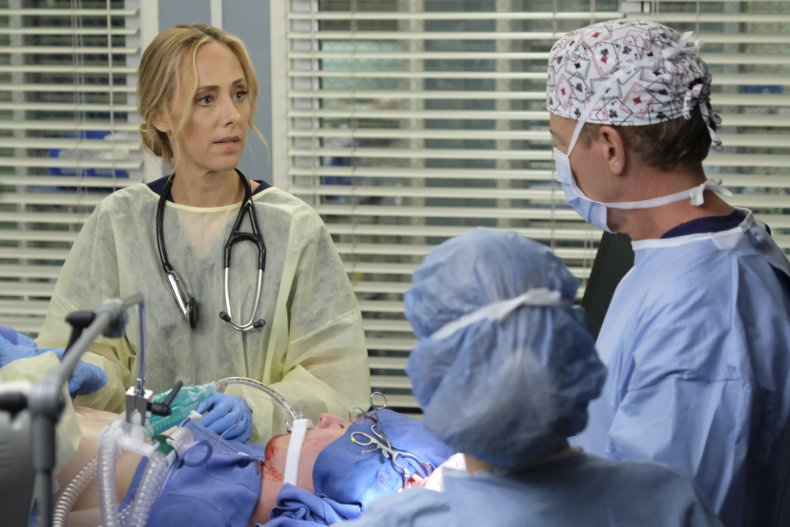 Grey's Anatomy—and many other shows included in the ABC primetime lineup—is officially on fall hiatus. The medical drama won't return to the network until after the holidays on January 23, 2020. The show will maintain its Thursday night air date but will return with a different time slot in the winter.
So far in Season 16, there have been several cross-over moments between Grey's Anatomy and fellow ABC firehouse drama, Station 19. That's expected to continue when the series returns. The Season 16 and Season 3 midseason premieres for Grey's Anatomy and Station 19, respectively, will air with a two-hour crossover event starting with Station 19 at 8 p.m. ET while Grey's Anatomy will return to its former 9 p.m. ET time slot, ABC announced on Thursday.
When the Shonda Rhimes-created series, starring lead actor Ellen Pompeo, first debuted in 2005, it originally aired at 9 p.m. The series continued to run during that time for the next eight seasons until it was bumped to 8 p.m. in exchange for Rhimes' former award-winning political thriller, Scandal.
The Thursday night lineup change will also affect the returning seasons of A Million Little Things, which will air at 11 p.m. ET, while the final episodes of the series, How to Get Away With Murder, are set to run during its the show's original 10 p.m. ET air time.
Schedule changes are slated for a few other shows on the ABC primetime roster in 2020, including the addition of a new show to the lineup in February. Curtis "50 Cent" Jackson's new production, For Life, is expected to premiere on February 11, 2020, claiming the 10 p.m. ET time slot that originally belonged to Emergence, which concluded on Tuesday.
Following a half-season full of drama and unexpected circumstances for Pompeo's Meredith Grey, the fall season of Grey's concluded with an explosive cliffhanger. The episode started with Meredith returning to the hospital after spending the majority of the season performing community service and awaiting the fate of her medical license, which was under review by the city's medical board after she admitted to committing insurance fraud back in Season 15. With her license and job reinstated, Meredith and the rest of the staff at Grey Sloan found themselves putting their doctor scrubs on to save someone near and dear to not only the medical team's hearts but someone close to the Station 19 firehouse crew too.
With Station 19 and Grey's Anatomy scheduled to return with a two-hour crossover episode in the winter, it seems likely that the shows will pick up right where they left off during Thursday's midseason finales.
When Will 'Grey's Anatomy' Season 16 Return? New Episode Air Dates and Schedule After Midseason Finale | Culture