Why Tonight's 'Grey's Anatomy' Episode Will be the Last of Season 16
Well, Grey's Anatomy Season 16 is coming to an end, folks.
If you're feeling like the finale episode has arrived earlier than expected, that's because it has. Initially, the season was scheduled to air 25 episodes and conclude in May. However, the upcoming show on Thursday will only mark the 21st and final episode of the season.
So, what gives?
Unless you've been living under a rock for the last month or so, then you're probably aware of the coronavirus outbreak that's ravaging the United States and many other countries across the globe. In effort to prevent further spread of the COVID-19 virus, a number of states and cities have enforced shelter-in-place orders and social distancing rules that mandate residents to stay indoors and at least six feet away from others if people do need to go outside for supplies and stops at essential businesses.
Hollywood has been accepting of these guidelines from the very start, halting production on just about every television and film set in the interim.
Grey's Anatomy was one of the first shows to suspend production in effort to keep cast and crew members safe and healthy. Executive producer and showrunner Krista Vernoff and fellow executive producers Debbie Allen and James Williams first announced the shutdown on March 12 immediately following the wrapped-production for episode 21—the last episode the team managed to tape before the outbreak's rapid spread. However, production was originally slated to remain on hiatus for only two weeks.
As coronavirus cases and fatalities continued to increase in March, producers made the executive decision to suspend Season 16 filming indefinitely, which meant the last few episodes that had already been filmed would be the last of the season.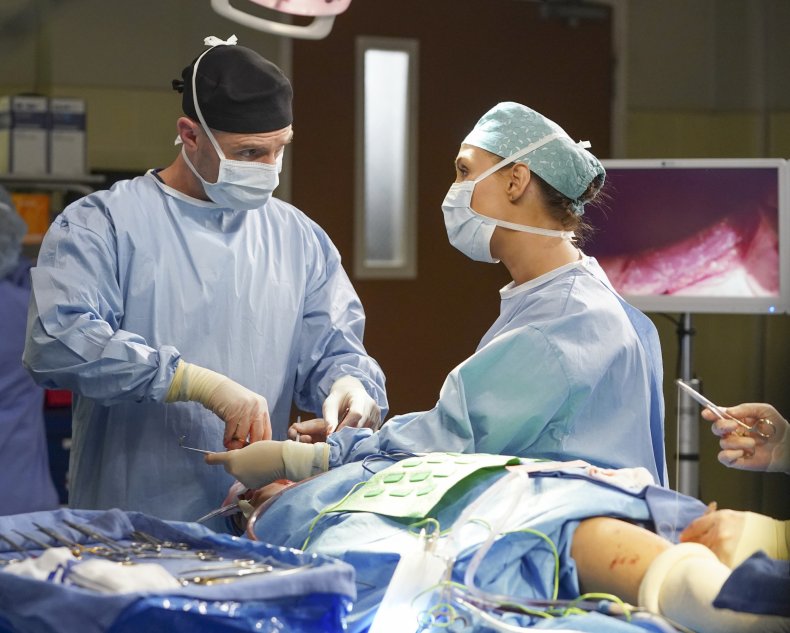 It's unclear if the remaining episodes of Season 16 will appear in the new season of Grey's Anatomy exactly as they've already been written. In a tweet in March, Vernoff said episode 21, titled "Put on a Happy Face," will play out like a season finale and noted that there was a new season of Grey's Anatomy to look forward to in the fall.
"We are disappointed that we don't get to complete our storytelling this season. The good news? 1621 plays like a satisfying finale! It's not where we planned to end, but it's beautiful & the questions that linger we will answer next year. #GreysAnatomy #StayHome," she wrote.
Vernoff later suggested some tweaks may have to be made to the script should showrunners and writers decide to pick up exactly where Season 16, episode 21 leaves off.
"Maybe they will rework the scenes that they have ... I think we have some amazing stuff in the can," she recently told Entertainment Tonight. "I think they will use some of those great scenes that we shot, but I also equally think that maybe they're thinking this is an opportunity to see how things played out and where they want to raise higher stakes and what they want to include. It's an opportunity to kind of rework the canvas."
The Grey's Anatomy Season 16 finale is set to air on ABC on Thursday at 9 p.m. ET.