'Grey's Anatomy' Doctors Race to Save Richard Webber in Dramatic Season 16 Finale Sneak Peek
The Grey's Anatomy Season 16 finale is sure to leave viewers on pins and needles as Episode 21, "Put on a Happy Face," is expected to include one twist and turn after another.
If the sneak peek trailer is any indication, it may be the series' most dramatic episode yet as the doctors at Grey Sloan Memorial Hospital will find themselves under an awful lot of pressure to save their beloved colleague and renowned surgeon Dr. Richard Webber (James Pickens Jr.). Only heightening their stress, they still haven't figured out what exactly has caused his downward medical spiral.
His daughter Dr. Maggie Pierce (Kelly McCreary) says in the clip that she thinks its Alzheimer's disease, but Dr. Meredith Grey (Ellen Pompeo) strongly disagrees. Richard's estranged wife Dr. Catherine Fox (Debbie Allen) doesn't care about their bickering over a medical diagnosis, she just wants her husband fixed.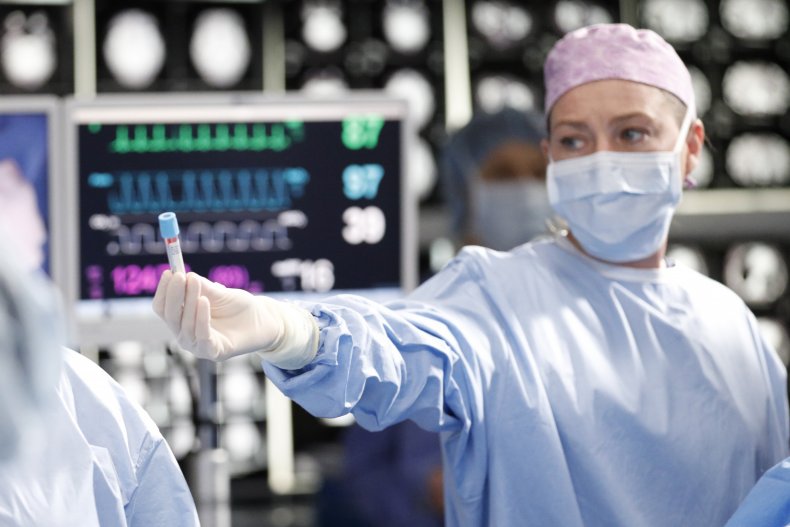 "You've had weeks and have found nothing!" she shouts in the trailer.
It may be all Catherine's guilt that's causing lack of patience with her staff. After all, had she been more interested in resolving her marital issues with Richard instead of leaving him, she may have noticed sooner that something was wrong .
Catherine won't be the only one battling the guilt of ill-fated decisions. Dr. Teddy Altman (Kim Raver), who should be happily preparing to walk down the aisle, will also come face to face with her wrongdoings when her ex, Dr. Tom Koracick (Greg Germann), throws a monkey wrench in her wedding bliss by confessing his love for her.
"Don't throw your life away Teddy," he pleads after she firmly announces that she is going through with her decision to marry Dr. Owen Hunt (Kevin McKidd).
The wedding may already be in jeopardy, though. The season finale synopsis teased Teddy's soon-to-be husband will make a "shocking discovery." Raise your hand if you think it's Teddy's messy affair with Tom that Owen will suddenly find out about.
There will be a few bright moments during the show. Dr. Amelia Sheherd (Caterina Scorsone) and Dr. Atticus Link (Chris Carmack) may finally welcome their new bundle of joy. Shepherd thought she was going into labor on last week's episode, but it turned out that the doctor was just suffering from Braxton Hicks contractions. In the finale sneak peek, Shepherd's water breaks, which means it's officially time to have that baby.
Something else to watch for: Dr. Cormac Hayes (Richard Flood) is expected to ask Meredith a "surprising question." The pair have been getting close since he first arrived at the hospital in an earlier episode. Perhaps Meredith will finish the season with a new person to love after all.
The Grey's Anatomy Season 16 finale airs on ABC on Thursday at 9 p.m. ET.