Watch 'Grey's Anatomy' Season 16 Episode 8 Live Stream, Spoilers and More Info on 'My Shot'
Dr. Meredith Grey's medical fate will be determined in the upcoming episode of Grey's Anatomy.
After having her medical license suspended, performing trash-picking community service and even spending a night behind bars early on in Season 16, the medical board will finally decide whether or not Meredith (Ellen Pompeo) can continue on as a surgeon in episode 8 titled, "My Shot."
The ABC-released synopsis for the episode teased tension ahead not just for Meredith, but for all her loved ones at Grey-Sloan Memorial Hospital. "Meredith faces the medical board as her future as a doctor remains uncertain, and she's forced to reckon with her past in some challenging ways," the synopsis stated.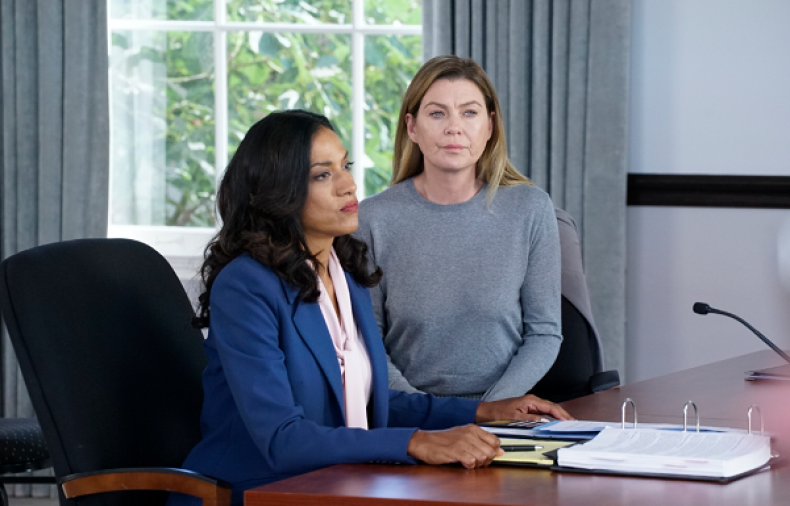 As viewers know, Meredith was ousted from her lofty chief of surgery position—along with doctors Alex Karev (Justin Chambers) and Richard Webber (James Pickens Jr.)—for committing insurance fraud to save a patient in Season 15.
While her future may be at stake, Meredith appeared to receive an outpour of support in a sneak peek preview of the episode. Her attorney Nancy Klein (Devika Parikh) warned her to "sit still and shut up" in the clip, to which Meredith obliges. However, she appears completely shocked when she sees a room full of former patients and colleagues there rallying for her.
"These people have come from all over to speak for Meredith," Karev said.
However, there at least seems to be one former friend of Meredith's who doesn't seem to be lending the exiled doctor her support in the clip: Miranda Bailey (Chandra Wilson). She's still peeved with the three doctors for breaking the law in the first place. "You flat out lied," Bailey told Webber in the clip.
Bailey hasn't been shy with her criticism and anger towards Meredith, Karev or Richard since she discovered they committed insurance fraud back, and from the looks of it, she isn't planning on offering any forgiveness anytime soon. She may be one of the practitioners advocating for Meredith's medical license to be revoked.
Webber and Karev are expected to take the stand in defense of Meredith and the crime they committed during the episode, but the sneak peek hinted at Bailey possibly throwing a monkey wrench in their arguing statement. "Sorry your honor, I have something more to say," Bailey interrupted.
While the drama surrounding Meredith's future unfolds in the courtroom, back at the hospital the interns will face the pressure to perform their duties in the absence of the usual Grey-Sloan Memorial stars.
Grey's Anatomy airs on ABC at 8 p.m. ET. Viewers can stream the episode on the network's website and app, although a cable provider login is needed to access the stream.