Watch DeLuca Struggle to Save An Incurable Patient on 'Grey's Anatomy' Season 16: Spoiler Alert
Dr. Andrew DeLuca is facing a serious dilemma.
The Grey Sloan Memorial doctor will find himself at a crossroads on the upcoming Season 16 episode of Grey's Anatomy—airing on Thursday night—and it could very well cost a patient her life.
The synopsis for episode 13, titled, "Save the Last Dance for Me," hinted at DeLuca (Giacomo Gianniotti) struggling to save his patient Suzanne (Sarah Rafferty), a young mother who is suffering from an incurable ailment. The surgical resident can't seem to pinpoint the root of Suzanne's sickness, and her health continues to worsen.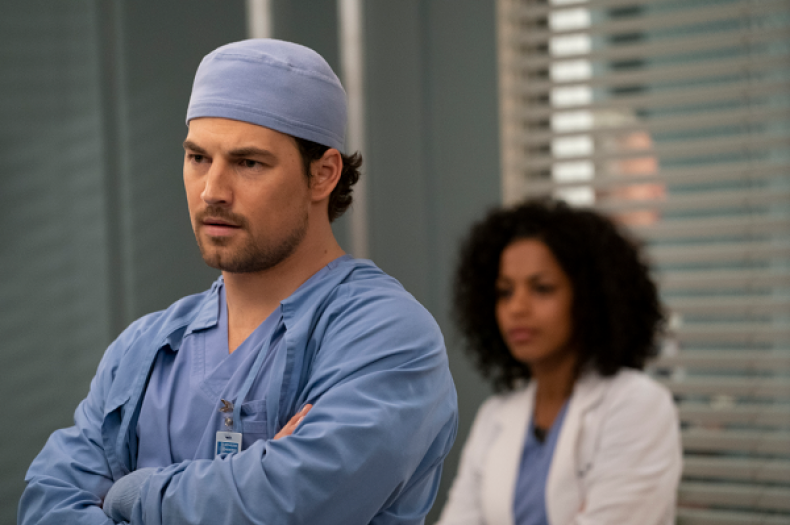 With Suzanne's life on the line, DeLuca will have turn to an outside resource for help. His crusade to save his patient will lead him to "diagnostics genius," Dr. Lauren Riley, played by Shoshannah Stern.
Since Season 16 of Grey's Anatomy returned from winter break, DeLuca's primary focus has been to find a cure for his patient Suzanne. The widow, who lost her husband due to an unknown illness, first arrived at the fictional Seattle hospital for a routine appendectomy. However, the operation has since developed into a life-threatening situation for Suzanne, who is now suffering from a slew of mysterious symptoms.
Elsewhere in the hospital, Dr. Miranda Bailey (Chandra Wilson) will be dealing with a different kind of problem when the Station 19 firefighters arrive with three runaways. In an episode sneak peek, the oldest of the foster children, Joey (Noah Alexander Gerry), is rushed to the hospital after suffering a head injury while his little brother and sister reveal they ran away from home after their adopted father was arrested out of fear that authorities would separate them.
When Joey regains consciousness in the clip, his first concern is the whereabouts of his siblings. "Do you know where my little brother and sister are? Tell me, please," Joey begged.
Bailey struggles to give him an answer, indicating that the family's worse nightmare may have become a reality.
Meanwhile, Dr. Amelia Shepherd (Caterina Scorsone) will finally get some answers regarding her expanding family.
Amelia has been on pins and needles ever since she confessed to doctors Owen Hunt (Kevin McKidd) and Atticus Lincoln (Chris Carmack) that either of them could be the father of her unborn child. However, she should get some peace of mind during episode 13 when she receives the results of her paternity test.
Grey's Anatomy airs on ABC on Thursday nights at 9 p.m. ET.
Viewers can live stream the episode on ABC's website or app with a cable provider login. Fans with Hulu + Live and YouTube TV subscriptions can also watch Grey's Anatomy in real-time on those platforms.
Watch DeLuca Struggle to Save An Incurable Patient on 'Grey's Anatomy' Season 16: Spoiler Alert | Culture