Mark your calendars: Grey's Anatomy will be back with new Season 16 episodes in one week.
The award-winning series is slated to pick up right where it left off when it returns to ABC on January 23. However, the show will no longer air at 8 p.m. ET, but rather return to its original 9 p.m. time slot for the 2020 season. For the last eight years, Grey's Anatomy has aired at 8 p.m. ET, with fellow Shonda Rhimes-created series like Scandal and How to Get Away With Murder taking up the late Thursday night time slots. Now, the Shondaland spinoff Station 19 will air on Thursdays at 8 p.m. ET and Grey's Anatomy will follow.
The time changes make sense, especially since there are more Grey's Anatomy and Station 19 crossover expected when the series' return, starting with the first midseason episodes.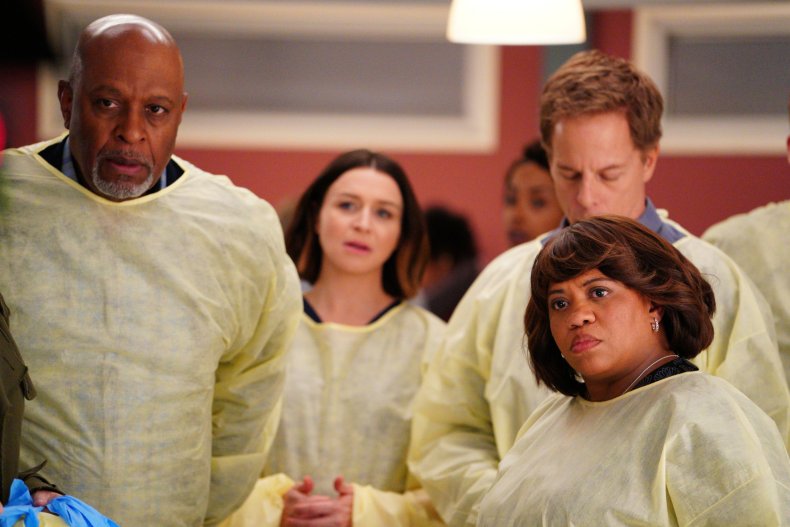 When fans last saw the medical staff at Grey Sloan Memorial Hospital and Station 19 firefighters and emergency crews were scrambling to help of a few of their colleagues following a horrific car crash at Joe's Bar. The winter premiere episode of Grey's Anatomy, titled "Help Me Through the Night," will see the doctors working to save their friends' lives, according to the show's synopsis.
The incident will take a toll on some of the doctors, particularly Miranda Bailey (Chandra Wilson), who will be experiencing bouts of grief following her loss. Meanwhile, doctors Owen Hunt (Kevin McKidd) and Teddy (Kim Raver) will reach a breakthrough in their relationship as Amelia (Caterina Scorsone) faces some roadblocks in her own romance with Link (James Christopher Carmack) sparked by her pregnancy revelation.
Although trauma seems to be on the agenda for many of the Seattle doctors on the winter premiere, fans should expect things to heat up as Season 16 continues. Now that the show is returning to a later time slot, showrunner Krista Vernoff claimed it will revive the sex appeal the show was known for during earlier seasons when characters like Mark "McSteamy" Sloan (Eric Dane) and Derek "McDreamy" Shepherd (Patrick Dempsey) existed.
"There are different rules for a 9 p.m. show than there are for an 8 p.m. show, and we hope to take advantage of those rules," Vernoff said during an interview with Deadline in November. "Grey's was definitely allowed to be a sexier show when it was on at nine o'clock. So we are excited by the change back to our original [Thursday] time slot."
There will also be a major cast change when the show returns. Fan favorite and longtime cast member Justin Chambers, who played Dr. Alex Karev, will not be back for the remainder of the season, according to a recent Deadline report. Grey's Anatomy debuted on ABC in March 2005, and Chambers appeared on the show from the very beginning.
"There's no good time to say goodbye to a show and character that's defined so much of my life for the past 15 years," Chambers said in a statement. "For some time now, however, I have hoped to diversify my acting roles and career choices. And, as I turn 50 and am blessed with my remarkable, supportive wife and five wonderful children, now is that time."