'Grey's Anatomy' Season 16 Release Date, Cast, Trailer, Plot: When is the ABC Show Back?
Four months after fans were dealt the shock of seeing Meredith Grey (played by Ellen Pompeo) fired from Grey Sloan Memorial Hospital, Grey's Anatomy is back on ABC for Season 16. The cast could see some big changes in the new season as a number of cast members are made series regulars following the round of firings viewers saw in the last finale.
The Grey's Anatomy Season 16 trailer reveals that these firings still stand in the new season, with Meredith even forced into community service while the hunt for Jackson (Jesse Williams) continues, according to the plot of the season opener.
When is 'Grey's Anatomy' Season 16 on ABC?
The Grey's Anatomy Season 16 premiere is Thursday, September 26 at 8pm ET/7pm CT on ABC, with subsequent episodes airing on Thursdays on the network as part of their "TGIT" line-up.
Season 16 is expected to have either 24 or 25 episodes, taking fans to mid-May 2020. Episodes will be available to stream online on Hulu and the ABC website and app after airing. The previous 15 seasons, meanwhile, are streaming on Netflix for those who want to catch-up or relive their favourite classic episodes.
Who is in the Cast of 'Grey's Anatomy' Season 16?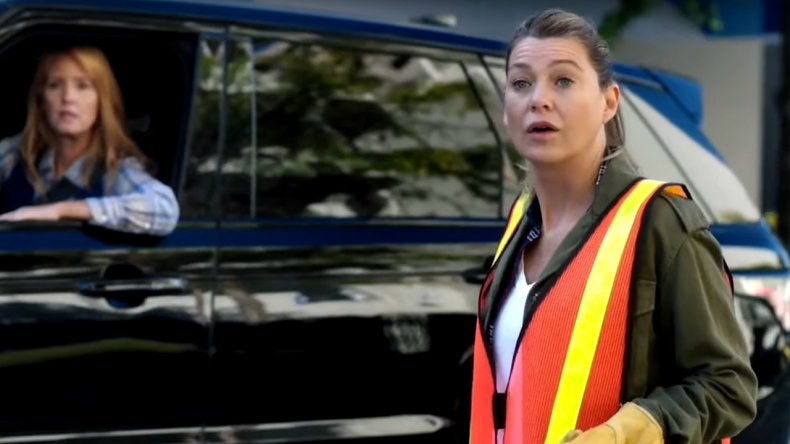 The following cast members are expected to return for Season 16:
Meredith Grey - Ellen Pompeo
Alex Karev - Justin Chambers
Miranda Bailey - Chandra Wilson
Richard Webber - James Pickens Jr.
Owen Hunt - Kevin McKidd
Teddy Altman - Kim Raver
Jo Karev - Camilla Luddington
Amelia Shepherd - Caterina Scorsone
Maggie Pierce - Kelly McCreary
Andrew DeLuca - Giacomo Gianniotti
Levi Schmitt (Jake Borelli), Thomas Koracick (Greg Germann) and Atticus Lincoln (Chris Carmack) have all been promoted to the main cast of characters for 'Grey's Anatomy' Season 16. Jackson is also credited in the cast list, with the trailer revealing that Maggie finds him in a critical condition in Episode 1.
Showrunner Krista Vernoff also teased that a familiar face may return to star in the show, telling TV Line: "I'm trying to get someone back...There's someone I'm hoping will make an appearance this year, [but] it's a real maybe. I'm trying."
Among the big-name guest stars fans can expect is a mini-Charmed reunion as stars Alyssa Milano and Holly Marie Combs appear in Season 16, Episode 3 playing sisters who have to decide whether their sister should be kept alive after becoming brain-dead.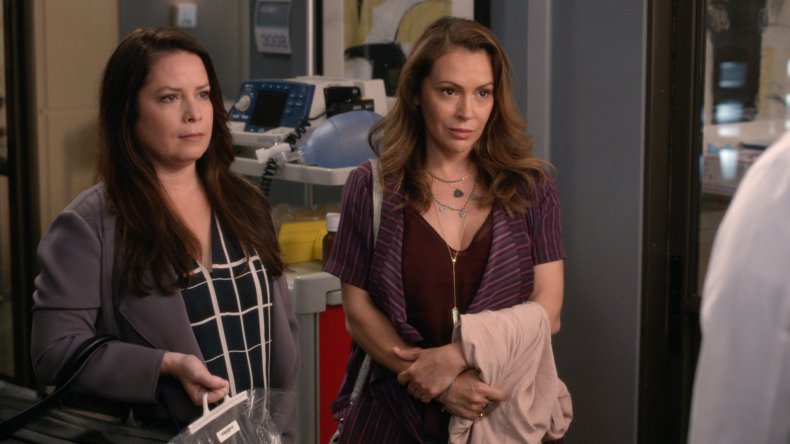 What Will Happen in 'Grey's Anatomy' Season 16?
There could be some big changes in the upcoming season following the events of the last finale which saw Meredith, Richard and Alex taking the fall for insurance fraud. Season 16 picks up "moments from where we left off," Vernoff told TVLine, with the trio still fired and Jackson still missing.
Meredith's new role causes problems between her and DeLuca according to Vernoff, who said: "They've got to navigate the complexities of a new relationship in the wake of Meredith having been fired and having broken the law... There are stressors on their very new relationship coming from the ramifications of those decisions last season."
The triple-firing will also have ramifications for the rest of the staff of Grey Sloan. As Levi actor Jake Borelli told Entertainment Tonight: "It's going to be tricky because a lot of the head doctors have now lost their jobs and I think that it's going to affect everybody in a different way. That's where we pick up. We start to realize how one decision affects all of these doctors differently.
"I think we're still learning how it affects Levi. A lot of these people he's looked up to for the last couple of years and he is now seeing in a slightly different light maybe. So, we're still playing it out, but I think it's going to be exciting."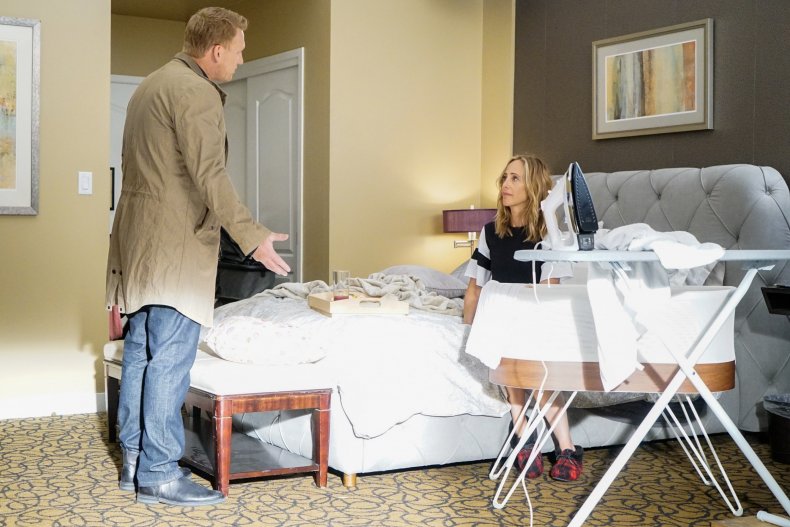 Is There a Trailer for 'Grey's Anatomy' Season 16?
The season premiere promo was released by ABC in mid-September. In this trailer, we see Meredith picking up trash as part of her community service. When asked if she's really a doctor, she says, "I used to be". Later in the teaser, she is told off by her supervisor for offering medical assistance to the other trash pickers.
The trailer also gives us a glimpse of some of the major plot points we can expect from Grey's Anatomy Season 16. We see Owen and Teddy struggling with their new baby, while Amelia and Link flirt over the operating table before talking about going into an open relationship while on a date.
'Grey's Anatomy' Season 16 starts Thursday, September 26 on ABC