Dr. Maggie Pierce is getting her groove back.
After nursing the love wounds caused by her breakup with Dr. Jackson Avery (Jesse Williams) on Season 16 of Grey's Anatomy, the surgeon played by Kelly McCreary is ready to jump back on the relationship saddle.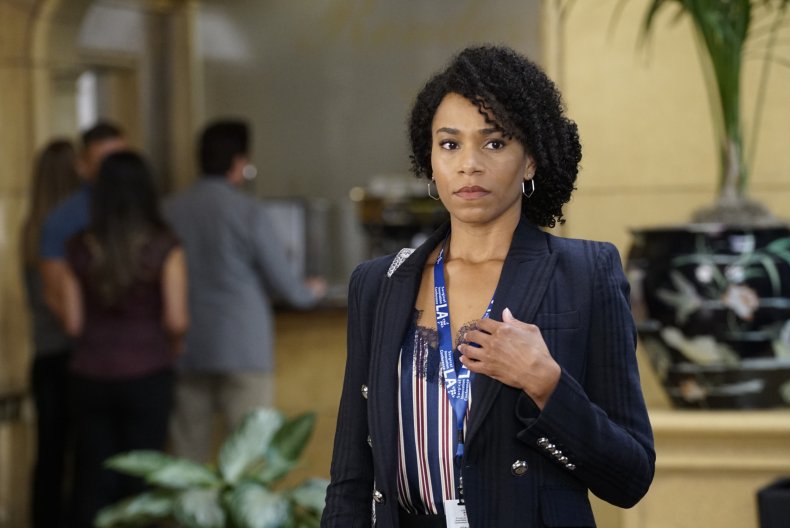 OK, maybe she's not looking to go that far, but she will be taking up with an unexpected new suitor on the upcoming episode of the ABC medical drama. In the sneak peek for Episode 19, titled "Love of My Life," Maggie meets a new man while attending a medical conference with Dr. Teddy Altman (Kim Raver) and a few other Grey Sloan Memorial elitists.
Although she insists that she doesn't "sleep with strangers," the clip's next few scenes seem to reveal that she does, in fact, sleep with strangers. Maggie is spotted in the episode trailer canoodling in bed with an attractive mystery man, who later tells her that he's "never fallen this hard in one night" for any other woman.
Meanwhile, the episode synopsis teased interesting times ahead for Maggie's father, Dr. Richard Webber (James Pickens Jr.), as well. However, his situation likely won't bring about the same warm and fuzzy feelings that Maggie's potential new beau has. Richard is set to present his PATH Pen, a surgical pen that can detect cancerous tissues, at the same medical event his daughter and other Grey Sloan doctors are attending—the L.A. Surgical Innovation Conference—but he will find himself "distracted by his issues" with Dr. Catherine Fox (Debbie Allen), who just served him separation papers on last week's episode.
Teddy, who has yet to tell her soon-to-be-husband, Dr. Owen Hunt (Kevin McKidd), about her adulterous romp with Dr. Tom Koracick (Greg Germann), may also be facing romantic troubles when she runs into someone from her past at the same conference.
Then there's the issue of Dr. Andrew DeLuca (Giacomo Gianniotti) that we have to deal with. It's unclear if the new episode will include any update on what's going with him after he was last seen speeding down an empty highway on a motorcycle following his slightly manic outburst at the hospital. On the last episode of Grey's, DeLuca promised Dr. Meredith Grey (Ellen Pompeo) that he wouldn't quit his practice but rather follow the suspension orders Dr. Miranda Bailey (Chandra Wilson) delivered after he made a scene in the hospital and claimed that one of his patients was a victim of sex trafficking.
Although Bailey later discovered DeLuca's hunch was right, she didn't get back in touch with him after he stormed out of the hospital. And the way he zoomed down the highway in a rage was alarming.
Only adding to the uneasiness surrounding DeLuca's future: One of the show's directors, Linda Klein, recently told TV Guide that viewers "should be very worried" about the surgeon.
Grey's Anatomy airs Thursdays at 9 p.m. EST on ABC.