How to Watch 'Grey's Anatomy' Season 16: Live Stream, Spoilers and More Info for Halloween Episode
Dr. Meredith Grey won't need to look for a Halloween costume on the upcoming episode of Grey's Anatomy. A Seattle judge already has one in mind for her—a jailbird's outfit.
After missing a court appearance on last week's episode of the medical drama, Meredith (Ellen Pompeo) will have to pay her dues for skipping community service. A promo video for the upcoming Season 16 episode, titled "Whistlin' Past the Graveyard," reveals Meredith does indeed go to jail.
While waking up next to an inmate might seem scary, nothing's more frightening for her than possibly missing all the Halloween fun with her children. But the odds of her making it back home in enough time to take her kids trick or treating doesn't seem likely.
"I have three kids at home, and I have to get a costume," Meredith, dressed in a red jumpsuit, pleads to an officer in the clip.
His response before walking past her jail cell: "You can go as a bad mom."
Times are even scarier over at Pacific Northwest General Hospital. Despite the hospital's many failings, Dr. Alex Karev (Justin Chambers) is determined to make an impact and get things running as smoothly as they once were at his old post, Grey Sloan Memorial. His efforts to make Pac-Gen North a better place will face even more complications after construction workers discover human remains on the hospital's excavation site.
Only heightening his stress, the skeletons are found on the same day he's scheduled to bring investors to view the hospital so he can possibly secure more funds. So he'll enlist Dr. Richard Webber (James Pickens Jr.) to distract the investors while he figures out how to handle the burial.
"Construction has stopped due to a mass grave," Karev says in the clip. "Explains why this place feels haunted," Webber replies.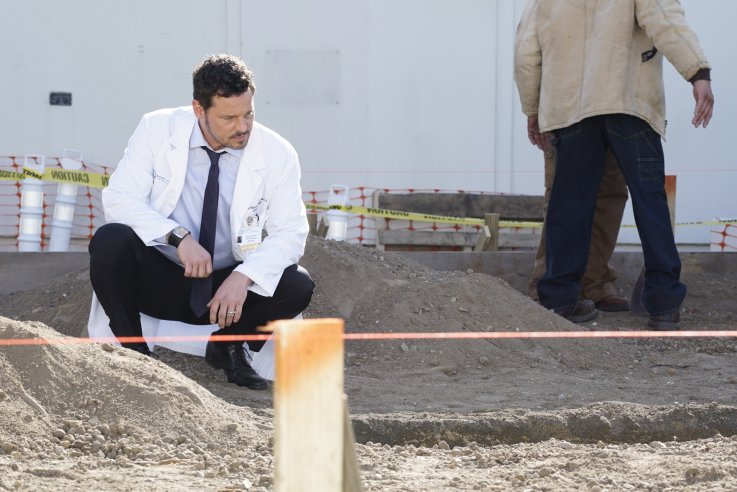 Meanwhile, at Grey Sloan the only thing haunting a staff member is Teddy Altman's (Kim Raver) parenting guilt. According to the show's synopsis, the doctor will feel "the pressure to be supermom after tasking herself with creating original Halloween costumes" for her two kids. Jackson Avery (Jessie Williams), on the other hand, will get to play good doctor when a sick pediatric patient shares her frustrations about spending Halloween confined to her hospital bed.
Grey's Anatomy airs Thursdays on ABC at 8 p.m. ET. Viewers without access to a TV can still tune into the show via streaming on the network's website or by using the ABC Go app. However, a cable provider login is required to access the stream. Folks with Hulu Live TV services can watch the series in real time there, while those with standard Hulu subscriptions can view it later on demand.
How to Watch 'Grey's Anatomy' Season 16: Live Stream, Spoilers and More Info for Halloween Episode | Culture