'Grey's Anatomy' Cast: Who is Alma 'Mama' Ortiz and Who Plays Her?
Grey's Anatomy Season 17 is in full swing, with a host of new cast members appearing as we meet this year's batch of interns. One of them distinguished themselves, however, by standing up to Tom Koracick (played by Gregg Germann) in a what that seems to hint at future romance between the intern and neurosurgeon.
When we were introduced to these interns on Grey's Anatomy Season 17, Episode 3, titled "My Happy Ending," (streaming now on the ABC website, app and Hulu), when we learned that among them was a mother and daughter pair who had the same surname, Ortiz.
This led Richard (James Pickens Jr.) to quip: "Two interns with the same name won't fly. Who's changing theirs?" This lead the older of the pair, Alma (Sara is the daughter), to become known as Mama Ortiz.
If you recognized the woman who played Mama Ortiz, Lisa Vidal, that is because she has been working in TV and film for 40 years. Her first role per IMDb was in a TV series titled Oye Willis, described by the New York Times at the time as: "A 10‐part dramatic series...about the experiences of a young Latino growing up in a barrio of New York." (The actress herself was born in Queens).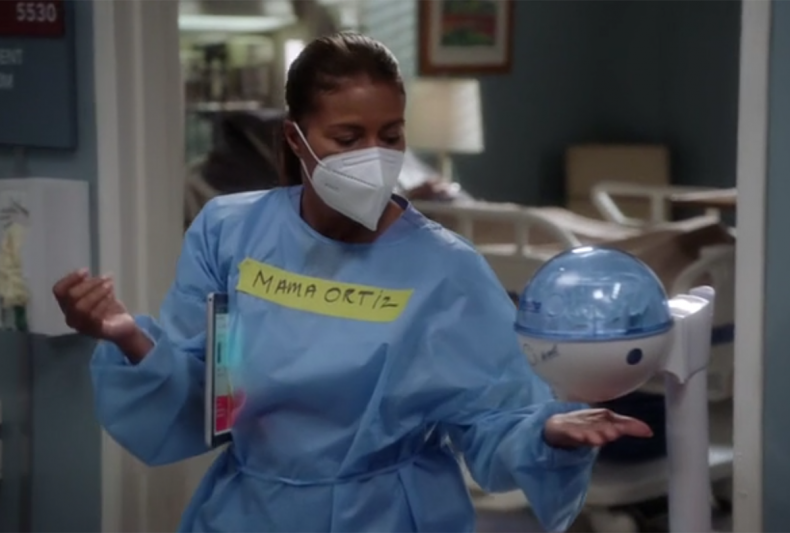 Single appearances followed in shows like Miami Vice, The Cosby Show and the ABC Afterschool Specials.
Grey's is not Vidal's first medical drama. Fans of the genre may recognize her as ER's Sandy Lopez, the firefighter who was the long-term girlfriend of long-running cast member Kerry Weaver (Laura Innes).
More recently, she starred in her biggest role to date, appearing in over 50 episodes of Gabrielle Union's BET show Being Mary Jane. She also had a role in ABC's recently canceled series The Baker and the Beauty.
She is also the sister of Christina Vidal, who a generation of kids will remember as the lead of Nickelodeon's Taina.
On Grey's however, she has already made plenty of fans by doing something that plenty of viewers would love to do: Give Koracick a piece of her mind, after he tried to discharge a patient to her care home as it was infested with COVID-19.
Whether they stay as sparring partners or develop something else remains to be seen—though the Entertainment Weekly review of the episode notes, "Mama Ortiz and Koracick are totally hooking up in the future. I'm calling it."
Grey's Anatomy Season 17 airs Thursdays at 9 p.m. ET / 8 p.m. CT on ABC.