Grey's Anatomy Season 17 is taking a break for the first time since early March, with Episode 14 (titled "Look Up Child") not set to air on April 29.
ABC viewers do not have that long to wait for the next episode, which will see Sarah Drew return as Dr. April Kepner for the first time in three years.
Why Grey's Anatomy Season 17 isn't airing this week
Grey's Anatomy has been preempted this week – an industry term meaning in this case that another show is set to take its place.
This week, instead of the latest dose of its most popular medical drama, ABC is airing its coverage of the 2021 NFI Round 1 Draft from 8 p.m. ET / 7 p.m. CT until 11:30 p.m. ET / 10:30 p.m. CT.
This means it is not only Grey's Anatomy not airing this week, as also missing from the schedules is its spin-off Station 19 plus A Million Little Things.
Usually, shows like Grey's Anatomy have to take breaks across the season so as to spread out the 24-or-so episodes of the season across the 36-week TV stint.
As Grey's started about two months later than usual, however, the show has seen a much less interrupted run. Apart from its three-month hiatus at the start of 2021, the show has aired an episode every week since the end November.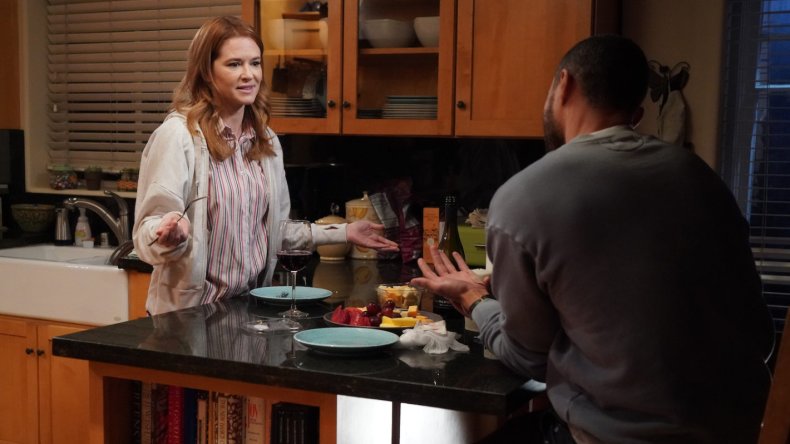 What will happen in Grey's Anatomy Season 17, Episode 14?
The official ABC synopsis for "Look Up Child" reads: "Jackson [played by Jesse Williams] pays a visit to his father that helps set him on the right path." Per ABC, that father is to be played by Eric Roberts, in his first appearance on the show since 2017 – and the latest of his staggering 600-plus IMDB credits.
That summary does not mention the biggest news of the episode: that it will feature Dr. April Kepner in her first appearance since leaving Grey Sloan three seasons ago.
In the promo for the episode, we see Jackson driving in the rain until he arrives at the door of his ex-wife and the mother of his child.
After her return was revealed in March, Sarah Drew told People: "I didn't fully believe it was happening until I literally signed the contract, which didn't come until a while after the initial conversations.
"It started with an initial conversation, and I was like, 'This sounds interesting, the story sounds interesting.' But you never know if the storyline is going to change or they're going to change their mind, so I didn't really settle into the reality that it was happening until I knew 100 percent it was happening."
Speaking to TV Insider, she called the episode a "Jackson story," adding, "He's going through something big and she's the one that is there to listen."
Dr. April is just the latest returning Grey's star to turn up Season 17. With Meredith Grey (Ellen Pompeo) stuck on some sort of dream death beach, the show has had a number of late characters return, including McDreamy (Patrick Dempsey) himself, Mark Sloan (Eric Dane) and Lexie Grey (Chyler Leigh).
Grey's Anatomy Season 17 airs Tuesdays at 9 p.m. ET / 8 p.m. CT on ABC. Seasons 1 to 16 are streaming on Netflix, and Season 17 so far is streaming on Hulu.