'Grey's Anatomy' Season 17: Will Meredith Grey Die?
Grey's Anatomy Season 17 has mostly seen Meredith Grey (played by Ellen Pompeo) unconscious since collapsing in the hospital parking lot in the premiere of the ABC medical drama. Initially, this just seemed like a way to bring back Patrick Dempsey as McDreamy (or should that be "dream McDreamy"), but ABC is about to air Episode 4 and she has still not woken up.
In fact, the Grey's Anatomy Season 17, Episode 4 promo seemed to hint that Meredith's condition is worse than ever. In that trailer, released at the end of the last episode, we hear Dr. Amelia Shepherd (Caterina Scorsone) say, "Meredith's not improving...they can't wake her." The voiceover then says, "Meredith's life hangs in the balance."
This has left fans wondering whether the show is getting ready to do the unthinkable and kill off Meredith Grey in Episode 5, set to air on Thursday, December 3. Though the character has had plenty of brushes with death over the last 17 seasons (this is not even her first coma), recent comments made by Pompeo should give fans particular reasons to worry.
In Variety in October, the actor said: "We don't know when the show is really ending yet. But the truth is, this year could be it. I mean, this is the last year of my contract right now. I don't know that this is the last year, but it could very well could be."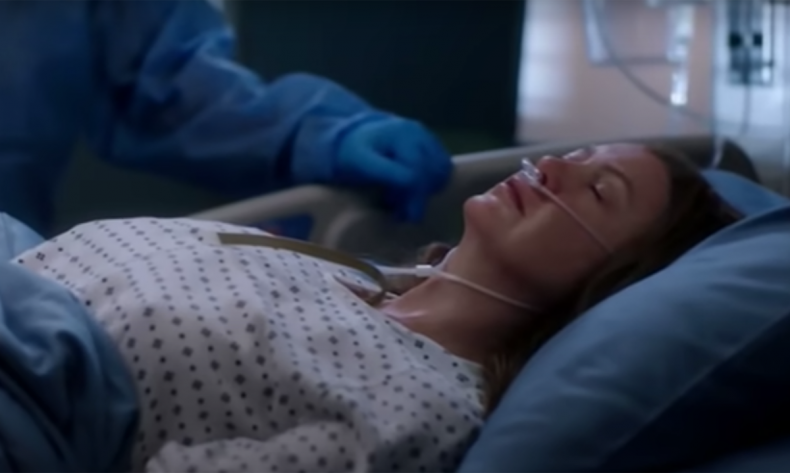 However, the fact that Meredith is in a coma this early in the season does probably mean that she is going to be fine in the end. After all, Grey's creator Shonda Rhimes had said that the show will end when Pompeo wants to leave, and a) there has been no announcement that the show is ending and b) fans are likely to be very unhappy if Meredith's final episodes on the show just see her sleeping until she dies.
Plus, in typical Grey's Anatomy fashion, there is a love triangle afoot that Meredith eventually needs to wake up to be part of. Speaking to TVLine about the triangle between Meredith, DeLuca (Giacomo Gianniotti) and Cormac Hayes (Richard Flood), Vernoff said: "I don't know if I think that DeLuca is rising to a level of dark and twisty and life experience that makes him somehow a [suitably] mature partner for Meredith. Or if all that Hayes has been through in his life already makes him her equal. I am delighted to have such a conundrum."
In fact, Meredith's near-death experience might actually be a wider part of this plot. DeLuca is currently nursing her back to health, and nothing is going to kindle their love more than if he can literally bring her back to life.
However, while Meredith is in her unconscious state, the show is making the most of the chance to bring back another dead character. The Grey's Season 17, Episode 5 trailer ended by teasing that, "another person from her past returns." Fans will have to tune in to ABC, however, to get the latest on Meredith's health and see who that ghost of Grey's past might be.
Grey's Anatomy Season 17 airs Thursdays at 9 p.m. ET / 8 p.m. CT on ABC.