'Grey's Anatomy' Season 18 Release Date, Cast, Trailer, Plot — All You Need to Know
Grey's Anatomy is back for another season and fans have been anxiously waiting on a reunion with Meredith Grey (Ellen Pompeo) and the staff of Grey and Sloan Memorial Hospital. Newsweek has everything you need to know about Greys' Anatomy season 18's release date, cast, trailer, plot, and more.
When is Grey's Anatomy' Season 18 Out?
There is good news for Grey's Anatomy fans, the latest outing is coming to screens a lot sooner than you might think.
Season 18 of Grey's Anatomy will premiere on Thursday, September 30 at 9pm E.T. on ABC.
There are expected to be at least 17 episodes in the new series, which will air Thursdays on ABC.
To watch the brand new season of Grey's Anatomy, you can catch each episode as it airs live on ABC. Alternatively, you can stream each episode live or on-demand via the ABC App or ABC.com.
Grey's Anatomy will also be available to watch via Hulu. You can sign up to Hulu for $5.99 per now.
Who Will Star in Grey's Anatomy Season 18?
The 18th season of Grey's Anatomy will feature some familiar faces alongside some brand new cast members.
Ellen Pompeo, who has been a part of the Grey's Anatomy family since the show began in 2005, is back as Dr. Meredith Grey.
Also returning are Chandra Wilson as Dr. Miranda Bailey, James Pickens Jr. as Dr. Richard Webber, Kevin McKidd as Dr. Owen Hunt, and Caterina Scorsone as Dr. Amelia Shepherd.
Other returning faces include Camilla Luddington as Dr. Jo Wilson, Kelly McCreary as Dr. Maggie Pierce, Kim Raver as Dr. Teddy Altman, and Jake Borelli as Dr. Levi Schmitt.
Chris Carmack will also be back as Dr. Atticus "Link" Lincoln, alongside Anthony Hill as Dr. Winston Ndugu and Richard Flood as Dr. Cormac Hayes.
Sadly, Season 18 will be the first season not to feature Jesse Williams as Dr. Jackson Avery, Giacomo Gianniotti as Dr. Andrew DeLuca, and Greg Germann as Dr.Tom Koracick.
However, there is some great news for OG Grey's Anatomy fans. Kate Walsh is returning as Dr. Addison Montgomery.
Walsh made her last appearance in season eight of Greys in 2012.
Announcing her return on the official Grey's Anatomy Instagram, Walsh said in a video: "Dr. Addison Montgomery is coming back to Grey Sloan Memorial Hospital, and I'm so excited to be home again joining Shonda [Rhimes], Ellen [Pompeo], and the rest of the incredible cast
"Season 18. Just wait until you see what she has in store for you."
Abigail Spencer will also be reprising her role as Dr. Megan Hunt in the 18th season. Spencer was last seen in season 15 before her character moved to Los Angeles with her partner Nathan Riggs (Martin Henderson).
There are also some new faces at Grey and Sloan Memorial Hospital.
The OC's Peter Gallagher will star as Dr. Alan Hamilton, a friend of Meredith's mother (Kate Burton).
What Will Happen in Grey's Anatomy Season 18?
The cast and crew of Grey's Anatomy have kept very tight-lipped about the upcoming series.
Season 17 did touch on the coronavirus pandemic that is currently still ongoing, so viewers should expect to see a little more of that, especially after Meredith's run-in with the virus in the season finale.
Speaking to Entertainment Tonight, Camilla Luddington who plays Dr. Jo Wilson in the series teased a little of what is come involving Meredith's storyline, revealing her priorities have slightly changed.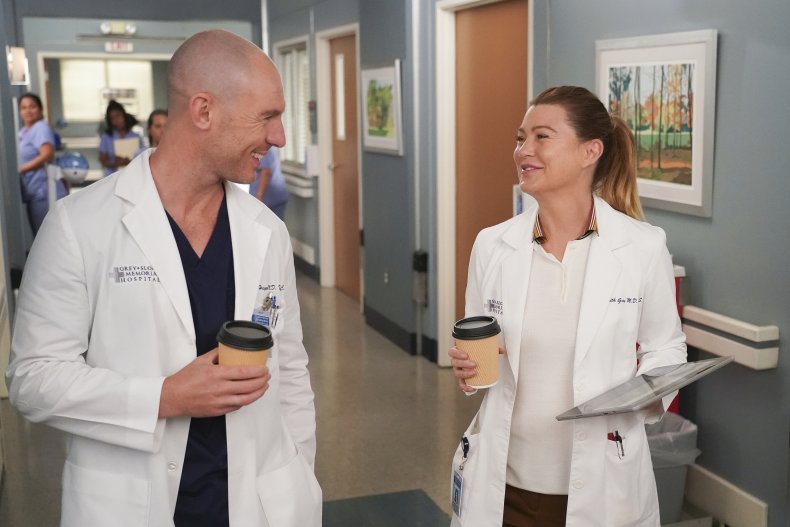 Luddington said: "It is like her eighth near-death experience. It made her focus on what matters to her and all of these things that don't necessarily matter in her life and streamlined her into thinking more about future big decisions for herself."
Chris Carmack who plays Link added: "She is cutting out some of the fat or some of the BS in her life and really making important decisions for herself."
The first episode will also be a two-hour crossover event with Station 19, which will see the staff of Grey's and Phoenix Fair come together.
Is There A Trailer for Grey's Anatomy Season 18?
No, there is no trailer for Grey's Anatomy season 18 but there is an epic teaser for the Grey's and Station 19 crossover event.
The promo video begins with Meredith imagining her mother Ellis is in the room. Ellis tells her daughter she has managed to survive the "unthinkable". She then asks "What are you going to do, Meredith?"
The trailer then takes a dramatic turn, flashing to the Station 19 squad whose fire truck has been hijacked. Without a truck, they are forced to take their injured patient to Grey Sloan Memorial Hospital on foot.
A voice-over then announces: "Brace yourself for one hell of a return."
Grey's Anatomy Season 18 premieres Thursday, Sept. 30 at 9 p.m. ET.