Who Are the 'Grey's Anatomy' Season 16 Guest Stars? Spoilers Reveal 'Charmed' Reunion Episode
Viewers have long waited for the enchanting Halliwell sisters of Charmed to reunite, and finally, their prayers have been answered.
Two of the former sister witches from WB's classic series, Alyssa Milano and Holly Marie Combs, are slated to appear on an episode of Grey's Anatomy when the ABC medical drama returns for Season 16. The duo, who starred as Phoebe and Piper Halliwell on Charmed for eight years, will play sisters once again in a heartbreaking second episode of the ABC show set to air in October.
ABC released the image of Milano and Combs' guest episode of Grey's on Monday. The women are faced with the harrowing task of determining a third sister's fate after she falls into a construction site. The accident leaves the woman brain dead at Grey Sloan Memorial Hospital, leaving Milano and Combs' characters to decide whether or not to keep their sister alive, according to the episode synopsis.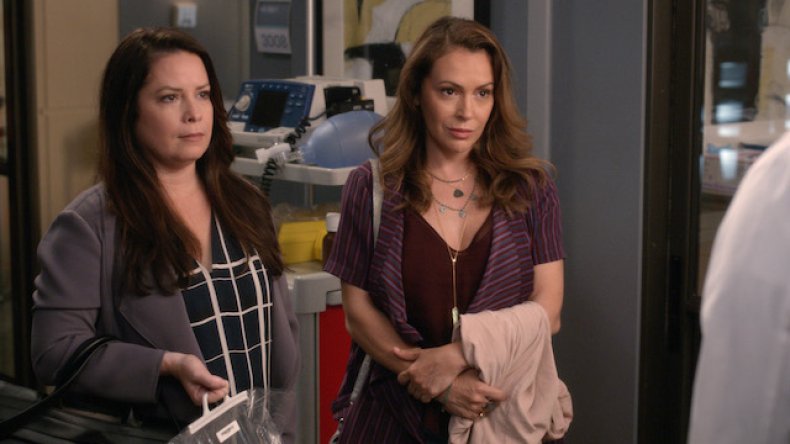 The episode marks the first time Milano and Combs have appeared on TV together since Charmed ended on The WB in 2006. Shannon Doherty stared as the third sister on Charmed, Prue Halliwell, but when her character died, Rose McGowan came to the series as their long-lost sister Paige Matthews.
The series has since been rebooted on CW network, which stars Sarah Jeffery, Melonie Diaz, and Madeleine Mantock as witch sisters Mel, Maggie and Macy Vaughn, respectively.
Milano and Combs' will likely be the first of many actors to appear on Grey's Anatomy during the 2019/2020 primetime season considering the show's reputation for featuring some of Hollywood's biggest stars in its episodes. With 341 episodes of Grey's airing since it's 2005 debut, more than 50 actors have landed guest roles on the series. Some of the most famous faces to appear on Grey's over the years include Abigail Breslin, Millie Bobby Brown, Neve Campbell, John Cho, Geena Davis, Demi Lovato, Mandy Moore, Elisabeth Moss, Sarah Paulson, Jesse Plemons, Christina Ricci, Tessa Thompson and Wilmer Valderrama, among others.
Viewers may notice an increase of reunited cast members on programs across ABC may in October. ABC is launching its #CastfromthePast reunion event across the network during the second week of October, which means actors from some of the beloved and classic TV series and movies will reunite on episodes of the ABC's current shows.
Along with the Milano and Combs reunion on Grey's, The Conners star John Goodman will appear alongside his Blues Brother partner Dan Ackroyd in a Season 2 episode of the Roseanne spinoff. Meanwhile, Wet Hot American Summer stars Michael Ian Black and Lake Bell will team up for an episode of Bless This Mess. On black-ish, Traces Ellis Ross will reunite with her Girlfriends gal pals Golden Brooks, Jill Marie Jones and Persia White.
Grey's Anatomy returns to ABC with Season 16 on September 26 at 8 p.m. ET.