How to Watch 'Grey's Anatomy' Season 16: Episode 5 'Breathe Again' Spoilers, Live Stream and More
Miranda Bailey has always been a relatively tough doctor on Grey's Anatomy. Since the show first debuted in 2005 she's subscribed to a no-nonsense policy, and she continues to play by the rules even now in Season 16.
However, the chief surgeon has gone a little off the rails as of late with her strict managing tactics. Bailey's (Chandra Wilson) yelled at and reprimanded just about everyone on staff since the new season started—not to mention the firing spree she's been on since axing doctors Richard Webber (James Pickens Jr), Alex Karev (Justin Chambers) and Meredith Grey (Ellen Pompeo) back in the Season 15 finale. As much as fans hated seeing the trio go, their firings were justified—they did break the law and commit insurance fraud after all. But what about Dahlia Qadri (Sophia Taylor Ali's)? She was fired for merely expressing her disappointment over Meredith's firing.
The reason why Bailey's acting more aggressive than usual may finally be revealed when Season 16, episode 5 airs on Thursday.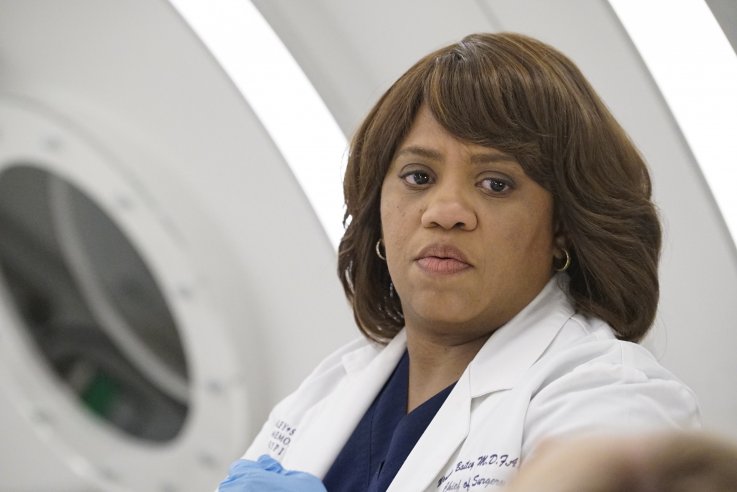 In a sneak peek video of the upcoming episode, titled, "Breathe Again," the doctor drops a huge bomb on her husband Ben Warren (Jason Winston George) that may explain her seemingly hormonal behavior.
"I wanna talk to you about something," she says to Ben in the clip just moments before he dozes off to sleep. "I am pregnant."
Meanwhile, Meredith's career may be facing an ice block but at least her love life is heating up. She gushed over her steamy new romance with Andrew DeLuca (Giacomo Gianniotti) while speaking to her sisters Maggie Pierce (Kelly McCreary) and Amelia Shepherd (Caterina Scorsone). However, it's doesn't seem as though she has any intentions of making things official with her new beau.
"He's sexy, and he's fun," Meredith said. "I don't know if he'll ever be more than that."
Deciding whether or not to take her relationship to the next level may be the least of her worries though. The episode synopsis teased more legal trouble on the horizon after Meredith skipped out on community service. With her medical license already at stake, her court appearance in episode 5 could mean even more bad news for her work life.
Speaking of bad news, Webber may have some to share with his wife if a fan theory turns out to be true.
Earlier in the season Webber's old AA pal Gemma (Jasmine Guy) resurfaced on the show. Not long after Karev hired Webber at Pac North, he realized his old friend also works there. It seemed harmless—two old pals reviving their friendship after discovering their shared place of employment. But Gemma may have something more on her mind in regard to the married doctor, and her true desires for Webber will come to light on Thursday's episode.
In the sneak peek, Gemma appeared to proposition Webber while the pair had lunch. "Life is too short to deprive ourselves," she said while rubbing his hand.
From the moment Gemma reemerged on Grey's Anatomy, fans have shared their theories of Webber cheating on his wife Catherine Fox (Debbie Allen) with her. It doesn't help that his marriage is already in tatters. Plus, Guy is signed on to have a reoccurring role on Season 16, so whatever's festering between the characters likely isn't going to end anytime soon.
Grey's Anatomy is set to air on ABC Thursday at 8 p.m. ET. Viewers can live stream the series through ABC's website and app, although a cable provider login is needed to access the stream. Folks with Hulu Live TV can also watch the episode there in real-time, while those with standard subscriptions can stream it later On-Demand.
How to Watch 'Grey's Anatomy' Season 16: Episode 5 'Breathe Again' Spoilers, Live Stream and More | Culture