Off the Grid: Inside the Movement for More Space, Less Government, and True Independence in Modern America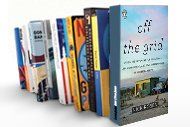 Nick Rosen
292 pages | Buy this book
They've rejected utility companies. That means no easy electricity, no running water, no television, and no flushable toilet. Living "off the grid" is all about creating an individualized, self-sufficient economy. Rosen crisscrosses the country to meet these unusual Americans and finds a curious mix: ex-office workers turned "social anarchists," religious fundamentalists, right-wing survivalists, authors, pot growers, and city dwellers who maintain part-time "bug-out" homes. Might the rest of us have something to learn from them?
What's the Big Deal?
The financial crisis, collapse of the housing market, concern about the human impact on the environment, 10 percent unemployment, the celebrification of culture, and the everyday ubiquity of technology set the scene for serious discussion about new ways to live in the modern world. The number of Americans who currently live off the grid is relatively small—Rosen says that by 2007 there were only 300,000 off-the-grid households in the United States (that's about one in every 383). For him, the "grid" is a metaphor for the restrictions of modern society, and going off it brings incalculable benefits, chief among them: less energy suckage and more sustainable living.
Buzz Rating: Whisper
Rosen's book hasn't generated much talk. It's currently off the grid.
One-Breath Author Bio
Rosen is an English journalist, documentary filmmaker, and fierce off-the-grid advocate. He edits the Web site off-grid.net and maintains an off-the-grid home in Majorca, Spain. His last work was a guidebook called How to Live Off-Grid: Journeys Outside the System.
The Book, In His Words
"Most of the people I met on my tour of America are losing faith in the grid, in both its literal and metaphorical sense. They don't feel a sufficient advantage to being inside the fabric of society. This led me to conclude that living off the grid is more than a lifestyle choice. It is a political act, with benefits way beyond the individual off-gridder. And compared to listing environmental problems or complaining about the oil industry, it is a positive act, one that adds to social diversity and is good for the species" (page 282).
Don't Miss These Bits
1. Fight the grid! Rosen says it silently controls modern society. On electricity: "That we now have a hugely inefficient production and distribution process, not to mention grotesque rates of energy consumption, suggests that this ramshackle system probably should never have been invented in the first place" (page 20).
2. Meet some of the off-the-gridders . . . Jim Juczak a.k.a. The Sultan of Scrounge: a bushy bearded, redhead school teacher who lives in a house with walls made of concrete embedded with old wine bottles that color his life with hues of green and brown. Next up: Wretha and her husband, Mountain Man Bob, a pair of "post consumers," who live in a wooden box, import cigarettes from Moldova, and dine on nonperishable food. They may use disposable dinnerware, but claim to be happier without the grind of city life and unrewarding menial employment. Last but not least, there's Vonnie Mallon, former vice president of marketing for Urban Outfitters who lives in an Earthship community with her husband, Pat. The pair have a slick, well-decorated home, complete with an odorless composting toilet.
3. Get the state involved. Rosen proposes that Washington fund half a dozen off-grid developments. Here's his pitch to Energy Secretary Steven Chu: "Each would have a few hundred inhabitants and each would be limited to using, for example, only 10 percent of the energy used per capita in the rest of the country. The speed and enthusiasm with which these places would be taken up would determine, once and for all, the demand for this lifestyle. And if the experiment proved that the technology works, then this once-maverick section of American society would be widely imitated by mainstream society because my hunch is that deep down millions feel the same way" (page 291).
Swipe This Critique
Rosen's off-the-gridders may be iconoclastic, but his encounters with them can come across as superficial. Instead of complex, thoughtful discussions about individual motivation for choosing to live off-the-grid, he obsesses over their physical appearance and quirky attire. But a clown show this is not. There's certainly a serious argument to be made about finding a more energy-efficient life, but his opinions—which are often awkwardly tacked on—elbow out intellectual honesty.
Tic Alert
He seems to speak to a lot of people who have "aquiline" noses.
Gradebook

Prose: Packed with vivid description, but he could have cut in half his witty observations.
Construction: A series of thematically organized profiles.
Bottom Line: A compelling look at a relatively invisible subculture.