Last week, rumors that Elon Musk and Grimes had named their baby Influenza swirled on the internet, but they've been officially debunked. On Monday, Musk revealed the newborn's name on Twitter, and it's even weirder than we expected.
Musk told Twitter folk their baby has been named X Æ A-12 Musk, according to the Tesla CEO.
At this time, it's unclear how to pronounce the name. It isn't entirely shocking that Grimes and Musk went the avant-garde route. Singer-musician Grimes revealed she was planning on an untraditional name. She even gave some applause to netizens who made a meme mocking her probable naming routine.
Jokes suggested that Grimes would name her baby something that reflected an HTML code or some unpronounceable word made up of characters. In a February interview with The Face, she said they were not wrong. "Annoyingly, some of the memes about my naming ideas are on point," she noted. At the time, though, Grimes didn't reveal any name choices.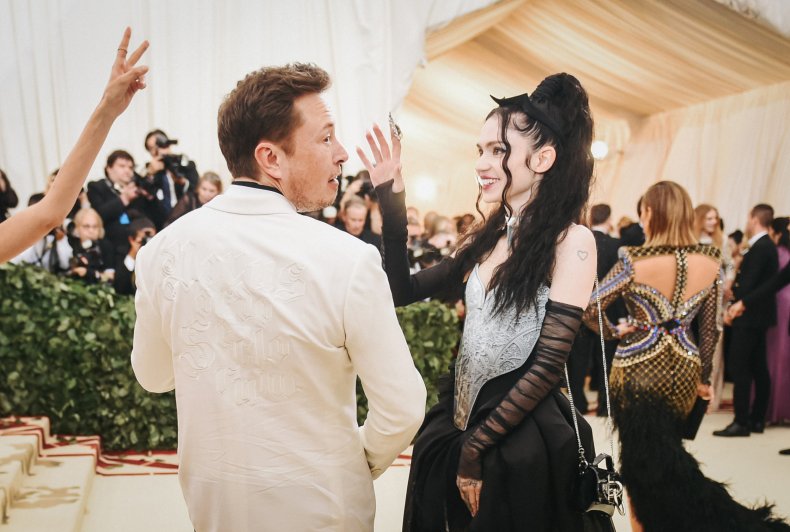 The songstress still hasn't commented on the birth of her baby boy. All information, so far, has come from Musk, who was seemingly excited to share the news on Twitter. Along with a photo of father and son, he posted a joke photo in which X Æ A-12 already has a series of face tattoos.
In addition to sharing the name, gender and photos, Musk said both Grimes and the baby are healthy. According to the time frame of Musk's tweets, Grimes gave birth sometime on Monday afternoon.
This is the first child for Grimes, though Musk has five other children from a previous relationship.
In February, Grimes claimed she likely wouldn't share her child's gender with the public. "I don't think they can consent to being famous or being in public," she said in a now-deleted tweet, according to CNN. "And I don't want to gender them in case that's not how they feel in their life. I don't know—I just feel like it doesn't need to be known."
She added, "They may decide their fate and identity," not her, as the parent.
It seems fair to say the name choice is unconventional, and Twitter users aren't holding back on their jokes and disbelief. X Æ A-12 was trending on Twitter Tuesday along with a handful of newborn memes. Most seemed to associate the child with some otherworldly, tech-based existence.