Grimes Shares Rare Pic of Her and Elon Musk's Daughter Amid Surgery Rumors
Grimes has shared a rare picture of daughter Exa Dark Sideræl Musk—whom she shares with ex Elon Musk—just after the "Oblivion" singer shared what appeared to be her face post-surgery on Saturday.
The Canadian musician made headlines in August when her former partner Musk did his best to dissuade her from getting "elf ear" cosmetic surgery in a Twitter exchange.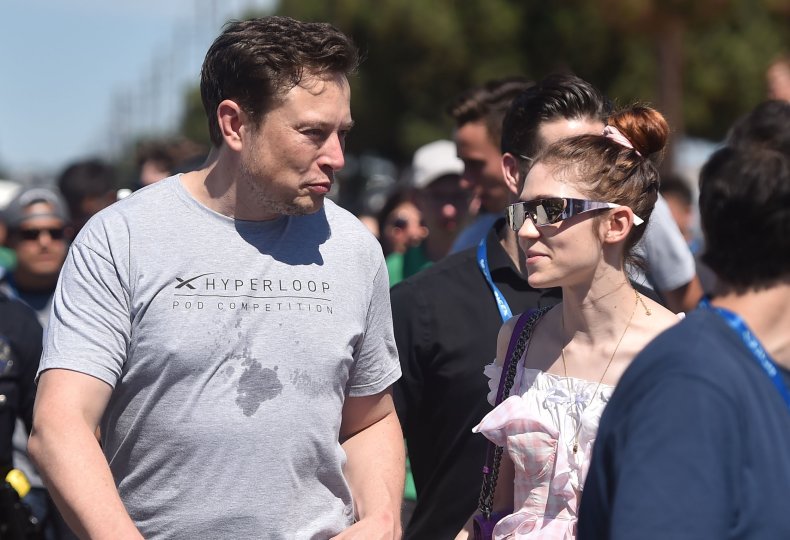 The Tesla CEO and billionaire, 51, shares two children with Grimes—whose real name is Claire Elise Boucher—and dated her for four years.
In August, Grimes discussed her intentions to have "body mods" and undergo plastic surgery on social media for things like "elf ears."
On Saturday, the 34-year-old shared a selfie of her head wrapped in surgical gauze, apparently post-surgery, with the caption: "I did smthn crazy!"
The plastic-surgery photo was followed by another tweet, in which she appeared to confirm that she's finished her new album.
"Album is done we're mixing. My friend and I. perfected the last song in the plastic surgery clinic cuz they wouldn't let me leave and we were laughing that this was the most Hollywood moment of all time," Grimes wrote, adding that she has 20 songs banked so she might break it out into albums BOOK 1 and BOOK 2.
Then, in another tweet, the star shared a rare photo of her and Musk's daughter Exa Dark Sideræl Musk with the caption: "My daughter is dancing to techno over this copy of the birth of tragedy by nietzsche—what a queen."
Grimes revealed in another tweet that the toddler "loves Boris Brejcha omg she's so hardcore haha," referencing the 40-year-old German DJ.
The singer revealed in March that she welcomed her daughter via surrogate in December 2021.
"Her full name is Exa Dark Sideræl Musk," Grimes told Vanity Fair. "Exa is a reference to the supercomputing term exaFLOPS (the ability to perform 1 quintillion floating-point operations per second).
"Dark, meanwhile, is 'the unknown. People fear it but truly it's the absence of photons. Dark matter is the beautiful mystery of our universe,'" said Grimes.
Grimes and Musk are also parents to a 2-year-old son, X Æ A-12 Musk, which is apparently pronounced "Ex Ash A Twelve."
In 2022, both have openly discussed their relationship, mentioning how they are only loosely involved with each other.
In March, Grimes wrote on Twitter: "Me and E have broken up *again* since the writing of this article haha, but he's my best friend and the love of my life."