'The Grinch' Is Already in Netflix's Top 10, so It's Officially Christmas Now
Netflix wasted no time bringing new Christmas stories to its holiday-loving viewers in 2020, but one returning animated classic has already skyrocketed to the top 10 at the viewer's hand alone. The Grinch is number nine on Netflix's most-watched things this week, which seems to mean Christmas came early this year—just don't tell you-know-who.
It's not Thanksgiving just yet, so Christmas celebrations are frowned upon by some. Despite the societal pressure to keep your candy canes in the closet until November 26, there are plenty of reasons to dive in early (2020 alone is enough to endorse as much celebration/distraction as humanly possible). One of them is the amount of Christmas films Netflix is already releasing.
This version of The Grinch was released in 2018, and it's presented by Illumination. Pharrell Williams is the narrator of the timeless story, and it's perfect for families and kids of all ages. If you're looking for the other Grinch, you know, the Jim Carrey one, that's streaming on Netflix, too. Carrey hasn't cracked the Top 10 this week, but we expect he could by the end of this Christmas season.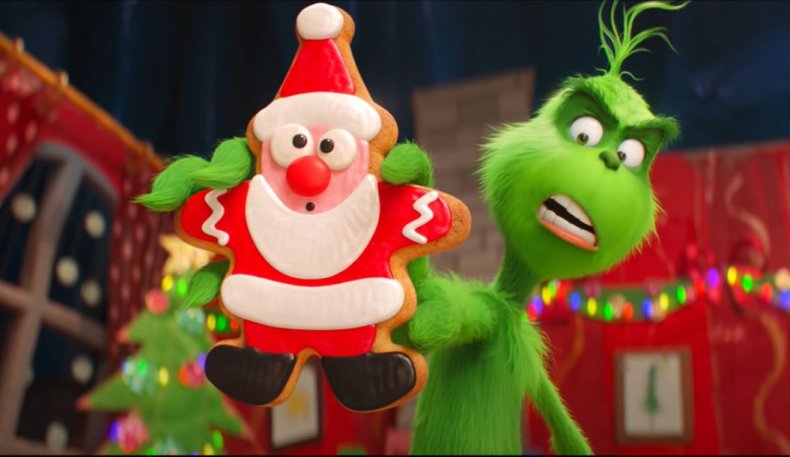 Netflix's latest original Christmas film, The Christmas Drop, was in the Top 10 earlier this week, but somehow slid off the lineup by Friday. The other new Christmas film Holidate, which is rated TV-MA with good reason, didn't crack this week's Top 10 either. That doesn't mean they're not good, somewhat cheesy films to wrap your mittens around before Thanksgiving if you're really looking to welcome some holiday cheer. Holidate has an argument for being a year-round film, too. It starts with Christmas, but ventures into Easter, St. Patrick's Day and more.
Other Netflix Top 10 hits this week don't revolve around Christmas. Coming in first place is Netflix's limited series The Queen's Gambit. It's been praised around social media as a powerful and skilfully designed drama that viewers can't seem to get enough of.
Dash & Lily, another new Netflix series, follows in second place. Based on a teen novel, Dash & Lily is a teen romance sure to brighten your spirits if you feel they've been dimming lately.
There are darker options, too. Trial 4 is a documentary series about police misconduct, The Liberator is a war drama and 60 Days In takes a look inside some of America's prisons.
Though 2020 is starting to wind down, there are still plenty of upcoming Netflix releases to hold you over. And if what you need is Christmas cheer, we won't judge you if you hit play today.