Alt-Right Hijacks 'Gritty' Philadelphia Flyers Mascot In Nazi, Conspiracy Theory Memes
Dozens of alt-right Twitter accounts began co-opting the Philadelphia Flyers mascot as an anti-Semitic figure just days after liberal protesters used images of "Gritty" to denounce a Saturday "Proud Boys" rally in Philadelphia.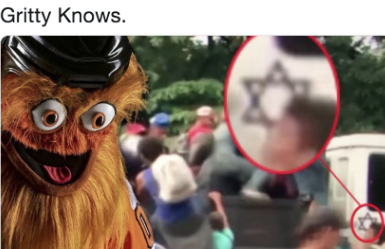 Several memes and images emerged on social media over the past few days depicting the hairy orange Flyers mascot as a Nazi collaborator and espouser of anti-Jewish conspiracy theories. Gritty was superimposed into several historical pictures showing him standing alongside Gestapo officers and making disparaging comments about Holocaust survivors.
On Saturday, protesters against the alt-right "Proud Boys" used Gritty posters and costumes to denounce their "We The People" rally, the Daily Beast reported. Founded by Vice co-founder Gavin McInnes, the Proud Boys tout masculinity while disparaging women, immigrants and opponents of President Donald Trump. The FBI recently classified the misogynistic and women-hating group as "extremist" with ties to white nationalism.
"Good night, Alt-Right," read one of the signs hoisted up by Philadelphia protesters against the alt-right event. "No White Supremacy In Our Gritty City!" read another poster.
But the PushBack Campaign's anti-protest against the Proud Boys sparked backlash from alt-right forces online, which immediately created their own Gritty mascot images in a hijacking attempt similar to that of "Pepe the Frog."
As Storyful's Michael Hayden first pointed out Monday, many of the tweets and Facebook posts showing Gritty tie him to anti-Semitic, anti-immigrant conspiracy theories.
"Do you know which group is funding and carrying out the importation of millions of third-worlders into Western countries?" Gritty Knows," reads the tweet highlight a Jewish Star of David symbol.
"What's the difference between a cow and the Holocaust?" a close-up image of Gritty's crazed face asks in another meme. "You stop milking the cow after 70 years!"
Popular in the Community
{{#values}}
ad choises
{{#isDisplay}} {{/isDisplay}}{{#isAniviewVideo}} {{/isAniviewVideo}}{{#isSRVideo}} {{/isSRVideo}}