The Philly Flyers' Gritty Takes His Massive Paws to Twitter For a Heartfelt Message
Philadelphia Flyers' mascot Gritty took to Twitter to share a very heartfelt message with fans, during the NHL's coronavirus induced suspension.
Gritty posted a note to all "Gritizens" writing that he would normally offer fans a furry hug during this trying time, but instead he would "envelope [fans] with [his] words" as a practice of social distancing.
Gritty told Philadelphians that he's taking every precaution necessary for humans, even if he may not be susceptible to the virus. "I know a lot of you have been asking if I'm okay and wondering what I've been up to," the lovable mascot wrote on Twitter. "The most adorable creatures seem to be immune (dogs, small children, and possibly ME?) Regardless, I'm taking this very seriously. My paws are v clean. My home is completely wrapped in toilet paper, the virus isn't getting in."
"I'm health in its purest form. My body temp is at the classic Gritty average of -55.6 degrees Celsius, I've never felt slimmer, but I still can't seem to shake this swimmer's ear (ongoing issue). You what they say, when the virus goes low, we go high," he assured Fliers nation.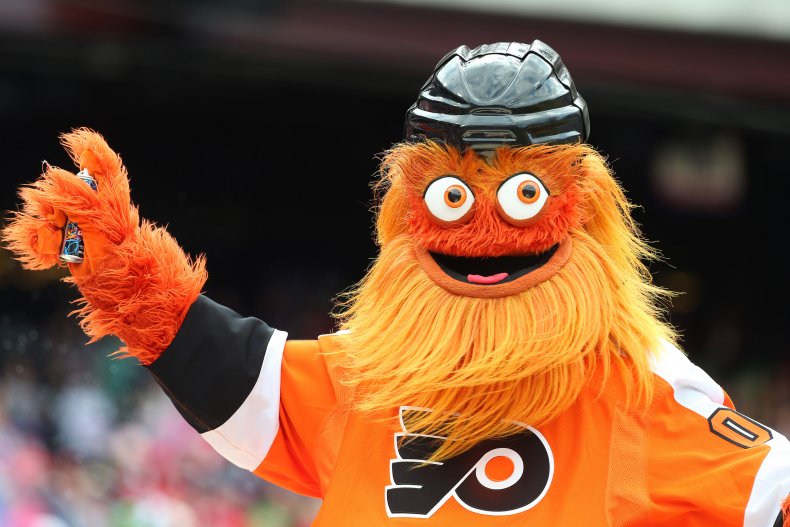 Gritty also kept fans up to date on what he's been doing as the virus forces many people into their own homes, including watching the 2001 film Osmosis Jones, the 2001 live-action/animated comedy where a deadly virus, voiced by Laurence Fishburne, tries to infect a lovable oaf, played by Bill Murray, and season 3 of Lost.
"[T]he DVD box at the toilet paper store was out of options, so I'm now on my ninth watch of Osmosis Jones (2001-Fantasy/Action). I also started watching LOST. I couldn't find Seasons 1 or 2, so I started on Season 3 and I can't help but feel like I missed something important," he quipped.
Before signing out, Gritty wrote that he wanted to bring fans together in their loneliness. "I'm lonely, so I'm sure you are too. We can be lonely together," he wrote. "Maybe being together in loneliness will make us... not lonely? I recognize that there's a lot going on, and I rightfully assume my duty to be the orange light of hope in this COVID-19 covered world. After All, laughter is the best medicine. Next to medicine."
The fuzzy monster signed off: "Peace. Love. Sanitizer. Waves." A fitting conclusion for a mascot from the City of Brotherly Love.
While all NHL games are suspended for the foreseeable future, Gritty's message provides fans with both humor and hope, as many people social distance.