Grizzly Bear Returned to Kill Woman Camping an Hour After She Scared It Off
A grizzly bear returned to kill a female camper, just an hour after she had scared it off.
Leah Davis Lokan, 65, had been camping with friends in Ovando, Montana, when a grizzly bear appeared by her tent at 3 a.m while she slept, a report from the Interagency Grizzly Bear Committee said.
Lokan was awoken by the bear "huff[ing] by her head," the report said. Her friends, Joe and Kim Cole, woke up with Lokan frantically saying: "Bear, bear!"
The Coles suggested that Lokan stay in a hotel that night, however she declined. She moved her food into a nearby building to try and prevent the bear from coming back and she also took bear spray back to bed with her.
However about an hour later, the grizzly bear returned.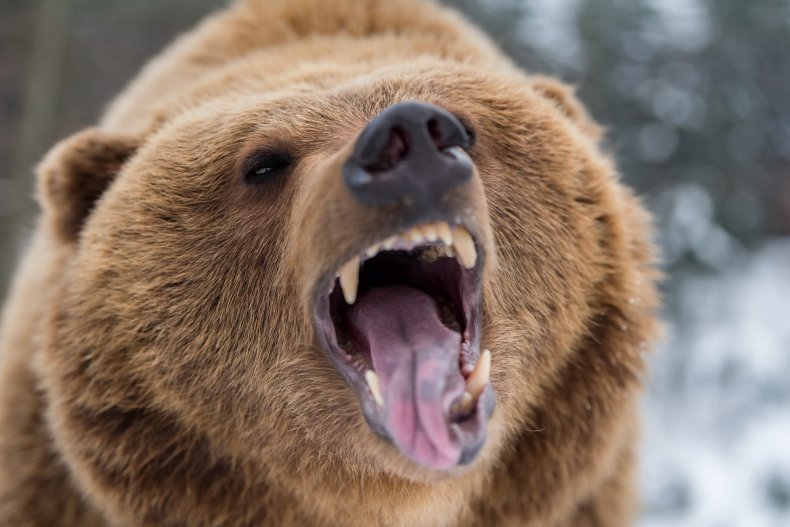 Joe Cole woke once more to discover Lokan was being attacked by the same bear, the report said. He emerged from his tent and used bear spray, making loud noises in attempts to scare it away. Kim Coles then followed him, blowing a whistle.
The bear could be seen "pouncing up and down" on Lokan and her tent, the report said.
It then turned towards the friends' as they approached closer, and left the scene.
While still erect, the bear had dragged the tent about eight to 10 feet. Lokan's body was half outside of the tent, not moving. A near empty can of bear spray was found at the scene.
The bear hadn't tried to eat Lokan, the report said, however it broke her neck and she died instantly from her injuries.
Authorities didn't find any food inside the tent, but they discovered snacks including beef jerky, crackers and seeds inside saddle bags attached to the victim's bike, which had been leaning 10 feet away from the tent.
The bear also raided a chicken pen just hours after the attack, according to DNA tests. The male grizzly was found and euthanized several days after the attack.
There are an estimated 1,800 to 2,000 grizzly bears in the state of Montana. The bear that killed Lokan weighed 417 pounds. Grizzly bears have a reputation for being aggressive, but they don't usually attack humans unless they are provoked.
Bears that have become food-conditioned pose more of a danger, and those that get used to human food usually lose their fear of people. That makes them bolder and more likely to attack if someone gets in the way of food.
The report said that this particular grizzly had shown signs of being highly "food-conditioned."
In just a 48-hour period, he went on a chicken massacre, raiding two chicken coops and feeding on "large amounts of uncontained chicken feed."
He was also captured on video, roaming downtown Ovando during the night. It's suspected he was seeking out garbage.
This particular bear was also the suspected culprit for a trailer break in. The report said this is "another learned behavior common to food conditioned bears."