Grizzly Bear Attacks, Kills Person at Montana Campsite
A grizzly bear attacked and killed a person at a campsite in western Montana Tuesday morning, the Powell County sheriff said. The bear had wandered into the campsite multiple times before fatally assaulting the victim, according to authorities.
"There was an earlier contact with the bear prior to the event," Sheriff Gavin Roselles said. "The bear basically came back into the campsite. It wandered into a campsite a couple different times."
Montana Fish, Wildlife and Parks spokesman Greg Lemon said that the attack occurred near Ovando, a town with fewer than 100 people, between 4 a.m. and 5 a.m. Tuesday.
Lemon told Newsweek that details on the victim's identity and sex were not yet available, but he believes the person was part of a group on a bike trip. Previous reports said the victim was a man and had been riding a bicycle when the attack occurred, but neither has been confirmed, Lemon said.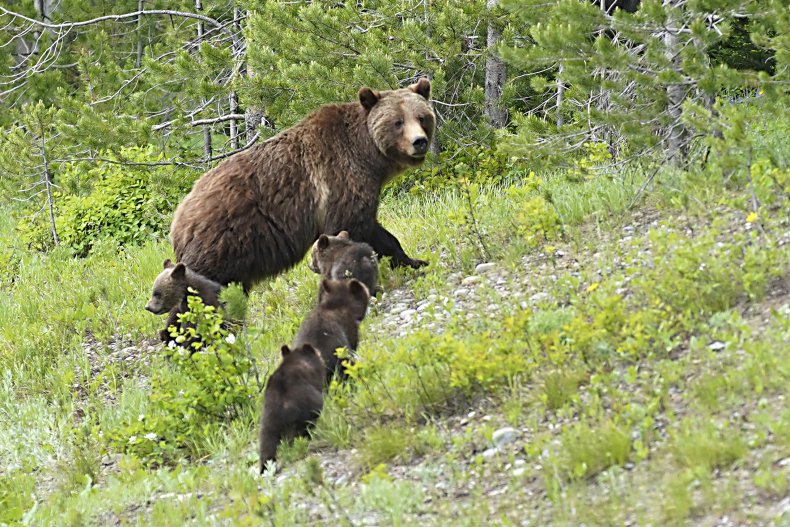 A team of law enforcement and wildlife experts has assembled to track and locate the bear, authorities said. Grizzly bears, protected as a threatened species in the U.S. since 1975, can be killed if they attack humans and are believed to be a public safety threat, The Guardian reported.
Lemon said that no decisions have been made yet on what would happen to the bear if it was found.
"The circumstances are still developing. So, the focus right now that we're on is to find the bear. We got people on the ground doing that and we're going to try to get some air resources, a helicopter, to help the search," he said.
Grizzly bear numbers have been growing both in number and distribution in that area of Montana and around Yellowstone National Park, Lemon noted. For that reason, bear attacks are not uncommon in the state and the FWP has been working to promote bear safety and awareness.
"We work hard to work with local communities, livestock producers, and with the recreation community to educate people on how to avoid problems. We make a lot of effort every year to educate people who come to Montana or who are recreating in Montana on how to be bear-safe and bear-aware," he said. "The thing that we tell people is to avoid surprising a grizzly bear, carry bear spray and that sort of thing."
Lemon added that the circumstances of the Tuesday morning attack didn't seem to result from a lack of bear safety and awareness.
Newsweek contacted Sheriff Gavin Roselles, but he was unavailable for comment by publication time.