A Montana man is being treated in hospital after he was attacked by a grizzly bear in an abandoned barn on Monday.
Father of nine Shannun Rammell, from the city of Choteau near the Rocky Mountain Front, was set upon by the brown bear Monday evening. He suffered lacerations to his hand, arm back and shoulder.
Rammell had his skin ripped off to the bone, but remarkably his injuries are not life-threatening. The family are in shock after the encounter, which happened in front of his wife and daughter a mile from their home.
The family got a call from one of their neighbors, warning them that a grizzly had been spotted in the area. "We've had grizzly bears up there before and we talk back and forth. If [the neighbor] sees a bear he'll call me," said Shannun's wife Jamie to Great Falls Tribune. "He knows we have nine kids. We've got dogs, pigs, chickens and goats. It's good that your neighbors can be aware and do that for you".
The family drove to a nearby barn on 10th Road Northeast and Division Lane to check for evidence of a grizzly bear and if leftover grain could be attracting the bear. There were no signs of the animal until Shannun checked the barn.
Shannun had "just put his head in and looked to the left and then the right", but took the bear by surprise and it immediately charged, lashed out at him and threw him up in the air. "The bear had him and was throwing him like a rag doll," said Jamie. "My 12-year-old daughter was standing by me. She was watching her dad and screaming her head off: 'There's a bear! There's a bear!'"
There was no way her husband could have shot the bear as it all happened too fast, explained Jamie, who said the creature was around "400 pounds" in size. "As fast as that bear came out and got my husband, he couldn't have gotten to a gun." Instead, it was her quick thinking that saved his life. She got her daughter into the truck and turned on the engine.
"My instinct was to start up my truck, drive towards him and run over the bear if I could," she said, knowing that she wouldn't stand a chance against the bear on foot.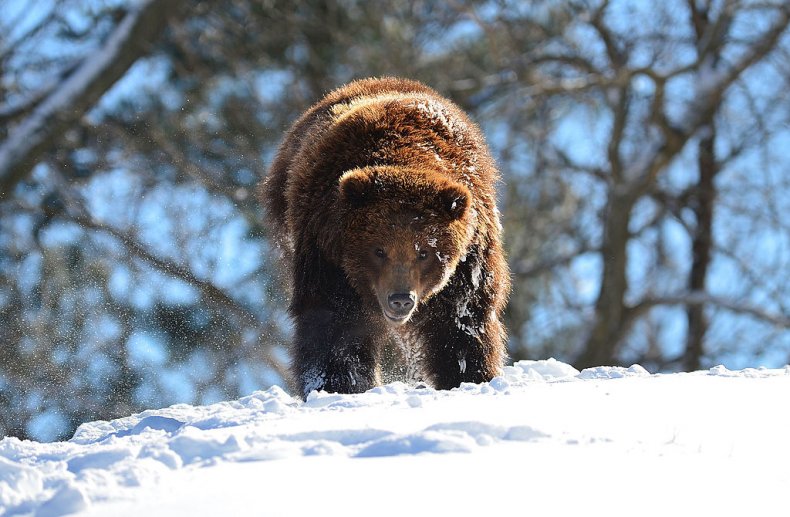 The sound of the truck coming towards the bear distracted it from attacking Shannun and it ran off through a barley field. When she got to her husband he was face down on the ground. He was bleeding profusely but managed to walk to the vehicle. The family drove to the Benefis Teton Medical Center, where the emergency services helped deliver Shannun to Benefis Health System in Great Falls, where he is undergoing treatment for his injuries.
Shannun suffered deep wounds to his palm and forearm, four bite marks on his back, and one on his shoulder. "When his forearm was opened up you could actually look down and see the tendons and bone," said Jamie.
The bear still remains at large in the area. Montana Fish, Wildlife and Parks (FWP) is looking to locate the animal as soon as possible.
"Montana Fish, Wildlife & Parks biologists and wardens were on scene last night and attempts to find or trap the bear overnight were unsuccessful," said the organization in a statement yesterday. "FWP staff were back in the area this morning searching for the bear. With the generous assistance from Two Bear Air, we searched the greater area with a helicopter."
No bears have yet been located. The organization explained that it's normal for a bear to flee an area after an encounter like this, but they will continue to search for the bear.
"We continue to search the area for the bear, but the likelihood of finding the bear decreases dramatically everyday after the attack. It's a big area and there are other bears in general vicinity," said MFWP representative Greg Lemon to Newsweek.
The FWP advises any Montana landowners who see bears to contact them immediately.
"We are saddened by this event and wish the individual a quick and complete recovery," said the FWP statement.
Jamie believes the bear population is currently too big in the Rocky Mountain Front and the larger bears are pushing out the smaller bears, which causes a problem in towns around the area.
"They need to put the fear back in these bears and start a hunt, so that when they see humans they run," she said. "A black bear will see a human and he will run off because he's hunted. These grizzly bears, they see us and they look at us as bait."
The FWP advises that all people in grizzly bear country should carry bear spray and avoid surprising grizzly bears at close range.
This story has been updated with a quote from the FWP.