Grizzly Bear Mauls Man at West Yellowstone Campsite
A 40-year-old man is being treated for severe injuries after being mauled by a grizzly bear at a campsite in West Yellowstone, Montana, on Thursday.
Officials with the Montana Fish, Wildlife and Parks (FWP) said Friday that a bear has since been shot and killed near the site of the attack.
The man, whose identity has not yet been released, was attacked just south of the Baker's Hole campground, about three miles north of West Yellowstone, according to a statement from the FWP.
Following the incident, the man was able to call police and was taken to a hospital in Idaho Falls with "significant scalp and facial injuries," Gallatin County Sheriff Search and Rescue said Friday.
According to local authorities, the man remains in serious condition.
"FWP staff have not yet been able to talk with the man, who was alone during the bear encounter. The man had bear spray with him, but it's unclear whether he was able to deploy it during the attack," the agency said Friday.
The FWP said officials shot and killed a grizzly bear near the campsite while investigating the area where the attack occurred a day later.
The agency said seven investigators, including FWP game wardens and bear specialists, as well as U.S. Forest Service personnel, visited the site on Friday to assess ongoing public safety risks and investigate the incident.
During that investigation, an older-aged male grizzly attempted to charge at the group before the team opened fire.
"They yelled and made continuous noise as they walked toward the site to haze away any bears in the area. Before they reached the site, a bear began charging the group. Despite multiple attempts by all seven people to haze away the bear, it continued its charge. Due to this immediate safety risk, the bear was shot and died about 20 yards from the group. The bear was an older-age male grizzly," the FWP said.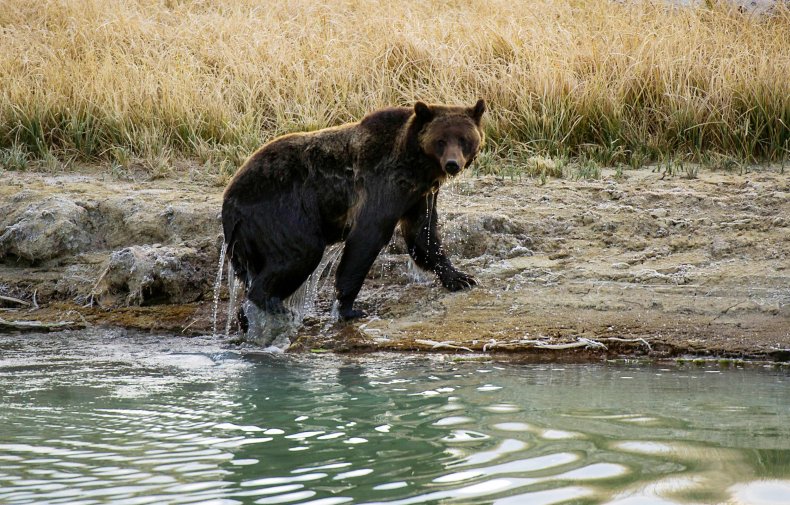 The investigators said they later found a moose carcass within 50 yards of Thursday's attack, indicating that the bear may have been defending a food source during the mauling.
An FWP spokesperson warned that bears are becoming more active around that area during this time of year, and are seeking food after winter hibernation.
"Bears are certainly active this time of year," FWP spokesperson Morgan Jacobsen told the Billings Gazette on Friday. "Coming out of hibernation they're resuming their quest for calories. Carcasses of winter-killed animals are very, very popular food source for bears this time of year, and really they're just moving around to start consuming calories again."
The agency said Friday that activities that are deliberately quiet or fast-moving could put people at greater risk of accidentally surprising a bear.
"Recreationists, residents and people who work outdoors can be prepared for a surprise bear encounter. Activities that are deliberately quiet or fast moving, such as hunting, mountain biking or trail running, put people at greater risk for surprising a bear," the FWP said.
To protect yourself from a surprise bear attack, the agency suggests that people maintain awareness, carry bear spray, travel in groups, stay away from animal carcasses, and back away slowly if approached by a bear.
Newsweek contacted the Montana FWP for additional comment, but did not hear back in time for publication.