Groceries Could Cost 'Substantially' More in 2022, Goldman Sachs Predicts
Goldman Sachs doesn't expect Americans to get relief from inflated grocery prices this year as the Wall Street investment and banking firm is projecting the cost of groceries to increase by another 5 or 6 percent in 2022.
That increase can add up at the checkout line, especially for people who have been struggling financially during the pandemic. Americans spending more at the grocery store could hinder economic growth because it leaves them with less disposable income and spell trouble for Democrats in the midterms.
The Biden administration has attempted to write off the inflation as transitory, but prices for goods across many sectors remain elevated months after they started to rise. Over the past two years, grocery prices have risen at the fastest pace since the financial crisis, according to Goldman Sachs, and Americans are seeing significant spikes in prices for meat, chicken, eggs and other items.
In a report to clients on Monday, Goldman Sachs economists wrote that the stage was "set for further substantial increases in retail food prices this year," according to CNN Business. The company partially attributed the increase in retail prices to the "soaring costs" of some farming supplies and products and prices could go higher if companies "pass along a greater share" of those input costs to consumers.
Supply-chain issues due to the COVID-19 pandemic are also likely contributing to the rising costs. While 6 percent may not seem like a significant amount, food costs have risen by about 11 percent since the start of the pandemic and food prices in 2021 had the biggest year-over-year increase since 2008, according to the Bureau of Labor Statistics.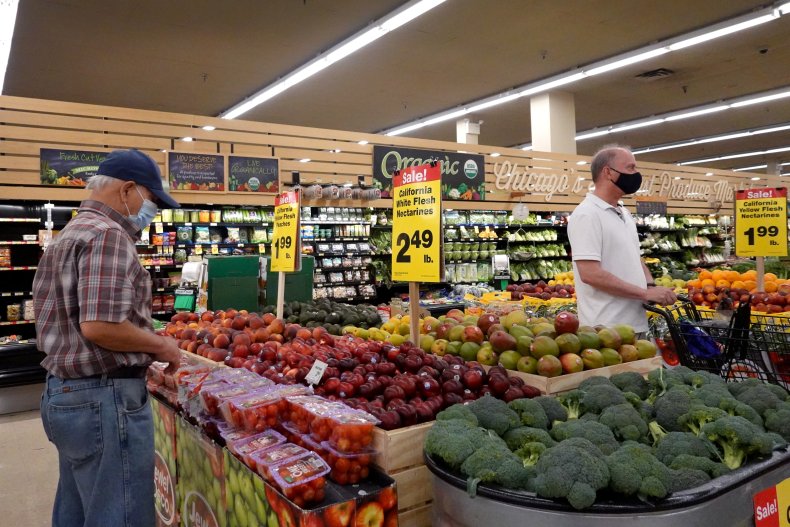 With extremely small majorities in the House and the Senate, Democrats are at risk of losing control of Congress in November. The loss could render Biden ineffective as a president in his final two years and a bad economy is generally bad for the party of the sitting president.
Polls indicate a majority of Americans are dissatisfied with Biden's handling of the economy and think the situation is getting worse. Republicans have homed in on the issue, lobbying attacks at Biden and Democrats as a whole as candidates ramp up midterm campaigns.
While the administration has downplayed the economic downturn, officials acknowledged that inflation could last into the second half of 2022. Frank Luntz, a Republican pollster and strategist, told CNBC that Americans are "getting angry" when they go grocery shopping or get gas because of the price increases.
Luntz predicted they're going to "take that anger out at the ballot box in November" and said President Joe Biden's messaging strategy isn't working. He noted that Biden's attempted to focus on the economic victories but it's creating a "complete disconnect" between what he's saying and what people are experiencing.
"The reason inflation is so important politically and economically, it's universal, ubiquitous and it's understandable," Luntz told CNBC. "I think this is going to have a much bigger effect on the electoral outcome in November than things like the voting rights act or January 6. This is hitting people where they live."
Luntz acknowledged that Biden may not be entirely to blame for the rising prices people are seeing. But, when it comes to Americans' views on the situation, he said people are "increasingly thinking" it's Biden's fault, which he feels trickles down to all Democrats.