Grocery Store Set on Fire by Teens As Staff Blame TikTok Prank
A fire started at a supermarket in New Zealand was a TikTok prank gone wrong, according to a staff member. Police say the incident is being treated as arson, as reported by the New Zealand Herald on Thursday.
The fire occurred at the Countdown supermarket in Henderson, West Auckland, earlier this week. It was set in the chips aisle and young people were involved, according to the Herald.
Around 60 firefighters were called to the scene and staff members were evacuated. The supermarket, set inside a mall, has been closed, and photos taken through the gate show the chips aisle burned black.
Although police have not said that they believe the incident was related to a TikTok prank, a staff member told the Herald that he believes the fire was set as part of a social media trend.
TikTok users have been sharing a corn chip "hack" that demonstrates how you can use corn chips to light a fire, as the starch and oil makes the chips flammable. A popular TikTok trend sees people setting a fire on a grill using Doritos, before using it to cook a steak that is supposed to taste like the chips.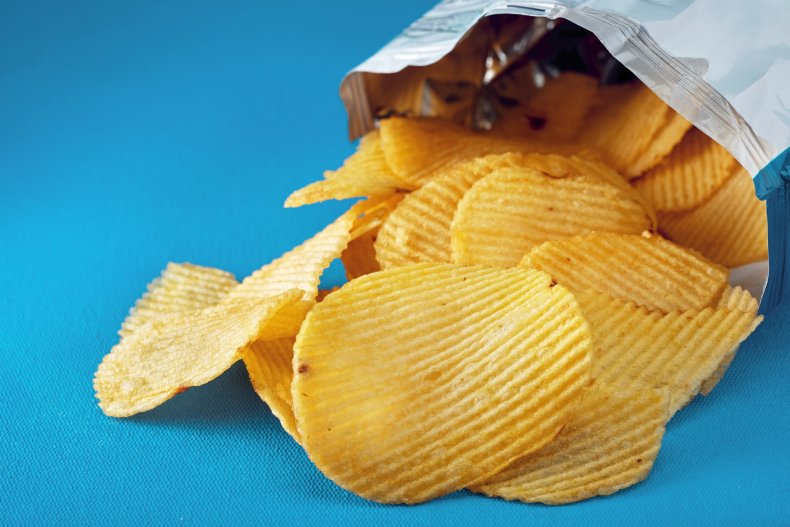 However, TikTok users are suggesting the hack is a handy way to start a campfire, not commit arson at a supermarket.
While there is a trend of using chips as kindling circulating on TikTok, there does not seem to be any evidence of a trend encouraging users to set fire to chips at grocery stores.
A TikTok spokesperson told Newsweek: "We've not found any evidence of this 'prank' manifesting on TikTok, including hashtags or anything else that would suggest a 'trend' or 'challenge' on our platform."
There have, however, been reports of teens setting stores alight using a bag of chips for years.
In 2016, two Canadian teens, aged 14 and 15, went to a supermarket in Vaughan, Ontario, and lit a bag of potato chips on fire, before placing it back on the shelf and running away.
At the time, according to First We Feast, a witness said: "Literally we blinked twice and the whole aisle, the whole shelf area, is engulfed in flames."
Half of the grocery store burned down, causing millions of dollars worth of damage. The teenagers faced charges of arson and "disregard for human life."
Then, in 2017, a teenage boy set four fires at a grocery store in Brooklyn, New York, setting a chips display alight.
Phys.org reported in 2019 that investigators found that arsonists were using snacks, such as packs of chips, to light fires and that criminals were sharing the technique with one another.
Linda Brownlow, the University of Greenwich's forensic lead, told Phys.org: "No one's going to look twice at someone with a bag of [chips], and the evidence destroys itself. This is especially helpful if someone is trying to make a deliberate fire look accidental. Criminals have presumably worked this out and told each other.
"[Chips] encourage fire—they feed it—because they are hugely calorific and fatty. As the video shows, a packet of [chips]—either the potato ones or the puffy, maize or corn-based ones—can set a car seat on fire within 200 seconds. Plenty of time for someone to get away."
Newsweek has contacted TikTok for comment.