Grocery Stores Are Avoiding Sales and Discounts During Coronavirus Pandemic
In an attempt to discourage crowded stores amid the coronavirus epidemic, numerous food companies and grocery retailers have decided not to promote sales and discounts until social distancing measures have lifted.
Despite that, purchases are expected to increase since widespread bar and restaurant closures have kept consumers visiting grocery stores and stocking their pantries to eat at home.
Among the companies who have pledged to stop offering discounts are Mondelez International Inc., one of the world's largest snack companies; Kellogg Co., a major producer of cereal and breakfast items and J.M. Smucker Co., a maker of numerous home and pet food products. In a letter to retailers, J.M. Smucker Co. said it would stop all promotions scheduled from April 17 to November 30.
"In a normal environment, reduced discounts—that is, higher prices—would lead to lower volumes, but we are not in normal times," investment banking company JPMorgan told MarketWatch.com. It added that it expects food sales to remain fairly consistent as states and cities maintain their stay-at-home and social distancing policies.
The financial research and analysis company S&P Global Ratings also predicts that sales of household cleaning products and foodstuffs that are "shelf-stable," that is, able to be safely stored at room temperature in a sealed container, will likely do well during the pandemic despite the turbulent economic market.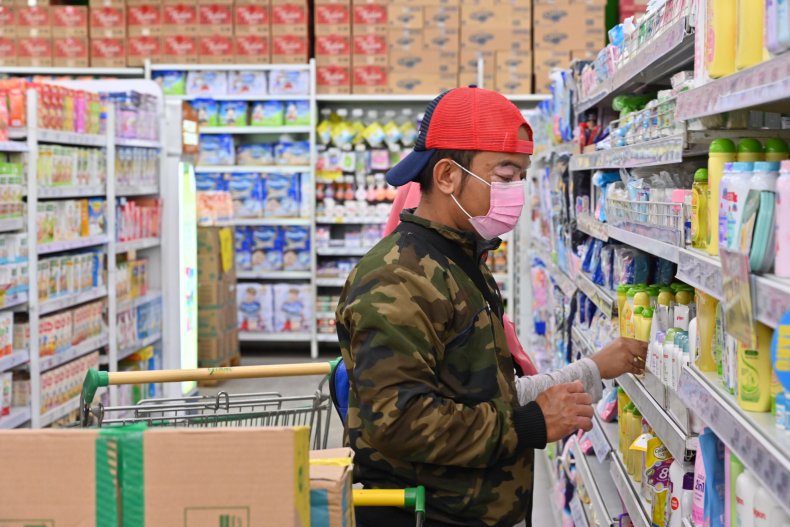 While retailers have canceled scheduled discounts to prevent crowding at stores, a lack of sales could potentially strain the pocketbooks of millions of Americans who've lost their jobs or income due to the coronavirus. Grocers that offer discounts of any kind could find themselves pressured to put purchasing limits on key products to discourage bulk buying or hoarding by customers.
Newsweek reached out to Kroger grocery stores to ask how they'll handle sales and special promotions during the epidemic. Kroger had not yet responded by the time of publication.
Even if all food retailers end special sales and promotions throughout the epidemic, JPMorgan analysts predict that retail sales will still increase by at least 5 percent over the next quarter. Their prediction takes into account that 22 percent of food products on store shelves are usually discounted, and those discounts are on average 23 percent below the usual retail price.
The initial rush to stockpile homes "sent sales of grocery and household necessities soaring in March," according to MarketWatch. Data from BMO Equity Research shows that grocery sales grew by 89 percent for the week ending on March 15 and 77 percent for the week ending on March 22.