What Walmart, Target, Kroger and Other Grocery Stores Are Doing to Protect Customers, Workers Amid Coronavirus Pandemic
While retail stores, restaurants, bars, movie theaters and playgrounds are now closed in an effort to delay the spread of the coronavirus, grocery stores and pharmacies will remain open. Many states have issued "shelter in place" orders, meaning people should not leave their houses except for essential reasons, such as grocery shopping or collecting medical supplies. Therefore, it is crucial that grocery stores do what they can to protect the health and safety of their customers and staff.
Major grocery store chains like Kroger and Walmart have announced that they will be introducing glass barriers at checkouts. Stores like Target and Walgreens have also announced the steps they are taking to ensure the wellbeing of their customers and staff. Find out below what grocery stores are doing to keep their stores clean and sanitized, and how they're helping customers maintain social distance.
Albertsons
Albertsons, which owns grocery stores like Safeway and Acme, said it will be installing designated waiting points throughout the store, particularly at the checkout counters and the places where people most often congregate—such as the service deli, bakeries and pharmacy areas.
Albertsons will ask shoppers to wait until the customer in front of them has finished collecting their groceries before they unload their products at the checkout counter. Albertsons will be installing plexiglass, or sneeze guards, at its checkout lanes at all stores in the next two weeks.
The sneeze guards will prevent airborne droplets from a cough or sneeze reaching the person at the other side of the glass.
Kroger
Kroger workers will be cleaning commonly used areas more often, such as cashier stations, self-checkouts, credit card terminals, conveyor belts and foodservice counters. Kroger will also be sanitizing its restrooms more frequently, as well as restocking them with soap, paper towels, and hand sanitizer.
There will be extra hand sanitizer at cashier stations, food service counters and at all Pharmacy, The Little Clinic and Starbucks locations. Kroger will be wiping down shopping carts, baskets and equipment, and give its customers free disinfectant wipes at the store entrances so that they can sanitize their shopping carts or baskets.
Kroger will add sneeze guards at all checkouts at all of its stores in the next few weeks.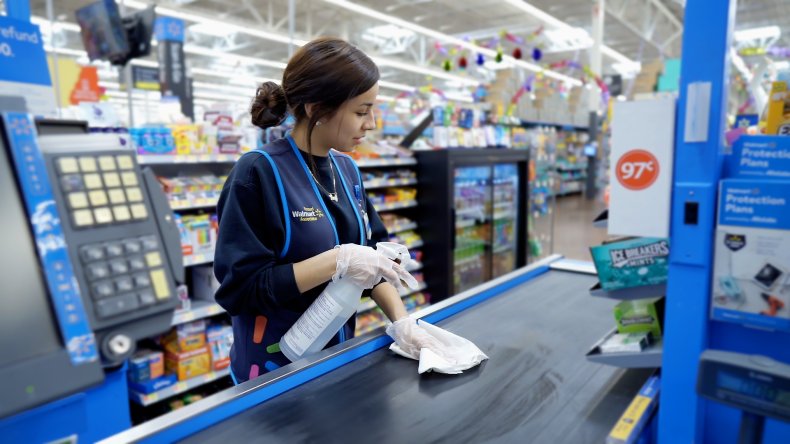 Target
Target will place a member of staff at store entrances to ensure carts are clean and available. Target is also adding signs at the front of the store as well as floor decals at the checkout lanes to remind customers to maintain their distance from one another. The checkout lanes will be cleaned after each guest and the checkout lanes will be used in rotation so they can be deep cleaned.
Target will not accept in-store product returns for the next three weeks, but will waive any return expirations during that time. Additionally, the store will not sell reusable bags, and if a customer brings in their own reusable bags, they will have to pack their own groceries. Alternatively, customers can use paper and plastic bags, which will be given away for free.
Walgreens
Walgreens has reduced its operating hours to give its staff time to clean and sanitize the store and restock the shelves. Walgreens has also implemented a "Social Distancing Line" six feet away from the checkout counters, and there are other lines to indicate where customers should wait without getting too close to other shoppers.
Walmart
Walmart Supercenters and Neighborhood Markets are closing overnight to give staff time to clean and sanitize the stores and staff will also be cleaning and sanitizing the shopping carts. Walmart has made more hand sanitizer dispensers and wipes available for customers and staff to use while in the store, and has placed decals on the floor to help customers stay six feet away from each other.
Additionally, Walmart has started installing plexiglass barriers, or sneeze guards, at the pharmacy lanes at both Walmart and Sam's Club, and Walmart will install the guards at regular Walmart checkout lanes over the next few weeks.
Whole Foods
Whole Foods has implemented enhanced daily cleanliness and sanitation protocols across all of its stores and facilities. It is also closing its stores up to two hours early to allow staff the time to clean and sanitize the premises.
Whole Foods has closed its hot bars, salad bars, soup bars and self-serve pizza counters, and has suspended its product sampling and demos. Its cafes will now only serve takeout food and there will be no in-store dining.
Additionally, Whole Foods will ensure that interactions between customers and staff will only take place at the recommended distance and has added more hand sanitizer stations at its stores.
7-Eleven
7-Eleven is temporarily closing select stores for sanitation and some stores will be closed between midnight and 5 a.m. daily to be cleaned.