Groom Dies From COVID Nine Days Before His Wedding
A 34-year-old man from Indianapolis passed away from COVID-19 on Thursday, just nine days before he was set to wed his fiancée.
Jeff Lee confirmed in a Facebook post on October 23 that he was rushed to the hospital after he collapsed and was battling "deathly low oxygen levels." Having been diagnosed with Berger's Disease, a rare kidney disease, Lee was at an increased risk of serious complications from COVID-19.
Lee's fiancée, Elizabeth Roller, announced that he lost his battle with COVID-19 on October 28.
Roller told the Indianapolis Star that the couple knew it would be an "issue" if Lee ever contracted COVID-19 because of his kidney problems. She added that "unfortunately our fears were met," and declined to say if he was vaccinated.
Lee, a reserve officer for the Hope Police Department, was diagnosed with Berger's Disease in 2018 and was undergoing daily peritoneal dialysis, which can weaken a person's immune system and make it harder to fight infections. This puts people at a higher risk of developing serious complications from COVID-19.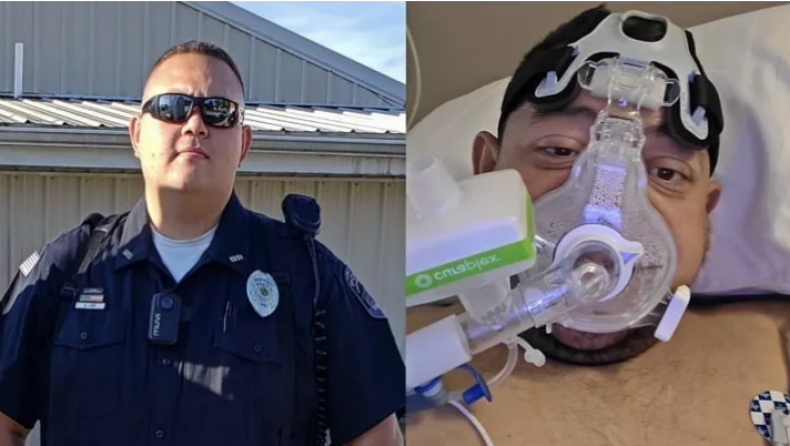 Despite his health issues, Roller told thenewspaperthat her fiancé was "always positive no matter what." In his October 23 Facebook post, Lee said he was "fighting like hell to avoid being put down and going on a ventilator."
"I have a lot of things to look forward [to] in life. I'm not going down without a fight," Lee wrote.
Lee did eventually have to go on a ventilator, but in a display of his positive spirit, he posed for a photo posted to Facebook showing him giving a thumbs up while hooked to the machine, according to the Indianapolis Star.
More than 170 people commented on Lee's post with well wishes, prayers and encouraging words. In recent days, those messages turned to sorrow over his passing and hope that he rest in peace. One Facebook user, Brittany Greene, wrote that she "literally fell back in my chair in utter disbelief" at his passing and remarked that their graduating class had lost too many people at a young age.
A car fanatic, Roller told the newspaper that it wasn't unusual for Lee to use cars as a "gateway" to make friends and helped him touch a "lot of people's lives." She added that there were multiple times her fiancé would walk into a store and see someone that he hadn't seen for 15 years, but they still considered him "just the best person ever."
Lee's passing came days before the world marked the grim milestone of 5 million deaths from COVID-19. America leads in COVID-19 deaths worldwide, although the death rate is still about 1.6 percent.
Roller created a GoFundMe to help with medical expenses when Lee went into the hospital, but wrote in an update that donations would now go toward funeral expenses and tying up financial loose ends.