Groom's Dream Honeymoon Turns Into a Nightmare As Worms Burrow Into His Feet
His wife, who calls herself Allison Wit, shared their incredible story to her TikTok account, mrswitkow.
She explained the couple from Wisconsin had jetted off to Barbados for a "dream honeymoon," which soon turned into a nightmare.
Teacher Allison uploaded a horrifying clip showing long, thin worms inside her husband's feet, which appeared red and inflamed.
She explained her husband, Kyle, initially thought he had contracted Athlete's Foot when his feet become itchy and raw, but, after a cream did not appear to fix the problem, they headed to the doctor.
After being referred to a specialist, they were given the shocking diagnosis that there were hookworms inside her new husband's feet.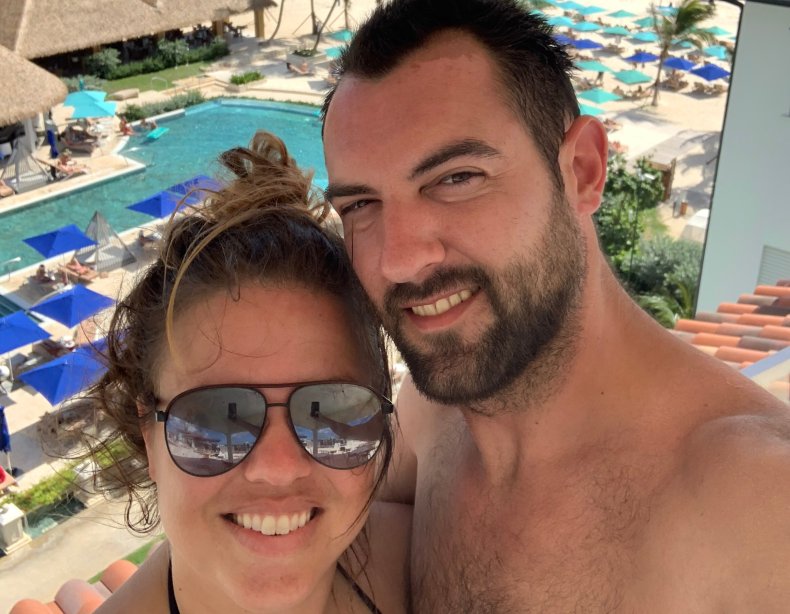 The terrifying video has since been watched more than 2 million times since being uploaded Wednesday, with Allison including the caption: "When you go on your dream honeymoon and come back with worms in your feet."
After the video blew up, she shared two more clips, detailing the saga from start to finish.
The 31-year-old said: "We flew to Barbados in 2018 for our honeymoon, so before we went to Barbados he went out and bought a new pair of flip-flops. He'd never worn them before, but he took them on the trip.
"After a couple days of wearing these flip flops, they were rubbing in the wrong spot and he got a little cut slash blister on both of his big toes.
"We get home from our honeymoon and about a week later my husband starts noticing his feet are kind of itchy, and that he's getting this red rash on them. He just chalked it up to Athlete's foot.
"After putting Athlete's foot cream on his foot for a few days and not being able to sleep because his feet were so itchy, we noticed that the rash was getting a lot worse. So then we did a lot of Google searching on what this could possibly be, then we went to the doctor.
"So we got to the doctor, they have no idea what we're looking at, we live in the midwest so they don't really see worms in feet a lot. And they refer us to an infectious disease doctor. So the infectious disease doctor tells us that he has a type of hookworm that's found in cat faeces that can burrow into the skin from an open cut or sore, like the ones from his flip flops, and that's how they got in."
She claims it "made sense" as she revealed there were numerous cats, which she initially thought were "cute," at their resort.
Allison told Newsweek: "He said his feet were so itchy he wanted to cut them off. He couldn't sleep for three days."
Her husband, who "works in fraud," was prescribed tablets to treat parasitic worm infestations, and he needed two rounds to fully get rid of the worms.
"Without insurance it would have been $5,000, thank god we have insurance," she added.
She ended by confirming Kyle is "worm free," adding they "love Barbados."
Allison explained: "He had two rounds of medication that is an anti parasitic and they eventually went away. He has type 1 diabetes so he was more at risk and took longer to heal."
But her vacation warning has been met with horror online as numerous people claimed they've never heard of these worms, with one TikToker saying: "Thanks for activating a fear I didn't know I had."
Curtis dramatically wrote: "This is why I avoid hot places, there's too much nope living there."
While Mo Amba admitted: "Yup my fear of travelling remains."
And Chloe Amerson wrote: "Near fear unlocked."
Update 5/26/21, 4:07 a.m. ET: This article was updated with comments from Allison.