Ground Beef Recall—E. Coli Contamination Fears Over 120k Pounds of Products
More than 120,000 pounds of ground beef products have been recalled over E.coli fears, the U.S. Department of Agriculture's Food Safety and Inspection Service (FSIS) announced on Monday.
In a statement, the FSIS said that the Lakeside Refrigerated Services products that were being recalled were produced between February 1 and April 8.
The recalled products include Nature's Reserve, SEG, Thomas Farms, and Tajima beef patties. Marketside Butcher Wagyu beef was also recalled.
The full list of recalled products can be found here.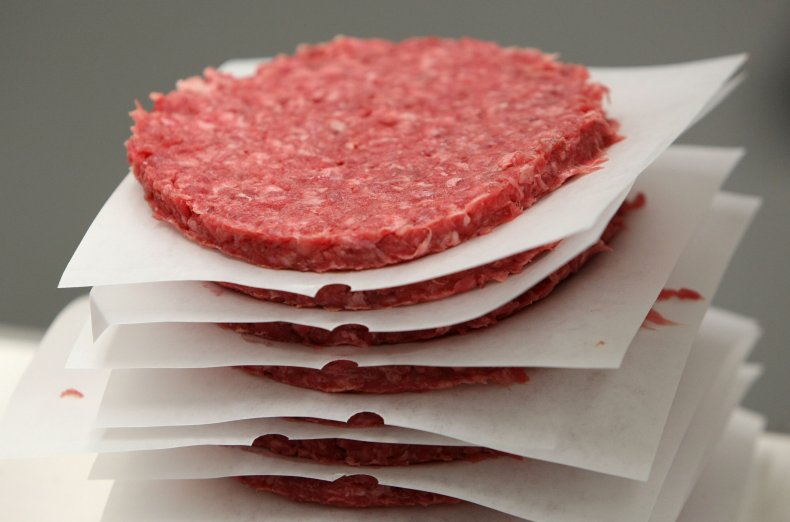 The problems were discovered during FSIS testing of imported products, the agency said.
E.coli bacteria is commonly found in the lower intestine of humans, and most strains are harmless.
However, there are some toxic strains, such as STEC O103 and O157:H7, that cause symptoms such as diarrhea, often bloody, and vomiting. It can be tested for by taking a stool sample. People become ill from STECs two to eight days, with an average of three to four days, after consuming the bacterium.
The FSIS recommends that those who have a toxic strain of E.coli need to drink lots of fluids continuously. Antibiotic treatment is generally not recommended.
"Most people recover within a week, but, rarely, some develop a more severe infection. Hemolytic uremic syndrome (HUS), a type of kidney failure, is uncommon with STEC O103 infection," the FSIS said.
"HUS can occur in people of any age but is most common in children under 5 years old, older adults and persons with weakened immune systems. It is marked by easy bruising, pallor and decreased urine output. Persons who experience these symptoms should seek emergency medical care immediately," it said.
The FSIS said there have been no confirmed reports of illness or adverse reactions due to the consumption of the recalled products.
But it said that it was "concerned" that some of these products may be in consumers' freezers or refrigerators. The FSIS urged customers not to consume those products, and if they have them, throw them away.
Newsweek has contacted Lakeside Refrigerated Services about the recall of their products.
In early March, the Centers for Disease Control and Prevention (CDC) released a statement on an outbreak of E.coli O157:H7 found in packaged salad. The CDC reported that people became ill between November and December 2021 and one person died in Washington state as a result. There were only 10 reported illnesses that were traced back to the bacteria, but four of them were hospitalized with the illness in four different states.
In January, 28,000 pounds of ground beef was recalled across seven states after samples sold at Kroger and other stores tested positive for O157:H7.