A family was caught by surprise when a groundhog turned up on their back porch to eat a slice of pizza.
The animal was spotted by Kristin Bagnell outside her home in Philadelphia, who filmed the interaction and sent it into 6ABC.
The groundhog can be seen holding a slice of pizza on the other side of a glass door, as Bagnell's two dogs, Maggie and Moses, come over to investigate the intruder. It sat there for more than an hour just casually finishing its meal, ignoring its audience.
Groundhogs are a type of rodent known as a marmot, which are closely related to squirrels. Each year, they get a few minutes of fame on Groundhog Day.
On February 2, people all across America wait for a large rodent named Punxsutawney Phil to tell us whether there will be six more weeks of winter. Although Phil's predictions have been hit or miss over the years, many people still anticipate watching the groundhog see or not see his shadow when he's pulled from the ground.
According to the National Oceanic and Atmospheric Administration (NOAA), Phil has predicted the weather accurately 40 percent of the time over the past ten years.
Although it's one of the country's oldest and strangest traditions, dating all the way back to the 1880s, celebration of Groundhog Day didn't actually originate in the U.S. In fact, the groundhog wasn't even a part of the original event that essentially inspired the day.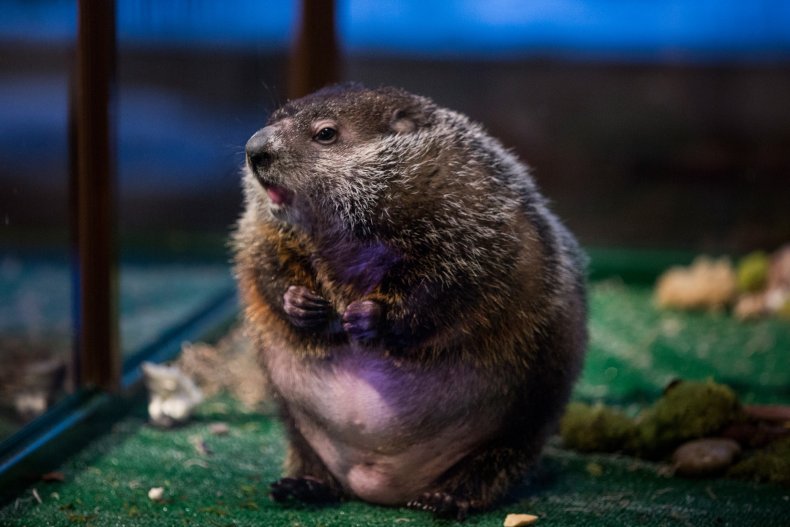 Lore suggests this odd gathering began when German immigrants modified traditions from their homeland. The first recorded mention of a Groundhog Day celebration came in 1886 in The Punxsutawney Spirit. But according to NJ.com, the real architect of Groundhog Day was an American newspaper editor.
More than a century later, Groundhog Day has taken on a life of its own. It has become an excuse for a massive party in Punxsutawney. It's also the setting for the classic 1993 Bill Murray film Groundhog Day, where weatherman Phil Connors lives the same day over and over.