Groundhog Day 2018: Facts, Quotes, History And Everything Else You Need to Know About Punxsutawney Phil's Prediction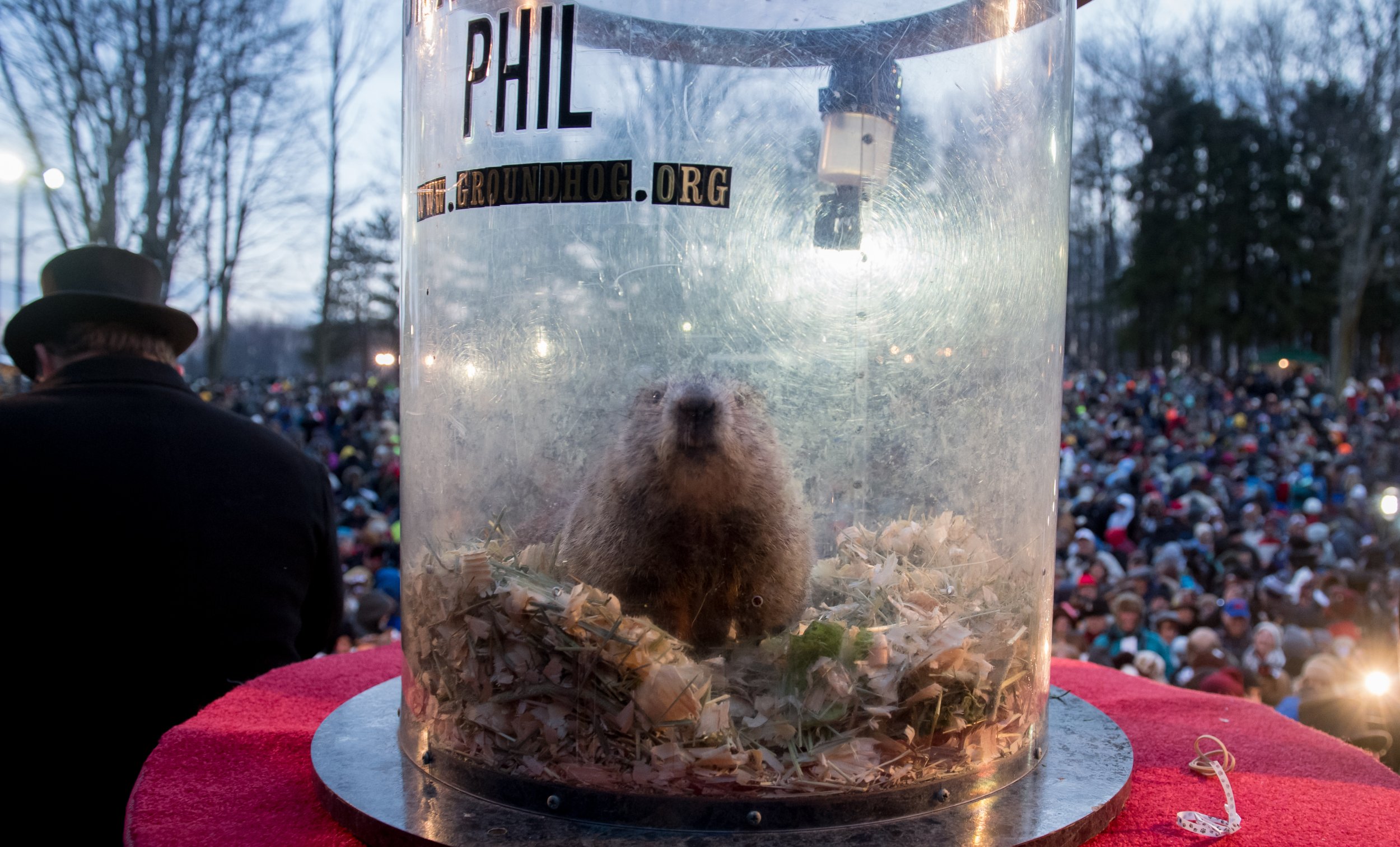 Every year, a group of people pick up a groundhog in Pennsylvania, let him look for his shadow and, whether he does or not, determine how much longer winter will last. That's right, Groundhog Day is here—again—and Punxsutawney Phil is about to (maybe) ruin our Friday.
The tradition goes: If Phil comes out of his burrow in Punxsutawney, Pennsylvania—dubbed Gobbler's Knob—and sees his shadow, we get six more weeks of winter. Otherwise, we get an early spring. (Spring actually begins on March 20 this year, which is six and a half weeks away. But who's counting?)
Lore suggests this odd gathering at Gobbler's Knob began in 1887 when German immigrants modified traditions from their homeland. (The first recorded mention of a Groundhog Day celebration, minus Gobbler's Knob, came in 1886 in The Punxsutawney Spirit.) But according to NJ.com, the real architect of Groundhog Day was an American newspaper editor.
Clymer Freas ran The Punxsutawney Spirit in 1887 and dubbed Phil the official groundhog forecaster in the United States. Freas kept running stories about the rodent until the idea spread—think of it as an early viral story—and the designation stuck.
More than a century later, Groundhog Day has taken on a life of its own. It has become an excuse for a massive party in Punxsutawney, and inspired college kids around the area to drink while they wait for Phil. It's also the setting for the classic 1993 Bill Murray film Groundhog Day, where weatherman Phil Connors lives the same day over and over.
That in mind, here are a few quotes about Groundhog Day and the seasons changing (via Goodreads), as well as some quotes from Groundhog Day the film (via Rotten Tomatoes), just for fun.
"When Chekhov saw the long winter, he saw a winter bleak and dark and bereft of hope. Yet we know that winter is just another step in the cycle of life. But standing here among the people of Punxsutawney and basking in the warmth of their hearths and hearts, I couldn't imagine a better fate than a long and lustrous winter." — Phil Connors (Murray) in Groundhog Day
"In the depth of winter, I finally learned that within me there lay an invincible summer." — Albert Camus
"Spring passes and one remembers one's innocence.Summer passes and one remembers one's exuberance.Autumn passes and one remembers one's reverence.Winter passes and one remembers one's perseverance." — Yoko Ono
"You want a prediction about the weather? You're asking the wrong Phil. I'm going to give you a prediction about this winter? It's going to be cold, it's going to be dark and it's going to last you for the rest of your lives!" — Phil Connors
"In those days, though, the spring always came finally but it was frightening that it had nearly failed." — Ernest Hemingway in A Moveable Feast
"Well, what if there is no tomorrow? There wasn't one today." — Phil Connors