Groundhog Day 2019: Places Celebrating, Will There Be Six More Weeks of Winter?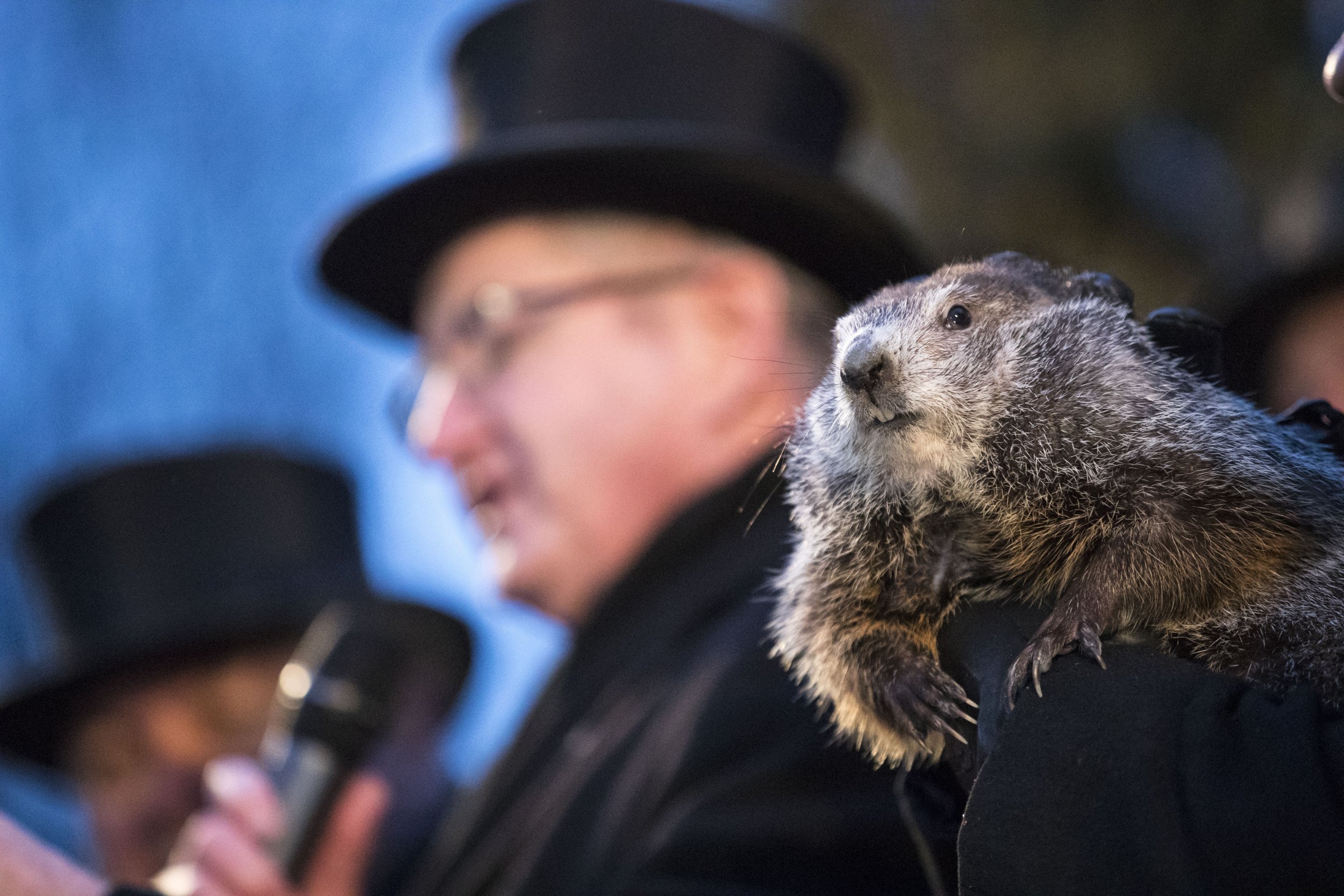 Everyone's heard of Punxsutawney Phil, the Pennsylvania-based groundhog-cum-soothsayer whose shadow warns locals to expect a long winter. Immortalized in classic 90s rom-com Groundhog Day, the suspiciously aged furry forecaster is said to have practised prophecy since 1887.
But Phil's not the only woodchuck in the weather game. Over the border in Canada there are plenty of other mystic marmots ready to emerge from their burrows Saturday.
Wiarton Willie - Wiarton, Ontario
The most famous groundhog in Canada, this Bruce County, Ontario local has a chequered past. In 2003 he emerged as a suspect in a brutal double murder, thought to have killed his two understudies, also known as "Wee Willies."
Local official Francesca Dobbyn revealed she'd covered up the potential crimes to protect the town's summer tourist season, CBC reported at the time.
The current Willie—an albino groundhog who celebrates his second year on the job Saturday—is not thought to be implicated in any slayings.
Wiarton itself gained a certain notoriety back in 1999, when a previous Willie incarnation died just before the yearly event. Officials staged a funeral for the beloved creature that Groundhog Day, but secretly switched his real, rapidly decomposing body for a taxidermied facsimile, as The Weather Channel noted Wednesday.
Willie makes his annual prediction in Wiarton every year at 8.07 a.m. local time, according to his Facebook page.
Fred la marmotte - Val-d'Espoir, Québec
Over in Montreal, locals will celebrate "Jour de la marmotte du Quebec" Saturday. This precocious prophet has had a poor run of late, incorrectly predicting the weather in 2018 and 2017, according to his official website. Last year he clashed with Willie, who foresaw six more weeks of winter, CBC reported at the time.
Fred will make his prediction bright and early at 6.15 a.m. local time Saturday. You can watch the event live online at https://livestream.com/accounts/6944075/events/8537194.
Shubenacadie Sam - Shubenacadie, Nova Scotia
Shubenacadie Sam is in the spotlight outside of the big day itself. A resident of Shubenacadie Wildlife Park, animal lovers can catch a glimpse of his "rigorous" prediction prep in near-real time thanks to a webcam in his enclosure.
According to Sam's Twitter account, he isn't just a fortune teller. The clever critter describes himself as a nap enthusiast, melon lover and a digger of tunnels.
Sam's forecast will be revealed at 8.a.m local time at his home in the park. Other festivities will include hot beverages and face painting, The Truro Daily reported. You can watch it online at: www.novascotiawebcams.com/en/webcams/shubenacadie-sam/.
Brandon Bob - Brandon, Manitoba
Brandon Bob may have the unique distinction of being the groundhog that never was. Although online news publications have shared his predictions in the past—such as CBC, which reported the creature forecast spring in 2012 —Macleans reported Monday the creature is the "phoniest" of all crystal-gazing groundhogs.
Although he's namechecked in The Canadian Encyclopedia and has appeared in papers since at least 1992, Macleans argues the critter simply does not exist.