Groundhog Day Live Stream 2018: Watch Punxsutawney Phil See His Shadow—Or Not
Updated | Punxsutawney Phil correctly predicts the weather only 20 percent of the time. But that won't stop most of the nation from tuning in to get the critter's annual forecast Friday morning.
February 2 marks the 132nd Groundhog Day, and Pennsylvania resident prognosticating rodent will emerge from his temporary home on Gobbler's Knob at sunrise. The Punxsatawny website insists there has only ever been one Phil—throughout all 132 Groundhog Day ceremonies. (Maybe naked mole rats aren't the only animals to hold the key to immortality.)
The event starts with a group of men—the Punxsutawney Groundhog Club Inner Circle—gathering at Gobbler's Knob in their signature tuxedos and top hats. They'll help Phil mount his tree stump, then, the Inner Circle president whispers to the groundhog in "Groundhogese." Phil will tell them whether or not he's seen his shadow. If he does, it means at least six more weeks of winter.
If you can't make it down to Punxsutawney, Pennsylvania—located about 80 miles northeast of Pittsburgh—you can watch the groundhog do his thing via live stream at 6 a.m. ET (see below). No cable provider is necessary, but the Groundhog Day website recommends a strong internet connection.
The first record of this odd tradition dates back to 1886, according to the Punxsutawney Groundhog Day website. The Punxsutawney Spirit newspaper acknowledged the holiday, stating, "Today is groundhog day, and up to the time of going to press the beast has not seen his shadow."
Groundhog Day's popularity has grown remarkably in the last century or so, with tens of thousands of people descending on the small Pennsylvania town. The holiday has even expanded to Canada, where the famed albino rodent Wiarton Willie has been making his predictions in Ontario since 1956.
Other American cities have tried to claim some of that Punxsutawney magic. Let's just say it hasn't gone well. In 2014, for instance, New York mayor Bill de Blasio dropped Staten Island Charlotte—a stand-in for Chuck—who was later found dead in her enclosure.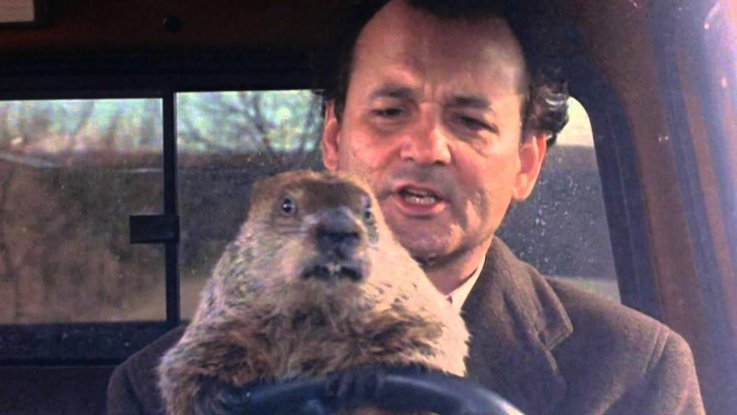 Punxsutawney Phil is still the most famous of the groundhogs, thanks in part to the 1993 Bill Murray film Groundhog Day, which was adapted as a Broadway musical in 2016. In both, egomaniacal weatherman Phil Connors, in Punxsutawney to cover the event, is forced to relive Groundhog Day over and over and over again—until he becomes a decent human being. (Harold Ramis, who directed the movie, said he figured Phil spent 10 years reliving the day. A viewer pegged it at closer to 34 years.)
Luckily, in real life, this strange holiday only comes once a year. Here's to inevitably experiencing to six more weeks of winter, no matter what Phil sees.
Correction: An earlier version of this story mistakenly said that New York Mayor Bill de Blasio dropped Staten Island Chuck. He actually dropped a stand-in groundhog, Staten Island Charlotte. Newsweek regrets the error and sends sincerest apologies to the family of Chuck—who is as far as it is known still alive.
Groundhog Day Live Stream 2018: Watch Punxsutawney Phil See His Shadow—Or Not | Culture