Group Caught Taking 'Lockdown Photoshoot' During Mall of America Shooting
Footage of people taking a group photo during an active shooter lockdown at the Mall of America is being darkly characterized as a portrait of American life.
The nation's largest mall in Bloomington, Minnesota, went into lockdown on August 4 after shots were fired into a Nike store. Bloomington Police Chief Booker Hodges said in a press conference that a conflict broke out between two groups of people near the cash register.
"One of the groups left after the altercation, but instead of walking away, they decided to demonstrate a complete lack of respect for human life," said Hodges. "They decided to fire multiple rounds into a store with people."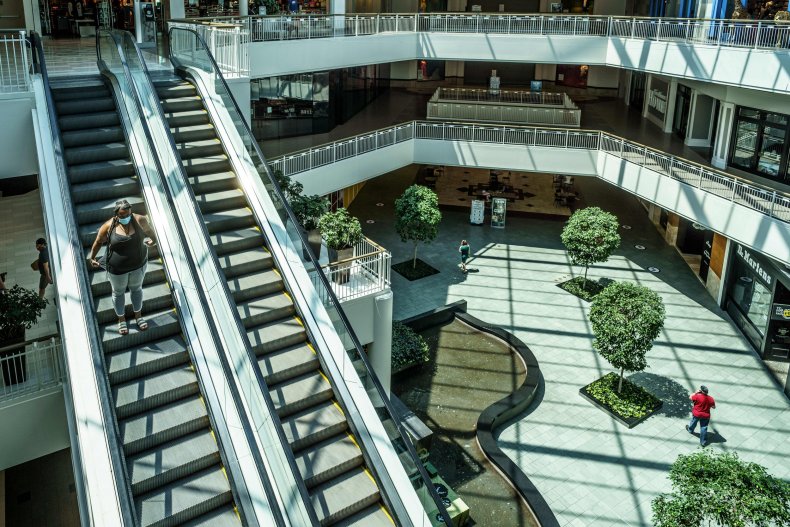 Maya Aflakpi was at the shopping center when gunfire erupted. She took a TikTok video of herself in lockdown with a crowd of other people, before turning the camera to a stunning sight: a large group of people who appeared to be huddling together, smiling, while posing for a photo.
"There was a shooter at the Mall of America and they decided to take a family photo," said Aflakpi in text overlay on the clip, which has been viewed 1.2 million times.
She added in the caption, "Lockdown photoshoot."
The footage quickly went viral, with dark comments suggesting that an active shooter drill was as quintessential to the American experience as the Mall of America itself.
"Maybe they're tourists excited to be experiencing authentic U.S. culture," said a viewer.
"This could be their last pic together, I would take a fam pic too," said another morbid comment.
Three people have been arrested for allegedly helping the mall shooter flee, but suspect 21-year-old Shamar Lark and his alleged accomplice, 23-year-old Rashad May, remain on the run.
Although no injuries were reported from the shooting, social media videos showed people fleeing in terror. NASCAR Cup Series star Kyle Busch and his family were among the shoppers captured running from the scene. His wife Samantha Busch confirmed they were unharmed, writing on Instagram, "If you are seeing the news about the @mallofamerica we got out and are safe. Praying others inside are too."
The shooting on August 4 was the second to hit the Mall of America in less than a year. On New Yew Year's Eve, two men were injured after an altercation led to a suspect opening fire.
Last month, a gunman killed three people and injured others at the Greenwood Park Mall in Greenwood, Indiana, before he was killed by a bystander with a handgun.
Newsweek reached out to Aflakpi for comment.