A group of House Democrats released a statement Wednesday night calling a recent comment by Representative Ilhan Omar "as offensive as it is misguided" for seemingly comparing the U.S. to Hamas and the Taliban.
The dozen Jewish House members asked Omar to "clarify her words." Instead, the Minnesota Democrat responded on Thursday by tweeting that the "constant harassment & silencing from the signers of this letter is unbearable."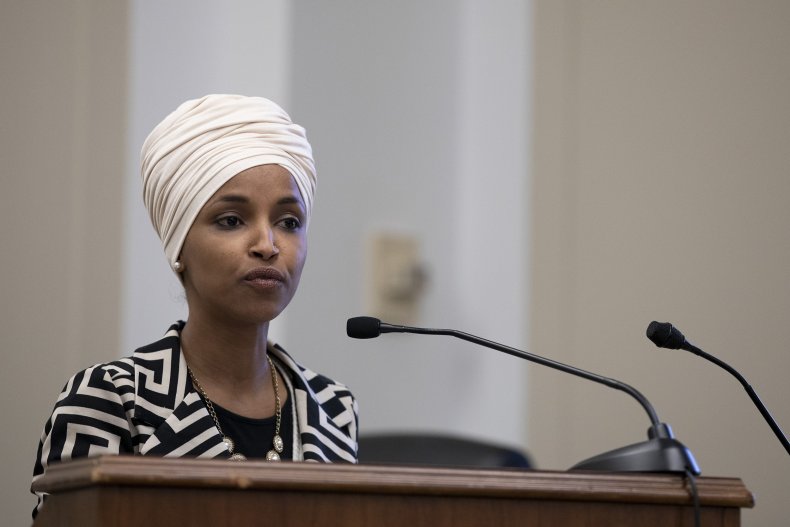 The dispute began on Monday night after Omar posted a video conversation she had with Secretary of State Antony Blinken on Twitter. In the video, Omar talked with Blinken about wanting an investigation of human rights abuses by both Hamas and Israel.
Above the video, she wrote a message that generated an angry response. It read, in part: "We must have the same level of accountability and justice for all victims of crimes against humanity. We have seen unthinkable atrocities committed by the U.S., Hamas, Israel, Afghanistan, and the Taliban."
The comment led to the reprimanding statement from fellow Democrats in the House.
"Equating the United States and Israel to Hamas and the Taliban is as offensive as it is misguided," the statement said. "Ignoring the differences between democracies governed by the rule of law and contemptible organizations that engage in terrorism at best discredits one's intended argument and at worst reflects deep-seated prejudice."
The statement continued: "The United States and Israel are imperfect and, like all democracies, at times deserving of critique, but false equivalencies give cover to terrorist groups. We urge Congresswoman Omar to clarify her words placing the US and Israel in the same category as Hamas and the Taliban."
The group behind the statement was led by Representative Brad Schneider of Illinois. Also signing the letter were Representatives Jake Auchincloss of Massachusetts, Ted Deutch of Florida, Lois Frankel of Florida, Josh Gottheimer of New Jersey, Elaine Luria of Virginia, Kathy Manning of North Carolina, Jerry Nadler of New York, Dean Phillips of Minnesota, Kim Schrier of Washington, Brad Sherman of California and Debbie Wasserman Schultz of Florida.
Schneider posted the statement on his official Twitter account Wednesday night.
Omar, a Muslim, has found herself in disagreement with House members before. In 2019, the House passed a resolution that condemned antisemitism and other forms of hatred after Omar made comments some found offensive. (She was not named in the resolution.)
Her full response on Thursday to Wednesday's statement read: "It's shameful for colleagues who call me when they need my support to now put out a statement asking for 'clarification' and not just call. The Islamophobic tropes in this statement are offensive. The constant harassment & silencing from the signers of this letter is unbearable."
Newsweek contacted Omar and Schneider for comment but did not hear back in time for publication.