Group of Literal Karens Boycott Cafe Over Sign Using Their Name As Insult
A group of women named Karen reportedly bombarded a Los Angeles coffee shop with negative reviews and complaints because their name is used in a jokey sign outside the cafe.
A video about their boycott has gone viral on TikTok, eight months after it took place in February.
The name "Karen" is often used as derogatory shorthand for a middle-class white woman who complains a lot—much to the disapproval of this group of actual Karens.
The cafe, Coffee Dose in Los Angeles, has a number of jokey signs and slogans in its premises, including a board outside that reads: "No Karen, you can't talk to the manager."
Another sign states: "We survived a pandemic, we'll survive your s***ty Yelp review."
After noticing the Karen board, however, a group of women with that name seemingly decided to test this claim.
In the viral video shared by Coffee Dose in February, an on-screen caption read: "Last week we had a very unhappy (literal) Karen after seeing our sign out front.
"She went to an actual Facebook group of women named Karen and asked them to boycott our shop because she was offended."
The caption went on: "It's meant to be a joke (unless the shoe fits). And then the most ironic thing that could have possibly happened, happened."
The video then shows what appears to be an influx of negative reviews and complaint emails from women named Karen.
One review read: "I won't support a business that promotes bullying to anyone with the name Karen, which also includes minority women and girls. It's ironic that while people are trying to be activists for the betterment of society, they remain oblivious to the unrepresented voices they also shut down. If you want me to 'lighten up,' then please answer me this... what makes you so much different than the anonymous people who are referred to as 'Karen'? In my eyes, you're both profiting at the expense of others. Until this changes, I can't support you."
Another review read: "I am terribly offended by the Karen meme this cafe seems to think is okay. I find it offensive, rude and insensitive. I can not support a local business that doesn't care about using a person's name to get a laugh."
In one Instagram message shown in the clip, a woman compared the Karen meme to the N-word, writing: "There was a time using the N-word was popular too. Was that ever okay? And before you say it isn't the same, I assure you that when total strangers make the assumption you're a racist, animal abuser, or gun nut, it is the same."
An on-screen caption offered the cafe's succinct reply to this: "No Karen, not the same thing."
However, other Coffee Dose customers liked the sign—so much so that the cafe started selling cups with the slogan "Anti Karen Serum."
According to Coffee Dose, some women named Karen even visited the cafe just to buy the cup. The cafe later sold cups that featured one of the one-star Yelp reviews from a literal Karen.
The online backlash from the Karens has now died down, the cafe explained to Newsweek, but the video has gone viral on TikTok in recent days after it was reposted on October 21 by the account @therealkarenshub.
The video, which gained over 800,000 views in one day, can be seen in full here.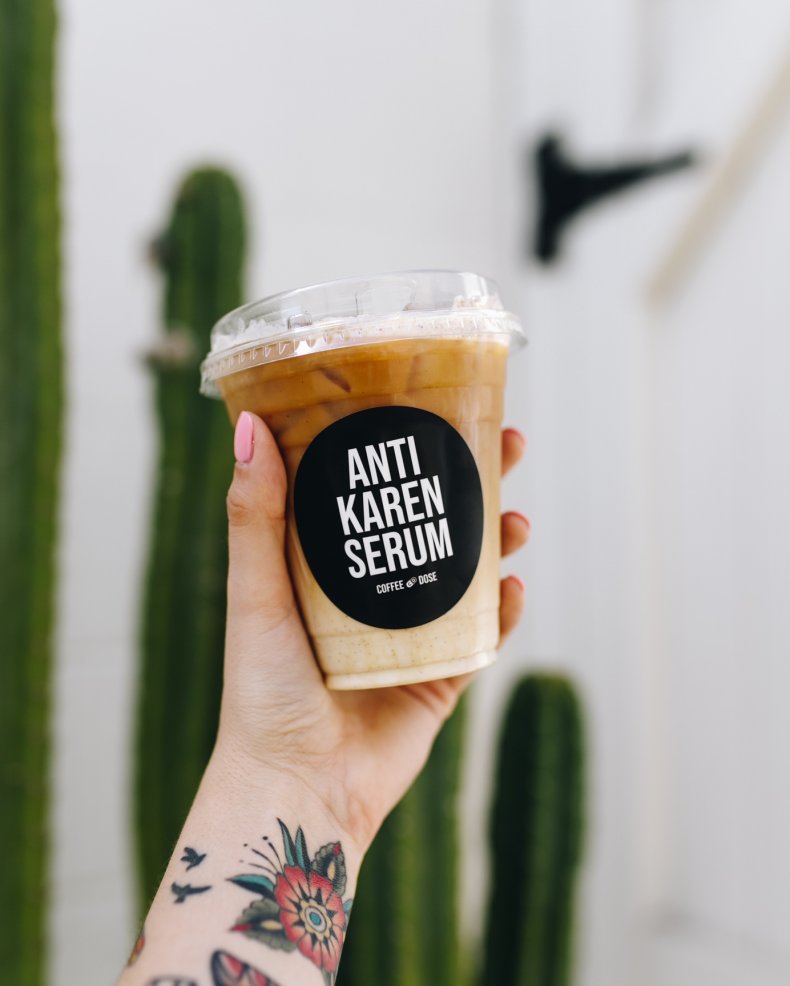 "When the Karens are actually being Karens," wrote one commenter on the video.
Some viewer's agreed with the women's complaint, however, posting: "The 'Karen' insult turned into a socially acceptable way to silence ANY woman that speaks her mind. That's why there's really no male equivalent."
Critics of the meme have argued that it has roots in sexism and misogyny. Although the name "Ken" is sometimes deployed as a male version, it is used far less often than Karen.
Feminist icon Gloria Steinem made this point during a 2020 interview with Yahoo! Entertainment, saying: "There's always been about half of white women who are economically dependent … on their husbands and are voting their husbands' interests, not their interests. And, of course, they also have [their own] racial bias.
"It's kind of annoying that white women get Karen'd."
Film and stage director Julie Taymor, who made the 2020 film The Glorias about Steinem, agreed, adding, "What about their husbands?"—pointing to various reports that focused on women perceived as pushy Karens, rather than on their husbands who were also present.
"I find it really annoying that it all gets put on the white woman because of one or two or three incidents … they show. I definitely think the Karen thing is sexist—to make a big deal out of it is an easy thing to do," Taymor said.
Update 10/25/21, 6:34 a.m. ET: This article was updated to include additional information from Coffee Dose.